Writing by Areti Lambrellis // Illustration by Ayelen Lujan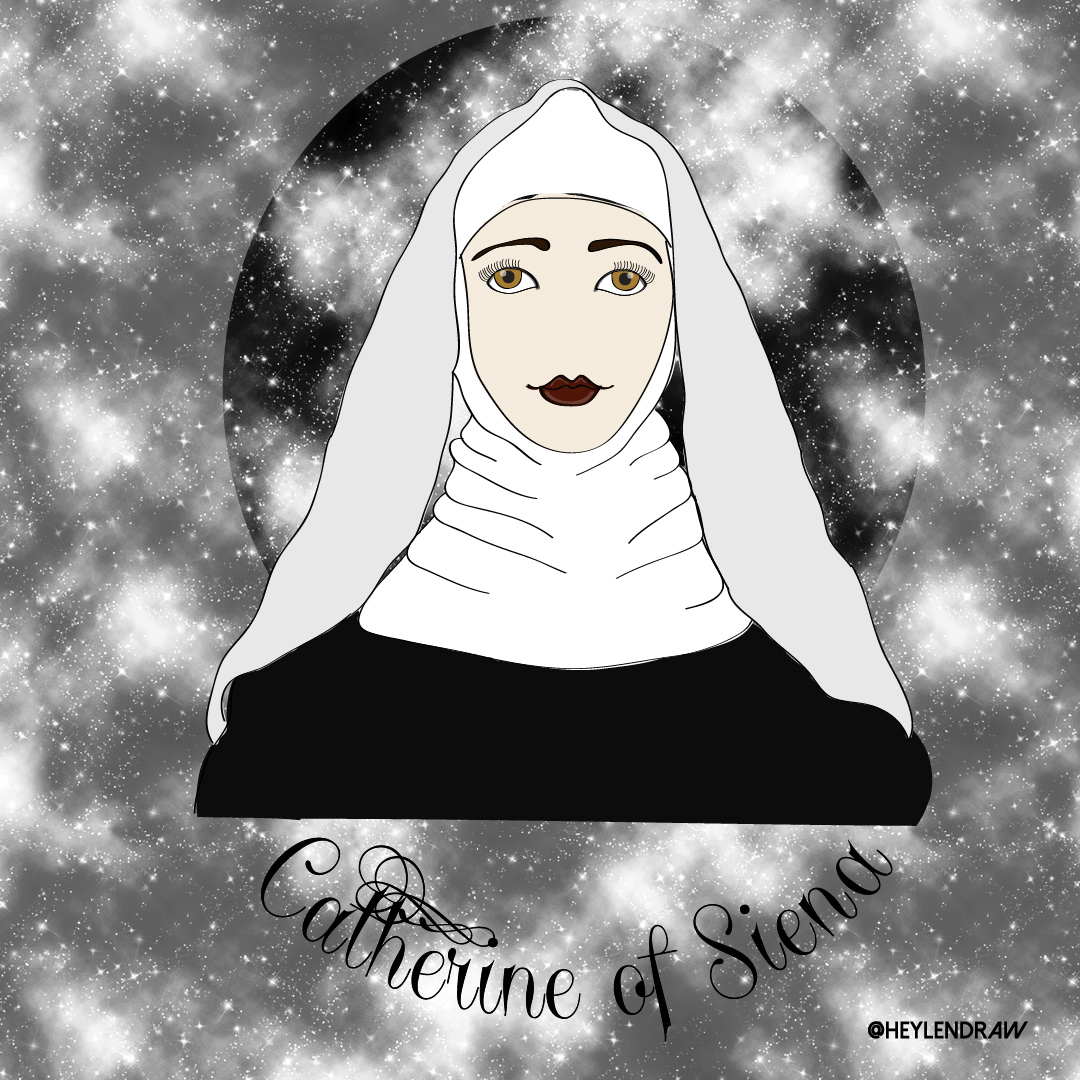 If I could have dinner with any historical figure, living or dead, it would probably be Catherine of Siena: theologian, philosopher, and mystic. The twenty-third child of a poor cloth dyer and a poet, born during the plague ravaged rural Italy, the mere fact of her survival beyond childhood was a pretty big deal. Her entire life, however, was one that constantly subverted norms, and shattered the rigid confines of womanhood during the medieval ages.
Despite the intensity of her childhood—including the death of her twin sister at around two years old, receiving her first vision of Christ at five, and dedicating her life to Christ at seven—Catherine was described by her family as having a happy temperament. This changed at sixteen, when her older sister Bonaventura passed away, and her parents pushed her to marry her sister widower. In protest she cut her long hair off, rendering her unattractive to potential suitors, and stopped eating until her parents gave in and eased the pressure of betrothal. These acts of protest reveal her fierce courage, as well as the extent of her determination to escape the path inevitable for young women of her bearing. Catherine would later tell biographer Raymond of Capua that during this time, in order to cope with the loss of her sister and pressure of marriage, she built "a cell inside [her] mind, from which [she could] never flee." Retreating to this internal world of escapist fantasies augmented her determination to elude the expectations placed upon her, and her will grew stronger.
At nineteen Catherine joined an association of Dominicans against her parents' will, persuading the association to allow her to receive the habit of a tertiary despite the fact that only widows had previously been allowed to receive this habit. She also learned how to read during this time, and became an avid reader, unprecedented for a woman of her age and social standing. At twenty-one she experienced a 'mystical marriage' with Christ: a vision involving the transaction of wedding rings—Christ's foreskin, explicitly outlined as such, and her own 'invisible' ring, implying her hymen. It's possible to interpret this as a means of sublimating her sexuality, like many others before her (e.g. Saint Agnes Blannbekin, who conflated love of Christ with all-consuming orgasms). However, it's worth noting that by dedicating her life to Christ in such a dramatic way, Catherine made it extremely difficult for tangible men to attempt to court and marry her. This cemented her ability to remain with the Dominicans and further her education.
Catherine began travelling through Italy with her 'family' of followers and contemporaries, teaching, speaking, and helping the ill and poor. This lifestyle was extremely radical for an unmarried woman raised in poverty, and the fact that she was not persecuted by religious authorities during this time is astounding. Furthermore, Catherine corresponded with a huge number of the major political and religious figures of her day, including Pope Gregory IX, whom she affectionately referred to as 'babu' or 'daddy', while pushing him to make reforms to the clergy. In her letters, transcribed by Raymond of Capua, she audaciously employed the common vernacular while addressing figures of immense prestige. However, her eloquent, authoritative, and persuasive language and imagery meant that her urging was often listened to—for example, she influenced the return of the papacy to Rome. Catherine later founded a women's monastery and learned to write, before passing away at thirty-three after a lifetime of extreme fasting.
Raymond of Capua's biography of Catherine emphasises her humble origins as aligning with the expected model of female sanctity in the medieval ages. He describes Catherine as uneducated except for divine intervention, and recounts instances of her fasting and ecstatic states rather than her involvement in the public political and religious spheres of medieval Europe. However, her reality was far from conventional. From teenagehood she had consistently surpassed the boundaries placed upon medieval women, bargaining and persuading her way into gaining marital autonomy, an education, and immense political and religious power. Not only that, but the fact that she was never persecuted because of her power is astounding. Catherine of Siena—while by no means a feminist in the modern sense of the word—was a remarkable woman of her time: courageous, intelligent, and unapologetically independent.
[share]