Interview by Molly McKew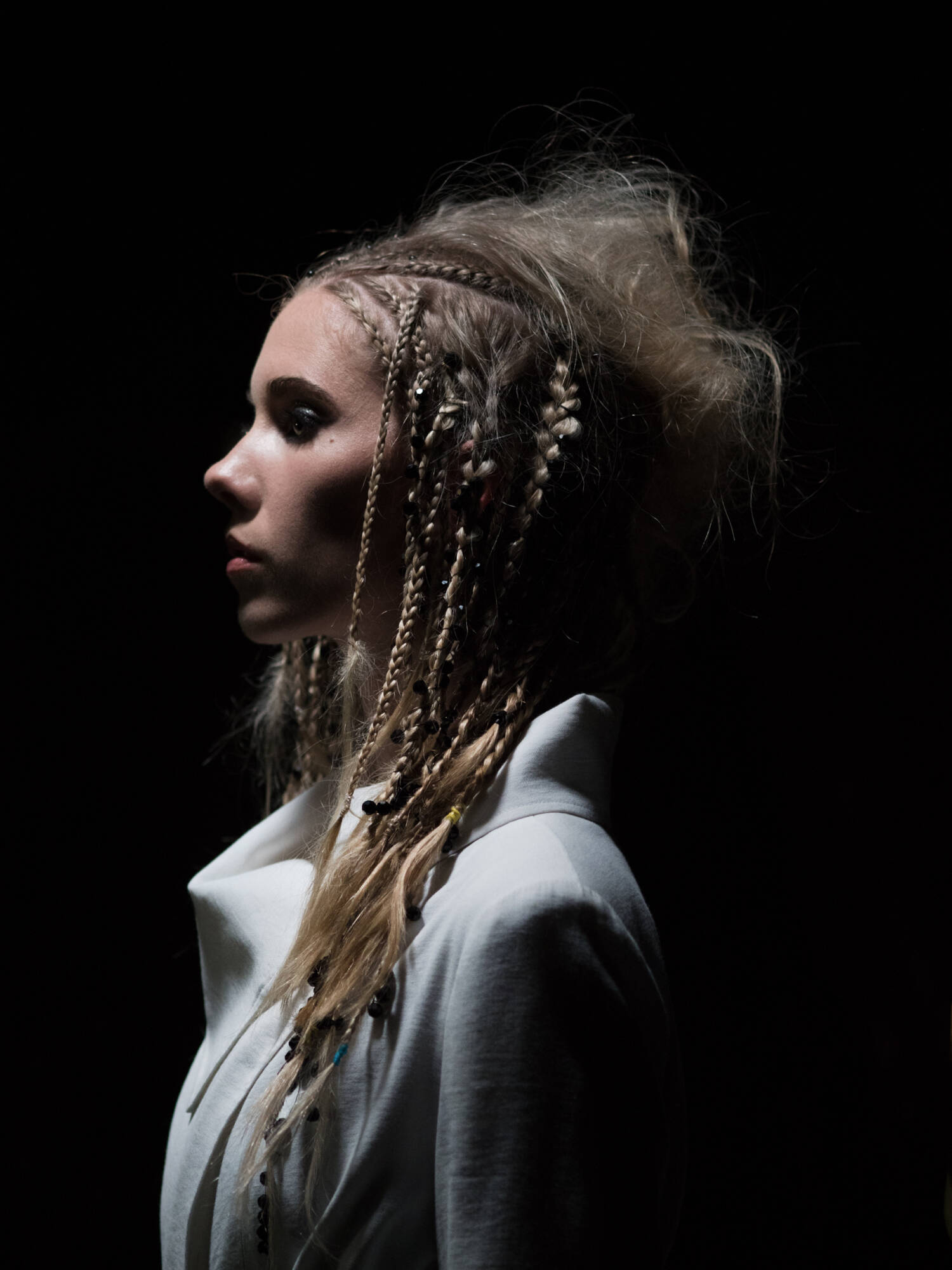 The talented and theatrical Woodes has just released her second EP,
Golden Hour
, with the stand out single
Origami
(
listen here!
) an upbeat and quietly sweet track inspired by a recent trip to Japan. A triple j favorite and a pleasure to watch, we were lucky enough to chat to Woodes about her travels in Japan, finding her creativity, and her first performance experiences at her Year 10 Talent Quest.
M: Good morning! You have just released your new EP! What has the reception been so far?
W: It's been wonderful. I've been working on this series of songs for over a year, writing and producing and fine-tuning. It certainly has been a process!
Sometimes I forget how overwhelming and good it can feel to put finished things out into the world. I feel really proud of these songs and my collaborators on it. It's also been special to get to tour them so soon after the release. Even 7 days in, it was so cool to see the front rows mouthing the words or singing along.
M: You were inspired to write your single, Origami, by a trip to Japan. Tell us a little about what inspired you while travelling there?  
W: I studied Japanese throughout my schooling and always found the culture extremely beautiful and fascinating. I travelled there once when I was 7 and again when I was about 14 on the way over to visit my family in America. I think it's so lovely how in the thick of suburbia there is a block of temples. We thought it would be a nice idea to write a song with paper folding at the centre-point. When I sing it I envision two swans with their necks curled into one another.
M: What are your tips for young songwriters in finding inspiration? Is travel an important thing to do as a creative person?
W: I think travel is good for a person, full stop. Writing and creativity can come out of that newfound self awareness. Travel makes you think a little bigger than your bubble. I'm grateful to my mother for making sure I was aware of a bigger picture than my own town, growing up. I have gone overseas a bunch of times alone now and every time I find more about myself and I also meet so many new people with entirely different experiences and views.
As a songwriter I am always collecting. Sometimes notes in my phone, like a great sentence or moment in a conversation. I'll try pocket it if the moment is ok to do so (I try not to be too obvious!) Otherwise I'm always mumbling into my voice memos. My phone definitely has so many little inbuilt tools that help.
I have friends who are lyricists/producers too and sometimes when we are mid conversation we stop and are like omg 'that sentence' and race to jot it down. Maybe it's like people photographing their food when they go to a cool lunch… Lyrics and sentences and phrases really excite me. I've been trying to find phrases or little gems that feel personal to me. There are so many songs I love that just have this one line in them where they're talking about something so specifically unique to them where you're like "heck yeah was that a line about throwing away an ex's toothbrush?" and your heart breaks over a toothbrush.
I also keep a tumblr and watch lots of films and television series too. I love music placement in mediums like film or TV. One day I want to work in film soundtracks. I definitely get inspired directly by film music but also by the visuals and the plots. I love writing to a brief or doing purely instrumental music. On my tumblr I sometimes go through and use it as a mood board and write down descriptive words on what I see in the images in my notes.
Then later when I'm in a writing session I have all these little seeds to grow something with, rather than going in relying on how my personal day is going. I find sometimes, since I write so much, it can be good giving yourself these little concept starting points.
Alternatively, in a completely less 'formulated' approach, sometimes I sit down at my piano at night and the most simple straight forward song tumbles out of my mouth and I haven't really given it much thought at the time, but it was a culmination point of all these brewing thoughts over months… years… I love those songs. They certainly feel like they just come to you like little ghost friends.
M: I LOVE LOVE LOVE your wild costumes and aesthetic!! What drew you to this kind of vibe for your performances?
W: Thank you! It certainly is a lot of fun to dress in things that make you feel strong and from another place. Fashion has been a part of my life for a while – I started as a model when I was around 17 after getting scouted on Australia's Next Top Model in Townsville. I didn't own any heels or many crazy clothes but I have always loved fantasy and dress ups. I did a lot of musicals. Theme parties are my favourite. My 21st was a game of thrones teepee party and we had the whole knights watch there. My friends went above and beyond.
I've worked in fashion signed with Chadwick Models the last 5 years working on TV campaigns and catwalks, and through those years I got to see how creative teams work and how certain partnerships can gel together. I was researching and watching from the sidelines and taking notes. I do a majority of my own styling now and mostly wear Australian local designers. I've formed some really special partnerships with certain brands like Etal & Saphire Gaskas. We all get excited about creating a new persona on stage and that to me is what it's all about.
Through modelling and working in the creative field in Melbourne I met a lot of photographers and collaborators that I work with on the Woodes projects, such as Andy Hatton who has shot a lot of my Woodes press and cover shots. I wanted Woodes to fuse fashion and music quite strongly.
M: Can you tell us about your first experiences performing live?
W: My first experience performing my own songs live was when I signed up for a school Talent Quest in grade 10. I'd written this song about the beach and a boy I know with lightning blue eyes (like creepily white-walker blue… very cool). I looked down at my keyboard most of the time and I can still feel the hot glow of the lights hitting the tops of my hands as I played. I ended up placing in the talent competition and it was a real nice boost for me that what I'd been creating in my room was something that could be communally enjoyed. I'd been a percussionist/orchestra/choir kid most of high school so I don't think anyone expected I'd been writing songs in my own time. After that my close friends egged me on to write more. I did a bunch of school performances after that.
There was a local open mic where I did my first official performance outside of school by the beach. There weren't many places to play where I grew up in Townsville, especially for youth. So I really owe that community a big thank you for giving young people a platform to share and celebrate new music. We could go back every week and try new things. Having active listeners meant so much to us.
M: Can you remember a moment when you decided to take music seriously, and thought 'this is it' – or was it a more gradual process?
W: Music has been a part of me as long as I can remember. I think I always thought I'd be involved in some aspect of it. I'm a huge music fan and find live and recorded music the most incredible form of escapism and connection. I also love researching artists and careers. When I was younger I wanted to be a music supervisor… I still think I might want to be in time. Or a film composer… Or a radio announcer or an A&R. There are so many cool roles and groups of sweet music label/collectives making amazing stuff. The industry is shifting but it's cool to see what partnerships and new endeavours are branching out.
Through creating Woodes I feel much more informed about the music and entertainment industries. By having my own music project and being a songwriter/producer means I can weave between a lot of things I am passionate about. Collaboration and song writing are some of my favourite parts of the job. In the last 12 months I've found performing live is now one of my favourite parts, too. It took me a little while to figure out the kind of music I wanted to dance to on stage and the kind of live setup I was trying to construct. I really long to do more travel with it to meet more beautiful audiences and see a bit of the world in the process. I find the whole thing fascinating. Even on the low days being an independent artist I am grateful.
M: There has been much talk about the particular challenges of being a woman in the music industry – what kinds of things do you think need to happen to make the music industry a more positive space for women?
W: Listening to our stories. Acknowledging our work. Speak up when something doesn't sit right. I've walked up to men at festivals and have called out disgusting behaviour in front of their friends. Of course, make sure you're being safe in the process. I have found that security guards in most cases totally have your back. Go up to them and get jerks kicked out. Zero tolerance. That stuff absolutely irks me. Music venues and festivals should be safe places.
M: We like to dream big at Ramona! If you could play anywhere in the world – any venue, festival, or building – where would you play?
W: I've always wanted to record at Sigur Ros' studio in Iceland or to perform at Icelandic Airwaves. I think in terms of festivals, Fuji Rock or Coachella would be pretty unreal. Recently Sigur Ros did a concert with a full orchestra at the Walt Disney Hall in LA. Definitely goals. Or performing on one of my favourite TV shows, like a cameo would be awesome. I think my ultimate dream is to be the theme song for a TV show I love.
M: What are some artists we should be listening to in 2018?
Mallrat, Eilish Gilligan, Sigrid, Aurora, Elkkle, Golden Vessel, Jack Grace, Kllo, LANKS.
M: And, finally, if your music was an ice cream, what flavours would it be?
W: Maybe it would be one of those strange specials at a gelato store. Like mango with coconut flakes, a mint leaf and some kind of berry swirl. Raspberry or strawberry. Maybe with an outlier like a scoop of lemon sorbet. You read it and you're like… hmm that doesn't sound right but then you try it and you're like wow nice! Good mix! Who'd have thought? Or maybe it would instead just look like a mushed up forest floor – although I don't really like chocolate so I might stick to fruit. But maybe something that looks like a mossy ice cream? We could stick a little fairy decoration into the side? Bonus gift!! Don't eat it! Small pieces! Disclaimer!
Listen to Golden Hour here:
[spotifyplaybutton play="spotify:album:6n1NKhNXMyap4NHV16lRVm"/]
[share]