Interview of Kimmy by Amanda Attanayake // After all these experiences, all I can say is that people who have the same skin particularity as me should just accept it and live peacefully with it.
Interview of Kimmy by Amanda Attanayake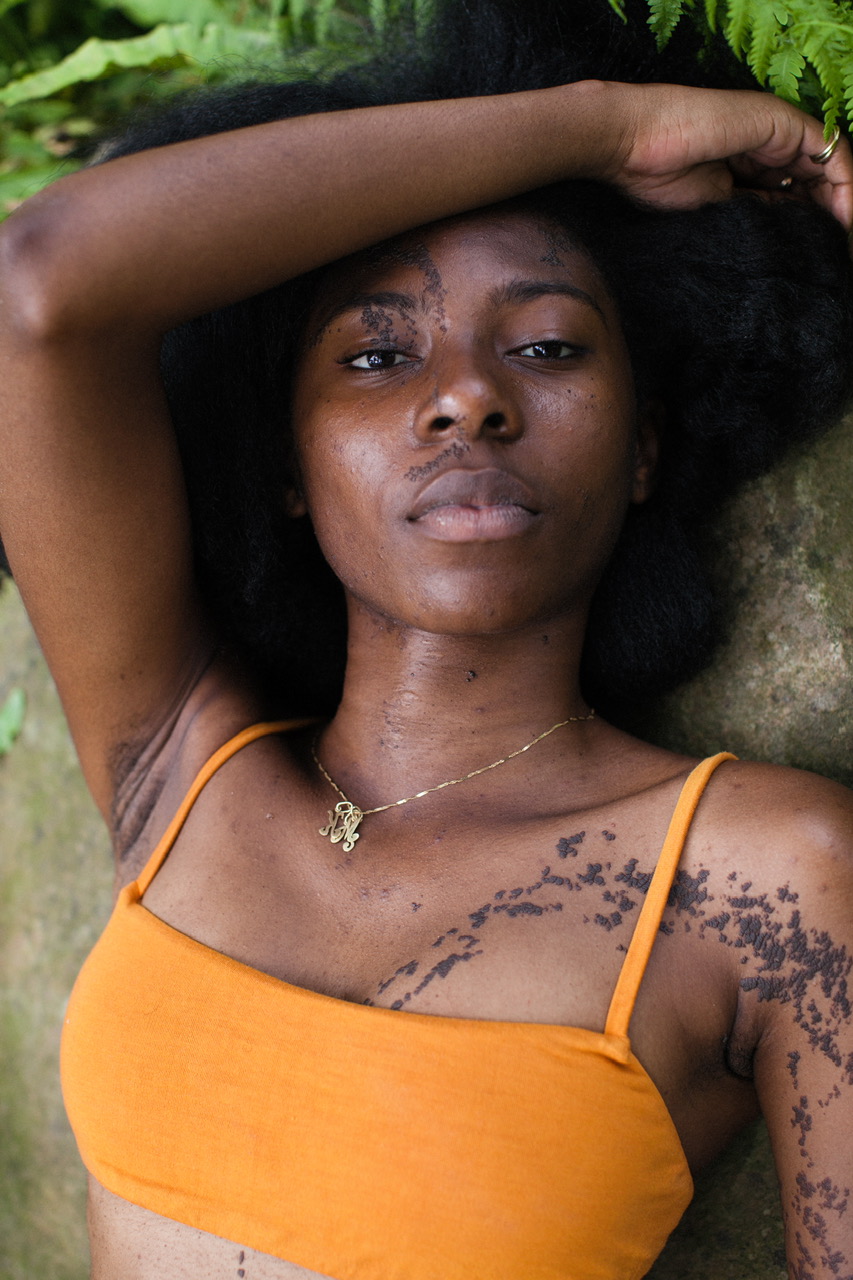 Hi Kimmy! Tell us a bit about yourself. What are you up to?
I don't really know the meaning of "what are you up to" (I'm a French speaker) so I will answer this like you were saying "How are you doing?"! I'm fine, just living my life and trying to find myself and place in this world!
You've mentioned to us that you have a skin particularity. What would you like people to know about it?
Yes my skin particularity is called Verrucous Hamartoma or "Naevus plan" in French.
I wasn't born with it. It appeared when I was a baby, like 3-6 months after I was born.
It's like you have two skin layers in one area of your body.
I have it (as you can see on the pictures) all over my body. You can see it in my arms, legs, butt, head, ears, eyelids, nose, even in my mouth! I live with it very normally. I don't have any allergies. I can eat, breathe and wear anything. This doesn't affect my level of health at all.
It's possible to remove it from your skin. I use to have it on my neck and my cheek. On my cheek, it was like a beard, so my mom decided to remove it. I did a laser operation with local anaesthetic when I was 11 years old in Ivory Coast. It was really painful. But the operation was a success. I was very young so my skin had the energy and the time to heal properly. I also did the same operation 3 years ago in a small part of my stomach near my belly button. I was 21. I did it in the south of France – the operation wasn't a success at all. The dermatologist who did the operation wasn't really used (I think) to dealing with this kind of skin. She literally burnt my skin… so now I have 3 different types of skin on my stomach ahaha.
After all these experiences, all I can say is that people who have the same skin particularity then me should just accept it and live peacefully with it. Or find a really good dermatologist who is VERY used to dealing with this type of skin. The process of healing after this kind of operation is very painful and heavy, so they really need to be ready and aware of that.
Me, I decided to live with it. I will never do any surgery again. Of course the first surgery on my cheeks and neck really helped me. I don't really think about how I would be now if my mom didn't take the decision to remove it when I was so young. But now, I know that I don't need to remove more. It's not necessary. I have to assume myself, and that's what I'm doing right now.
There has been an increase in the visibility of people with diverse skin types in the world, but there is still a long way to go; what needs to be improved?
I can say that I'm a model. I have an agency in Paris. Sometimes, when I receive some casting call for "particular" model with skin types, I can read quotes like "the skin needs to be not too shocking" or "beautifully different". It's really annoying because firstly, the movement is to show ALL diverse skin and person. Selecting what's less "shocking" than others really makes me angry!
Diverse skin types are restricted to stretch marks, cellulite and scars most of the time. And it's really great because a lot of people have these, but there are more people that have skin different from these! So they also need to be shown too!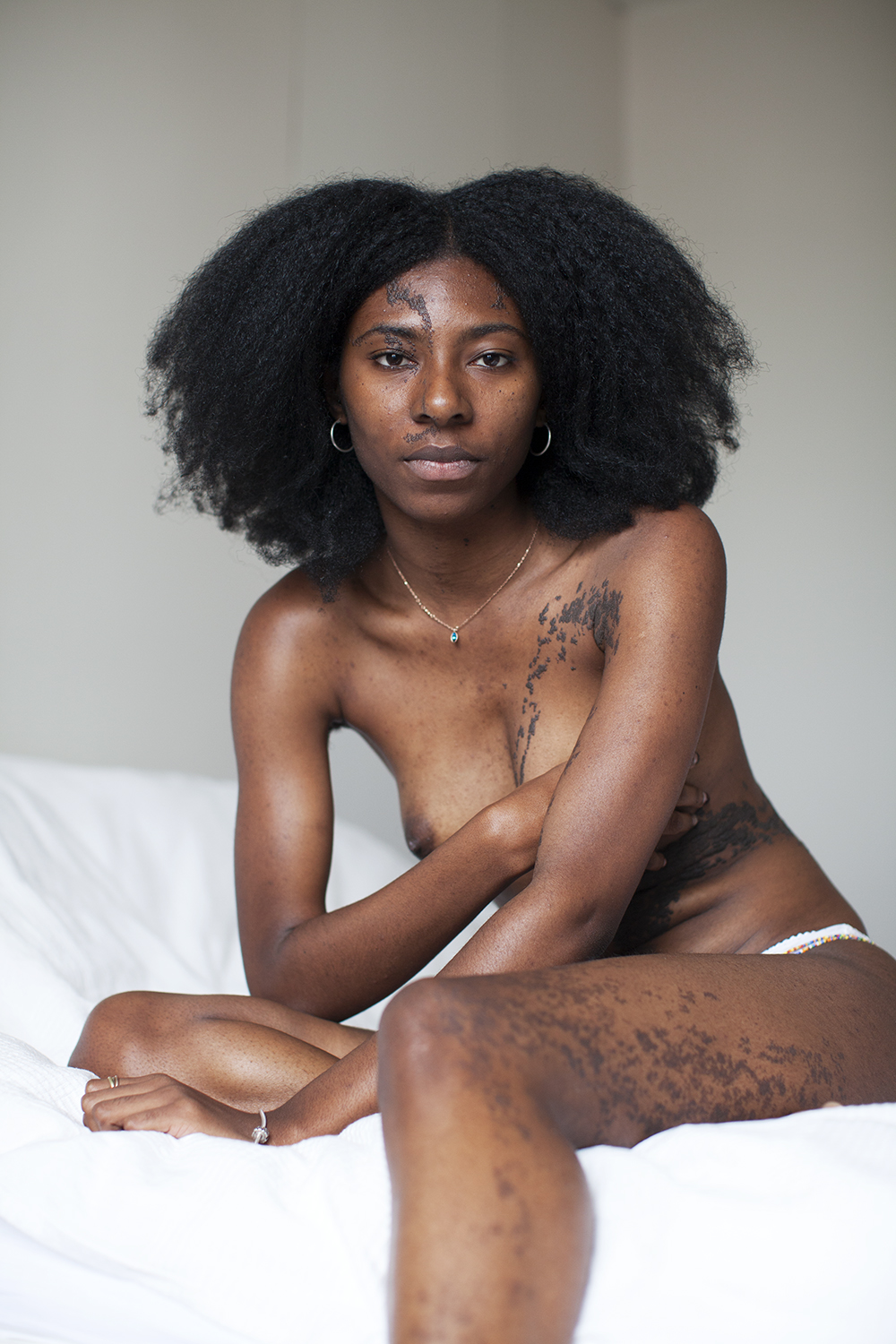 What has been your experience of having a skin particularity?
I have experienced the bullying thing sometimes. When I was living in Rwanda, in primary school, a child made bad comments about my skin on skyrock (a French blog). They said that I was ugly and that I shouldn't be in the same school with them.
For most of my life, I lived in Ivory Coast (West Africa). There, I never felt like I was different because of my skin particularity. I mean, of course people asked a lot about it, but it wasn't like mean.
It's only when I came to study in France that I really felt people's staring in a bad way. Of course some of them are just curious, I can see it in their eyes, but most of the time, I see some kind of mean, disgusted stares at me. I don't know if it's because of the mixed white/black thing or if it's really because of my skin… but anyway, this is how I feel sometimes about it.
How has it affected your profession?  
I'm a hydraulic/hydrologist engineer, and I also do modelling. I'm not sure if I can say that I'm a model because I have never got paid for doing pictures. My skin particularity affects that "job" positively and negatively.
What is positive for me is that, because of this movement towards diversity, people are more interested in working with me. My skin particularity is very rare, so it can be a new and unique topic for them to show. What is negative for me is that, I feel sometimes that if I didn't have this skin, they wouldn't be attracted to me. But these positive/negative parts of the story, I experienced them only in France.
When I started modelling in Ivory Coast, people (photographers, stylists, etc.) were interested in me and my skin – not only my skin.
What does the word 'skin' mean to/represent for you?
For me, the word skin is really complex. It represents myself as a black girl who as a skin particularity. But it also represents just myself as a girl named Kimmy.
I know that it's difficult to dissociate the girl Kimmy from the skin particularity because it's what defines me physically. But it does not fully define me, my soul, and my life.  I'm my skin, but I'm more than my skin too. And it's very important for me to specify that.
What advice do you have for young people today (those both with and without skin particularities)?
My advice for young people today is to just live their life peacefully. People will always say things and act in certain ways to hurt you. We are all different and humans have a hard time accepting differences. And all kinds of difference. My explanation of that is that humans are just scared of what is different from them and it's kind of  understandable.
We can see it in history with all of the genocides that have happened.
So young people, don't stress yourself and take it easy. However you are now, even if you did change things, your next state would be judged and criticised so… Me, I decided to not put so much pressure on me because of people's state of mind based on my appearance. So yeah, take it really easy!
What are your plans for the next year?
My plans for the next year ?! Ahaha that's a really hard one. I don't know… I want to be a model. Doing fashion runways, and campaigns. But I also want to find a job in the environmental field. I really don't know what to choose, so I just let the time to decide for me!
Who is your idol, and why?
My idol is my mom <3 . She is everything for me. She came from nothing and now she is leading a specialised medical analysis laboratory on infectious diseases in Abidjan (Ivory Coast). She also helped to manage other laboratories in many small cities in Ivory Coast. She is very brave. I really respect and love her.
I also kind of admire Winnie Harlow. She has vitiligo and she's a supermodel. She became a model in an era where people in the fashion industry (I think) weren't really open to diversity. So I admire, and respect her courage and achievement in this industry. If I choose to become a model one day and I become famous, it will be because I saw Winnie as an example :).