Interview of Mathilde Lin by Freya Bennett
Mathilde Lin
is a freelance dance artist based in Paris. During the past few years she developed a strong interest in Improvisation and created her own technique based on imagination and story telling. Most recently, she starred in Harry Styles new music video
As It Was.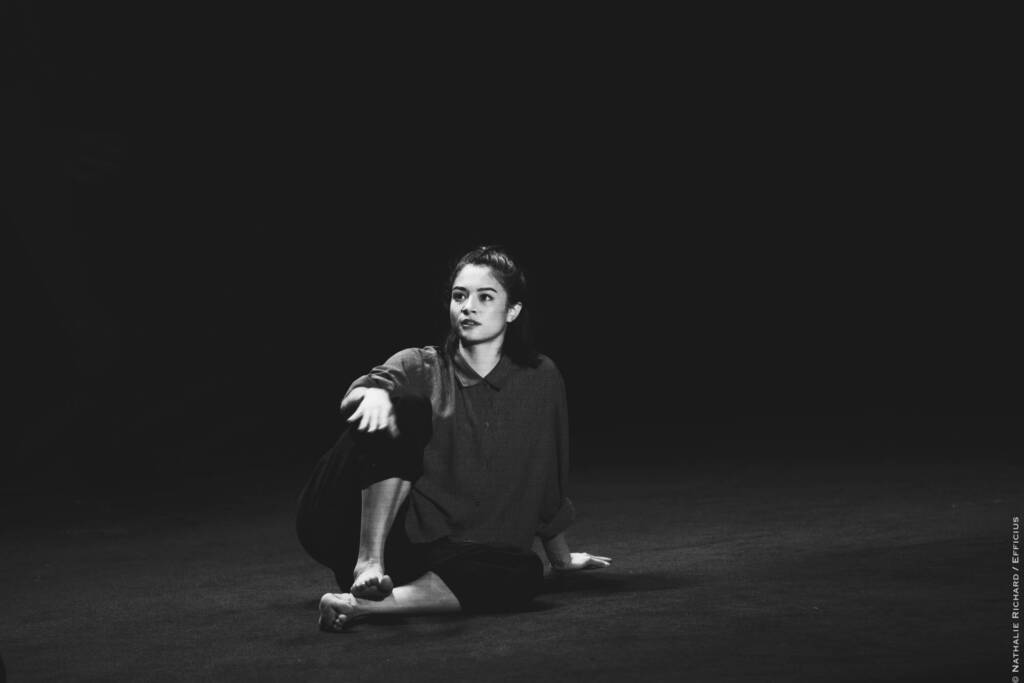 Hey Mathilde, how are you?  
Hey Freya, I am good thank you! I am on the train heading home after two weeks of residency for the creation of a new show in the south of France. So a little bit tired but also excited and inspired.
Tell us a little bit about yourself and what you do:  
I am Mathilde. I am half French, half Chinese and I am a professional dancer and choreographer. I am based in Paris but I work as a freelancer with different European dance companies, so I travel a lot.
How has the last two years of pandemic life been for you?  
To be honest, it's been very hard but it's also given me the opportunity to take a break from travelling and working. It allowed me to change a lot of things in my life. When the pandemic started, I was living in London, working for a choreographer called Wayne McGregor, everything stopped and as you can imagine, dancers cannot work form home! I was forced to rest and take a break, which made me realise I hadn't been home in 6 years. I decided it was  time to go back to France and reconnect with my roots/family/culture. So I left everything I had in London and moved back to France, I spent the rest of the pandemic teaching yoga classes, reconnecting with Paris – where I am originally from and also reflecting on these very intense years I had just experienced.
Has the pandemic changed how you work?  
Yes, of course. I think it made me grow. I know why I do this job now and I know what I want to accomplish, what I want to create and how I want to dance. It's an ongoing reflection that keeps on changing and evolving but the break I took because of the pandemic allowed me to ask myself these very important questions.
Growing up, was dance always something you wanted to do?  
To be honest, I don't know if dance was, but art was something I wanted to do from a very young age. As a kid, I could spend hours alone in my room inventing stories, making clothes, dancing alone – so I've always been creative. I was also a very shy person and stage was always a place where I felt I could express myself freely. Dance was the thing that came up first and I love it but I also feel like it could have been another form of expression.
What's your favourite thing about what you do?
I realised recently that a very important part of this job is a social skill, you need to know how to adapt quickly to a group of people, to understand a choreographer, to fit in with your  team. I love meeting new people all the time, creating and recreating myself in all these different situations. Also as I said earlier, since a very young age I have a passion for live audiences and shows, it's something unique that we should support more and perpetuate, especially these days with the rise of social media.
What are some of the challenges you've faced in following your dreams? 
I have a very deep respect for all the dancers, whatever their paths is, because I truly think it's a very, very difficult job and it's not recognized enough. It's always hard to find work because there is not enough compared to the amount of dancers. You're always on the hunt for your next gig, you're often far from your loved ones, your body is tired and it's a lot of stress traveling. But you learn and you live experiences that are worth it.
You've just starred in the Harry Styles film clip As It Was, can you tell us a bit about how that  experience was for you?  
Yes! It was quite crazy, I've never experienced something like that before! I have danced in music videos but this set and the impact it had when the video came out was impressively big. It was also very interesting to work with Yoann Bourgeois – the choreographer, and learning how to stand and use the turning platform.
That turning platform was quite unique! How hard was it to learn to move while spinning and were there any accidents?
It's hard but it's just a technique you need to learn and you get used to it very fast. It's all about distribution of body weight. We had a week of rehearsals to practice, and by the end we felt confident enough on it. There were maybe a few small falls but nothing important – falling is also part of the process!
Have you got any upcoming projects that you're excited about?  
Yes, a lot of different things, I have a tour in Brazil this summer and I am really excited because it will be my first time there. Also I will be creating a new piece in London at the end of August for an event for emerging choreographers, I feel inspired and I am really excited about that! I feel like suddenly the world is reopening and opportunities are flowing which is very exciting.
What piece of advice do you have for young people wanting a career in dance? 
I don't know if I have any good advice – I don't even know if good advice exists for such a unique career, maybe I can say, don't panic, find your own ways and enjoy the ride.