Freelance writer, doctor and wife hoping to make 'wise and fit' the new 'pretty'.
Posts contributed to by Dr DP
Writing by Dr DP // Photograph by Anais Nannini // Personally, I found the concept of placing so much importance on materialistic acquisitions and finding a date to be utterly opposing to my feminist views, and so I decided not to attend my formal event.
Read More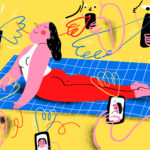 Writing by Dr DP // Illustration by Franz Lang // Given my south Asian heritage, yoga was cultivated at a young age so that children could develop tranquillity and peace within one's mind. It formed a lifestyle choice of protecting our environment and taming our egos.
Read More