Hannah is a writer currently living in Melbourne. She enjoys art, reading, feminism, red wine and aesthetic instagram feeds (@hannahtf_).
Posts contributed to by Hannah Forsdike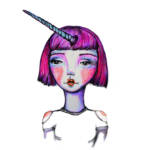 Writing by Hannah Forsdike // illustration by Jenny Pereira // So, should we commend pseudo girl power moments in media for spiraling us towards more diverse female roles and story lines, or condemn them for giving us the illusion of feminist story telling?
Read More