Hannah is a writer currently living in Melbourne. She enjoys art, reading, feminism, red wine and aesthetic instagram feeds (@hannahtf_).
Posts contributed to by Hannah Forsdike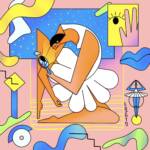 Writing by Hannah Forsdike // Illustration by Loreta Isac // When my mum picked me up she asked how the class was, and I lied and say it was good. And later, when I was alone in my room, a den of girly, ballet themed memorabilia that I just didn't resonate with anymore, I practiced telling my parents that I wanted to quit in my head.
Read More