Hannah is a writer currently living in Melbourne. She enjoys art, reading, feminism, red wine and aesthetic instagram feeds (@hannahtf_).
Posts contributed to by Hannah Forsdike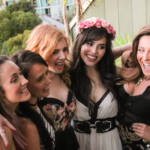 Writing by Hannah Forsdike // Friends, Foes & Fireworks deals with many issues women face that are not often represented in film, such as exploration of female sexuality, women's health, loss of a loved one, unwanted pregnancy, career pressure, and toxic relationships.
Read More