Ferris Knight is a Melbourne-based writer who occasionally puts some sentences together but mostly just drinks too much caffeine.
Posts contributed to by Ferris Knight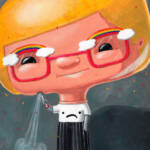 Writing by Ferris Knight // Illustration by Andra Badea // Bipolar is often described as happy and sad, but to an extreme. I personally think of it as technicolour explosion versus a monochrome implosion. There is nothing happy about mania and nothing as simple as sadness when it comes to depression.

Read More