Posts contributed to by The Ramonas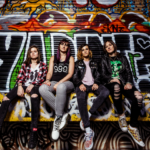 Mixtape by The Ramonas // UK all-girl Ramones tribute band, The Ramonas have released their first ever originals album! To celebrate their debut record, 'First World Problems', the badass bunch
have curated for us a playlist of their all-time fave punk-rock bangers. To Ramona, with love
from The Ramonas!
Read More