Zadie McCracken is a sixteen-year-old Melbourne-based writer, fond of cats, books, TV, film, fashion, and art.
Posts contributed to by Zadie McCracken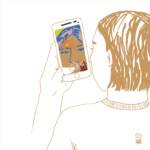 Writing by Zadie McCracken // Illustration by Camila Martinez De Guerenu // When I was fourteen I stared at the profiles of almost-friends, too-cool-for-me-really friends, and felt sick. Why wasn't my Instagram as cute, as clean, as picturesque, as perfect as theirs? Why wasn't I just like them?  What's wrong with me?

Read More