Interview of Freya Bennett by Sophie Pellegrini // Illustration by Jordyn McGeachin
Interview of Freya Bennett by Sophie Pellegrini // Illustration by Jordyn McGeachin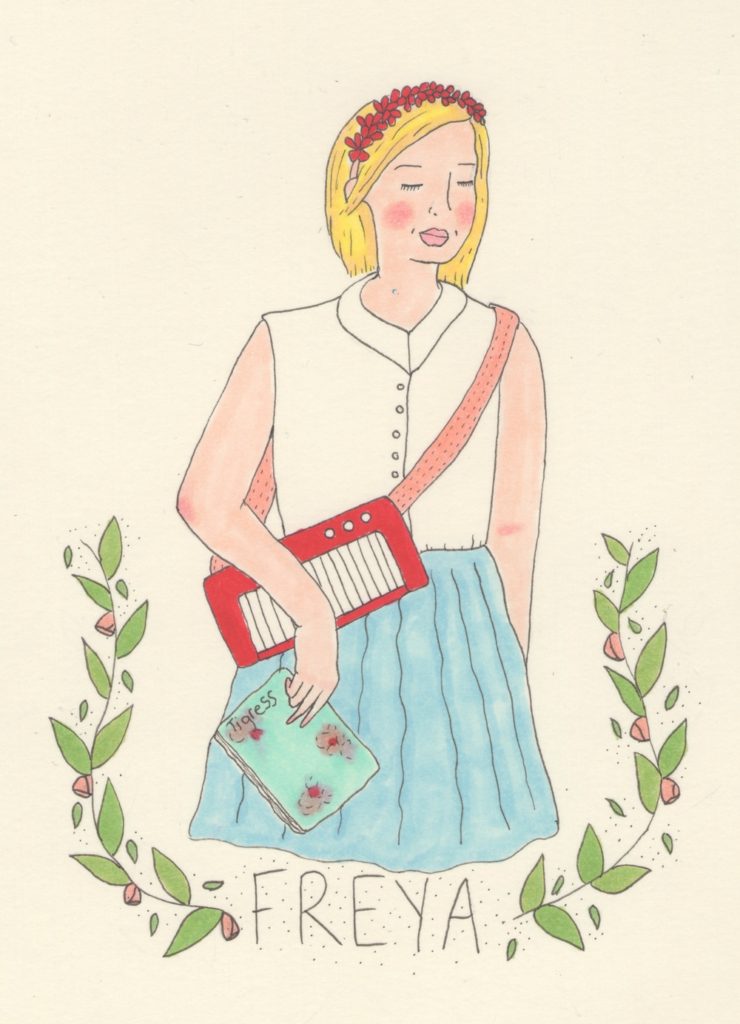 Where do you call home?
My little flat overlooking the city in Fitzroy North, Melbourne.
What's a current goal you have for yourself?
Hmm! I always have too many but my top three are:
–   Write a new song!
–   Work on mindfulness and getting into nature.
–   Save money for my wedding!
If you could give your teenage self some advice, what would it be?
It gets better. The turbulent environment you currently live in is not about you. It's about the other person. You are magnificent and lovely.
How did you get started in music? What do you enjoy about it?
I started piano when I was 8 and I never really practiced but I loved the IDEA of being able to play really well haha! Then Lisa Simpson inspired me to play the saxophone and I never went back. What I enjoy now is different from what I used to enjoy. I enjoy writing songs, working with my creative partners and collaborating. I also enjoy the stillness my mind gets when I sit down and play without any end goal.
Where would you like to be in 5 years?
In five years I would love to have Tigress as a self-sustaining magazine that keeps growing. I would also love to be writing music for film, releasing music with collaborators and probably have a kid or two!
What's something not many people know about you?
I have a recently developed fear of flying. And the way my fiancé thought he would help me overcome my fear? Make me watch all episodes of 'Air-crash investigators.' I now know the many details of what can go wrong on an plane.
Are you an introvert or extrovert?
I would definitely call myself an introvert. Although I do get energy from other people, suffice to say I would much rather stay home every weekend and watch movies and drink wine than go out and party. I can't stand clubs and loud places. I do love the night, but to me, the night is quiet and mysterious. I often wake up in the middle of the night and I like to look out my window at the city and all the rooftops. It's so still and quiet and peaceful.
What's the last book you read/are reading currently?
MINDFULNESS – 25 ways to live in the moment through art by Christophe Andre
If you could go anywhere in the world right now, where would you go and with whom?
I would go to Santorini with Serge, my partner.
What did you want to be when you grew up as a child?
A writer or an artist.
What are five things that fascinate you?
Astrology, the universe, pregnancy, music and strange rare diseases or conditions (In another life, I could have been a surgeon, I love watching surgeries, procedures etc. which probably feeds my inner hypochondriac 😉 )
Proudest Tigress accomplishment thus far?
My proudest accomplishment for Tigress is just the fact that we have reached so many girls. When we get an email from a girl in Bangladesh, New Zealand, South Africa, England etc it fills my heart with joy!
Where do you hope to see Tigress go in the next year?
I hope to see a beautiful print edition of Tigress shared across the world. I hope to see our website grow and our fan base grow! And I hope to be able to make this a full time career.
One of your favorite articles on Tigress?
I really love reading and browsing the artist features. Sophie is the one who mostly does these, it's always fresh, new and inspiring!
Last movie you watched?
Mean Girls (for the 5th time).
What's a misconception you wish you could eradicate about feminism?
The misconception that feminism is not for men, or that it doesn't include men. I saw a good tweet recently "You can't be annoyed at feminism being called feminism when the entire history of the human race is called mankind." There is a reason why it's called feminism not equalism or humanism and that's because of the history of women being treated less than men. Women still aren't treated equally to men so until we are truly, 100% equal, it needs to be called feminism because it needs to acknowledge the way women have been/are still treated.
Do you believe in karma? Luck? Fate? Evil?
I definitely believe in karma. I just think it's good to be good, ya know?
I believe in luck and fate but I don't believe in evil.
What's a skill you've always wished you had?
To be able to dance!
What are some of your favorite personality traits?
Someone who is grounded, present, thoughtful, funny, steady and has the ability to laugh at themselves and question themselves.
What's some of your favorite advice that you've received or give?
My mum always tells me to go outside and put my bare feet on the ground if I am feeling a bit out of it with stress, anxiety, worry etc.
What do you do to give yourself comfort when you are having a hard time?
If I can, I go to the ocean. Water calms me. The way the ocean is always changing yet always present, is very stabilizing. If I can't go to the ocean, I go for a walk without technology and just notice plants and the sky and animals.