Interview of Sophie Pellegrini by Freya Bennett // Illustration by Jordyn McGeachin
Interview of Sophie Pellegrini by Freya Bennett // Illustration by Jordyn McGeachin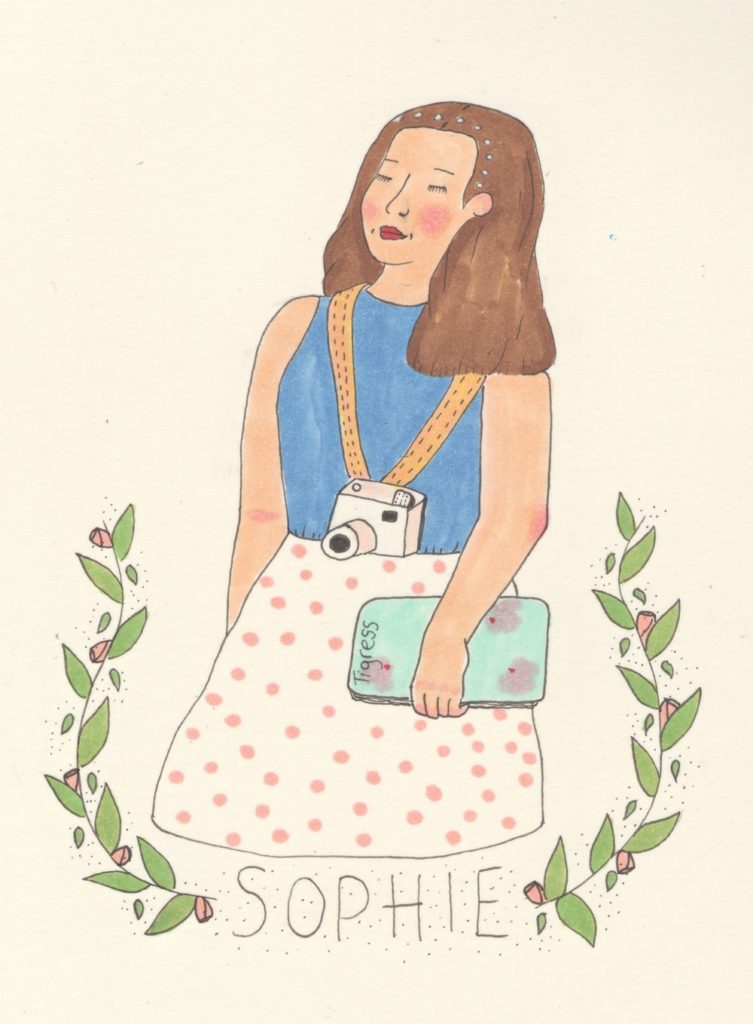 Hi Sophie! How are you?
Hi Freya! I'm quite well–but I just graduated college last weekend so frankly I have quite a few mixed emotions right now.
Where do you call home?
That's a tricky one at this point in my life. I was born and raised in Potomac, Maryland, I went to college in Maine for four years, and I'm leaving for Scotland for two years come September.
If you could describe yourself in 5 words, what would they be?
Sensitive, compassionate, creative, introverted, and multitasker.
What are the three best things that have happened to you this year?
Hm! I went to a Sufjan Stevens concert which was incredibly moving and beautiful. I was accepted into my top choice grad school program at the Glasgow School of Art. And I met and got to know a lot of new and lovely people who really enriched my life. I feel so lucky.
What is something you are passionate about?
I'm passionate about a lot of things. I suppose photography is the number one thing right now, and everything that comes with it. I'm passionate about finding, creating, and sharing beauty. I'm passionate about self-reflection and self-growth. I'm passionate about being inspired.
Where do you go to relax?
I try to get to the water, whether it's the ocean or a river or a lake. The coast is the best, especially when it's raining.
What is something you need in your life?
Some things (plural, sorry) I need: my family, a camera, music, art, the ocean, the sound of rain, pets that I can cuddle with, time to myself.
Tell us a little bit about your teenage years ?
There were definitely ups and downs. I suffered from a severe bout of my chronic major depression and was pretty lost for awhile. It was miserable at the time and I couldn't imagine getting out of it, and when I look back on my teenage years that's really what I remember first. But now, in retrospect, I realize how much I grew and learned from the experience. I'm only 22, so of course I'm still getting to know myself, but I learned so much about myself as a teenager. I began my exploration of photography; I connected with some fantastic people facing similar experiences; I developed a love for music. I learned how to be alone, which I think is such a crucial and underrated skill.
What made you want to co-edit Tigress Magazine?
I can't say how important I believe communities and platforms like Tigress are to young women in today's culture. To be a part of providing that is amazing. I think that humans are always looking for a sense of connection, particularly as teenagers, and making inspiring, healthy, and honest connections is so important. Teenage girls need to know that the things they're experiencing, both terrible and wonderful, are shared experiences, and they need something more genuine than what mainstream media outlets current provide. I'm so happy to be a part of something that is bigger than me. It feels redemptive in a way, because I really could have used a site like Tigress when I was a teen, so I like providing it for other people. I also really love being able to communicate and connect with different artists, writers, feminists, activists, and thinkers.
What do you love about collaborating with artists from all over the world?
It's so inspiring. The amount of creativity and talent out in the world is something I can't even wrap my head around. I love that the internet enables me to meet like-minded people that I never would have the chance to know otherwise.
Why do you think feminism is important?
Many reasons. Lately I've been realizing how important feminism is to achieving equal rights for all people, not just the groups of "males vs females.". The gender dichotomy and all it creates is stifling the lives of so many individuals around the world. Feminism is essential to dismantling the deeply patriarchal society we live in.
If you could change one thing about the way women are portrayed in the mainstream media, what would it be?
The sexualization and objectification of women. It perpetuates such an unhealthy culture for people of any and all genders.
If you were given a free overseas trip, where would you go?
I've been eager to visit and explore Iceland for about a year now. It seems absolutely magical.
What are you currently looking forward to?
I'm really looking forward to returning to Glasgow, Scotland to pursue my Masters of Communication Design in Photography. I spent 6 months there on exchange last year, and I can't wait to go back and commit 2 years to exploring my art.
Where do you see yourself in 5 years?
I'm really not sure. I'd like to be living on the west coast (of the US) with someone I love plus a few pets, creating art and working with people to brighten as many lives as I can.
What advice do you give friends when they are going through hard times?
It depends on the situation of course, but I try to remind them to have faith in themselves and the timing of their life. More than anything I try to listen with compassion; people need to be seen and heard, and no one wants their pain to be trivialized.
What are your coping strategies when you are having a hard time?
I've learned that spending time alone is crucial to my mental health. I often spend a chunk of time wallowing in my room in the dark, in bed, listening to sad music, and I let myself cry a bit. But then I try to get outside and bike around in the fresh air. Or I take photos.
If you could suddenly have a talent for something, what would it be?
Playing guitar. I've been teaching myself off and on for a few years, but haven't made as much progress as I would like. But I love it.
If you could have a superpower, what would it be?
I've always wished I could fly. I'll always envy birds that can ride the wind with wings outstretched.
How do you feel about celebrating Tigress' first birthday?
It feels rather unreal and a bit overwhelming! It feels like we've only just started while simultaneously feeling like it's been forever. It's very exciting to look back on where we were a year ago today–we've made so much progress, and there's still so much more to do!
What are you excited about in regards to Tigress?
So many things. I'm excited to see us continue to expand and encompass more lovely people into our community. I'm so inspired by how connected people feel to Tigress and by all the creative work people share with us–it's more and more each day, and it's so tangible! I really hope that continues. And I am SO excited for our first print edition!!!
What's your favourite colour?
I have so much trouble with "favorite" questions, because I'm indecisive and it always depends on the context and the moment. So take these answers with a (a few) grain(s) of salt!!
Maybe cerulean.
What's your favourite song at the moment?
Cigarette Daydreams by Cage the Elephant.
What's your favourite food?
Icecream.
What's your favourite thing to photograph?
People in nature.
What's your favourite city?
I don't think I've found it yet.
What's your favourite quote?
At the moment: "The bruises go away, and so does how you hate, and so does the feeling that everything you receive from life is something you have earned." -Jonathan Safran Foer, Everything is Illuminated