Interview of Emily Lubitz by Freya Bennett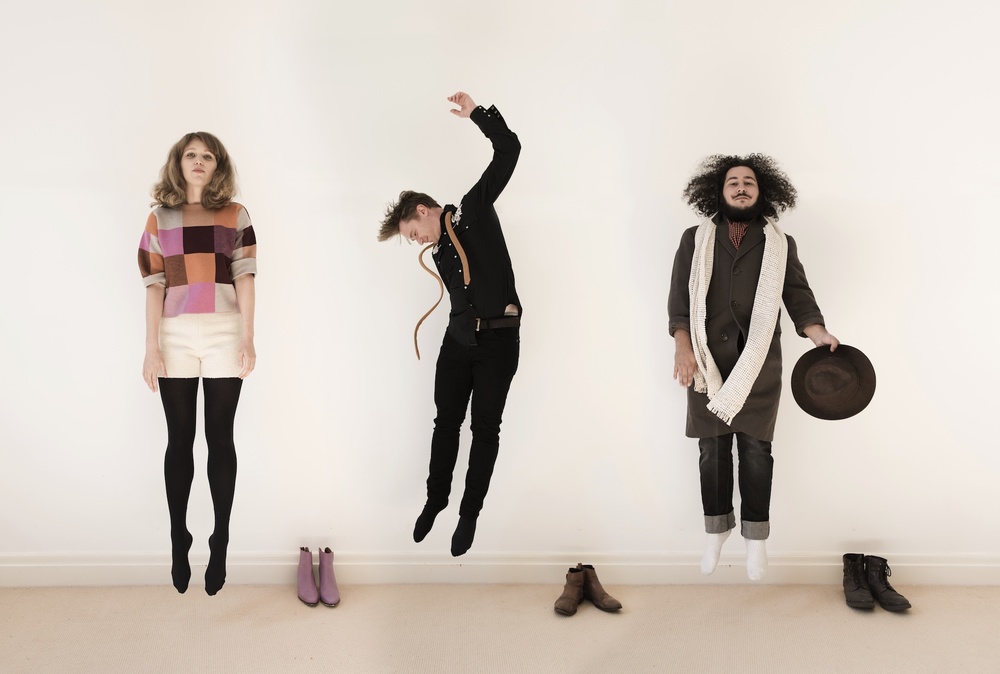 Hi Emily, how are you?
Hello! I'm fine thanks.
Tell us a bit about yourself and the other members of the band.
I play guitar and sing and write songs for Tinpan Orange. Jesse is my big brother, he also plays guitar, sings and writes songs for Tinpan Orange. Alex Burkoy is my brother from another mother who plays violin, mandolin, and guitar in Tinpan Orange and turns the songs we write into musical journeys and incredible sonic creations.
Where do you call home?
Melbourne, Australia.
How would you describe the music you create?
Melodramatic folk.
How did you get the name for the band?
We got it by using one of those recipes you use to find your porn name. Like your pet or a place or a colour, etc.. We were all sitting round and throwing out words and Tinpan Orange stuck. We have sometimes told lies that it has special meanings, like our grandmother was famous for making orange marmalade in a tin pot when she lived in Africa and that it's a tribute to her, but actually it's just a lie.
What three musicians have been your biggest inspiration?
Gillian Welch, Joni Mitchell, and The Beach Boys.
You have toured the world with Tinpan Orange, tell us your favourite and least favourite parts of touring.
I love travelling through the lens of playing music. You see a certain part of a city when you play a gig there. You meet people and certain experiences are open to you when you're touring that make you feel a part of the city for just one night. The downside is that you have to leave the next day.. You just get brief glimpses into beautiful places. And sometimes not so beautiful places. It's a roller-coaster. Missing things at home is also a downside.. weddings, births, bar mitzvahs.. Sometimes you miss out cause you're doing a gig in Toowoomba.
You are about to release your fifth studio album, LOVE IS A DOG, how has this one been different to your first four?
A lot of this album was co-written between myself, Jesse, my brother and Harry (my husband and co-producer of Love is a Dog). We had never worked like that before and I think it pushed us into new musical spaces. We recorded it very live. We were mostly all playing the songs live together, so some real honest and raw performances were captured.
Tigress is a magazine aimed at empowering teenage girls to achieve their dreams; what advice would you have for girls getting into the music industry?
Support each other! I think one of the most important things is for women to lean on each other. We can't undermine one another if we're gonna get anywhere with this equality business. There's enough room for everyone to succeed if we work hard enough. When young women are watching a band, I hope they are thinking that they could be the lead guitarist, not just date him.
The music scene has been (and often still is) a bit of a boys club– how can men and women help to change this?
Oh, it's so layered and complex and difficult. But I guess, radio stations could support more female artists, and we can keep the conversation going… It's a hard one. I suppose the strong women in the biz should know that they are role models too and that the next generation is watching them. And men have to step up… equality is only going to happen when men give up a bit of their privilege. But this is a big conversation!
What is the funniest thing that has happened on stage?
We had a blackout  from a storm at our last album launch in Melbourne. We had a sold out the Northcote Social Club waiting for us to play without lights or amplification. It wasn't exactly funny funny but it was strange funny, and scary and beautiful. Because we went on stage with our acoustic instruments and sang to a pin drop silent audience. It was one of the most exhilarating gigs I've ever done. I cried when I walked off stage. I realised how wonderful our fans are that they were totally with us through the storm.
Where can we hear more of your music?
All over the internet! itunes, spotify, youtube, etc and of course your local record store!
Where can we book tickets to see one of your shows?
New album, Love is a Dog, out April 8th and don't forget to catch Tinpan Orange live on tour April-June 2016 (Australia)
---