Writing by Elodie Silberstein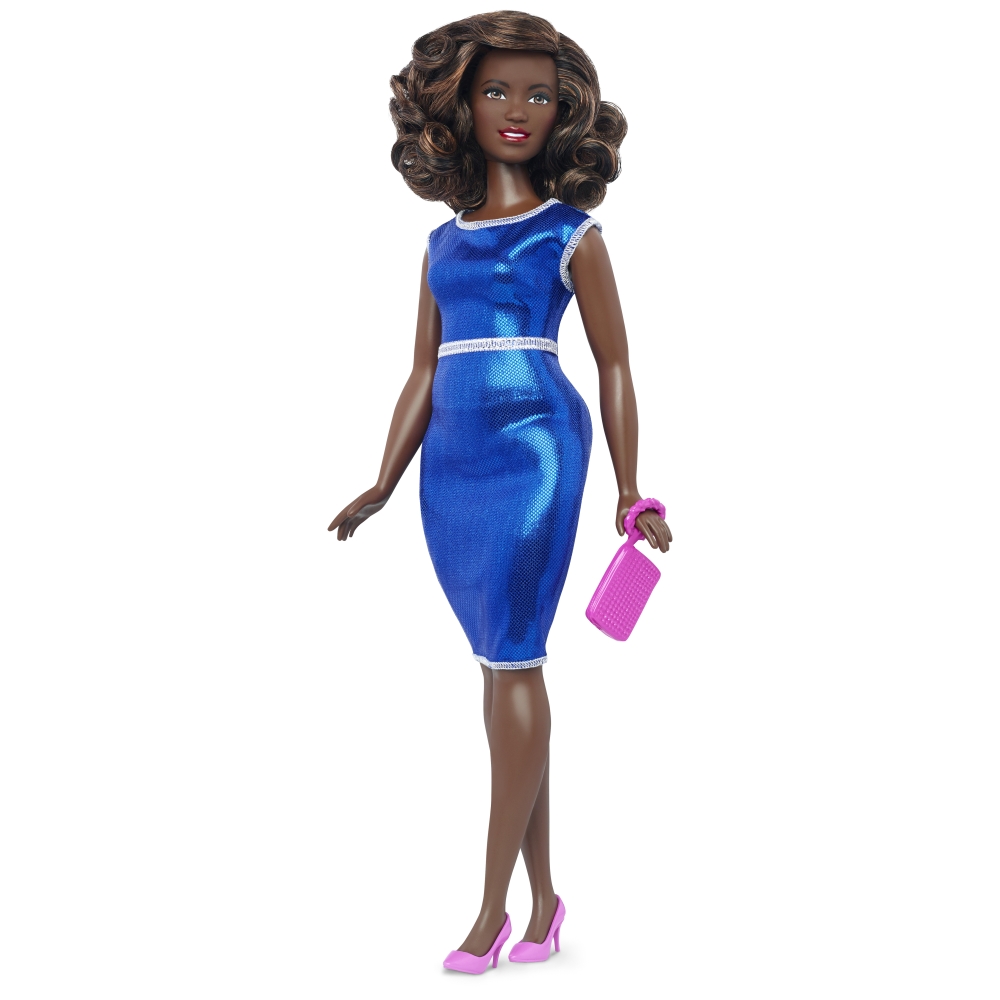 Dear Barbie,
At first you stared at me through your thick-rimmed glasses with your brown eyes. Your curly hair framed a dark colored face. I immediately spotted your shapely body in amongst the new Barbie-Fashionistas available in a choice of seven skin tones and four body types: curvy, tall, petite and original. I have to admit that I felt quite unsettled looking at a Barbie to whom I could somehow physically relate.
Exit the white Barbie doll of my childhood in Cameroon with a svelte silhouette. As a girl, I played tirelessly with you and your large closet of clothes. You had been a gift from a privileged French friend who had discarded you in favour of more mature toys. Soon you had become the object that everyone craved in my neighborhood.
In the 1970s, these were no toy shops in the populous suburbs of Douala. Dolls were made from roots in the villages and from paper in the city. I remember the surprise and wonderment in the eyes of my friends when they discovered you. Their first reflexes were to caress your smooth blond straight hair and feel your waif like body. However, in the end it was no more fun playing with you than it had been with our home-made dolls. You were a desired and at the same time hated 'other', the incarnation of an unattainable ideal of beauty. You belonged to the privileged and Western world. To us, these worlds were the same.
Fifty-seven years after your initial creation, Mattel is re-launching you as a new line with more realistic body shapes in order to reflect the diversity of contemporary society. 'There isn't this narrow standard of what a beautiful body looks like'. This is at least what your advertising campaign claims in your official web site. Quite a drastic change for a brand which has made its fortune selling the same stereotypical ideal to the mass market. For half a century, you have incarnated the dream of the American way of life and a prototype of its objectified femininity.
Your figure was disciplined, expensive, unproductive and begged for consumption in every sense of the term. As a transnational commodity, you proudly exhibited your iconic silhouette in the four corners of the world. Until now, you have disdainfully ignored feminists and concerned parents with respect to the social, class, racial and corporal dictatorship you embody.
So what made you change your mind so quickly? I am a bit surprised and very skeptical about your sudden concern for girls' self-esteem and body image. Interviewed in March 2014 by Mark Wilson from Co.Design, your vice president of design Kim Culmone emphasized the crucial notion of heritage: 'this is a 55-year-old brand where moms are handing clothes down to their daughters, and so keeping the integrity of that is really important'. Culmone's position was crystal clear. You were never intended to be realistic but to be easily dressed and undressed.
While your dark skin version hit the shelves in the late 1960s, the iconic measurements of your controversial body were never supposed to change. Now, you have a more voluptuous bottom, wider hips but retain a narrow waist. Mothers have expressed their relief at your new realistic body shape but I am not so easily convinced. Your body has always incarnated an ideal and in this regard, nothing has changed. Your nips and tucks towards a curvaceous anatomy just reflect contemporary geopolitical, social and economic mutations.  Your new figure has been forged by a model of black femininity. It is now 'cool' to have a 'big booty' and 'sexy curves' as Jennifer Lopez sang in 2014 in her clip 'Booty', parading her assets on stage. This is nothing new for Latin American and black beauties who do not hesitate to use fake butts and plastic surgery. What is ground-breaking is the generalization.
The phenomenon does not only concern celebrities and queens of pop music such as Nicki Minaj and Beyoncé. Brazilian fashion model Gisele Bündchen exhibits her bottom while surfing during the Chanel Nº5 film 'The One That I Want'.  Last year, Barbadian singer Rihanna was the first ever black to star in the campaign of the Christian Dior's 'Secret Garden' series. Discretely showing off her tattoo, seductively playing with her cleavage and wiggling her sensuous body, Rihanna has successfully updated the codes of the French fashion house. Dior has traded the androgynous body for a model of black femininity.
One could argue that you are still a hypersexualized and dictatorial ideal in a patriarchal beauty system. Your design was, after all, initially inspired by Lilli, a German pin up doll and comic character. In the 1950s, you conformed to the American beauty ideal of having a generous bosom. Your large breasts did not impress parents who found you overly sexual for their little ones.  Today, Kim Kardashian's large butt has replaced Jayne Mansfield's ample bust in the celebrity culture and the collective imaginary. We have bartered boob jobs for booty plastic surgery. I am not sure that your 'new you' is such an improvement.
So are we really better off with Curvy Barbie Fashionistas? Despite all of your limitations, the quick answer is yes. Barbie, you are just a response to market pressure following the drastic fall of your sales in the last four years. Your new line is embedded in a mercantile logic, not an ethical one. Your ideal of beauty still enslaves us. You do not represent a genuine change towards a more inclusive and empowering mainstream toy industry. No one has been fooled by your marketing tricks. What you are representative of is a shift towards a more multicultural world, a world in which the influence and purchasing power of minorities has increased, and the code of the seductive has been more syncretic. And this is definitely good news for everybody.
Best regards,
Elodie Silberstein
[share]