Interview of Alia Romagnoli by Sophie Pellegrini // I like to use colours, geometric patterns, glitter, flowers, and polka dots, to complement and tell a story about the illustrated/photographed subject.
Interview of Alia Romagnoli by Sophie Pellegrini
Tell us a little about yourself; where are you from and what do you do?
My name is Alia, I am 20 years old, I am half Indian and half Italian, and I currently live in London. I am in my second year at film school and I like to experiment with photography, collages, and illustration.
How did you get started in the arts? What mediums do you work in, and do you have a favorite?
My mother is my biggest influence, she was the person who exposed me to different forms of art at a very young age because she works in textiles and embroidery. As a child, I would visit the embroidery factory and collect the beads and sequins that were scattered on the floor as well as watch the skilled craftsmen make beautiful pieces that told so many stories. She always encouraged me to document this process and that's how I got into photography and film. Making collages with the paintings and photographs I took was my way of taking something physical and turning it into a different piece of art that tells a completely different narrative.
I generally work with digital illustrations and photographs (which is what I feel has the right balance for the kind of pieces I like to make) but I also enjoy merging acrylic and watercolor with it as well.
Tell us a little about your artistic work process.
I generally like to photograph my sister. When we were kids she would always let me paint her face and give her makeovers and after a while, she was the first person I would go to if I had an idea for a theme I wanted to try out. Since we don't live in the same country anymore, I tend to shoot and draw my friends more now. I generally don't have an artistic work process when it comes to drawing people because I kinda just try different things out with Photoshop, but when it comes to photographing someone, I usually plan out the theme and source the props/backgrounds before so I have a good idea of the aesthetic I am going for on the day.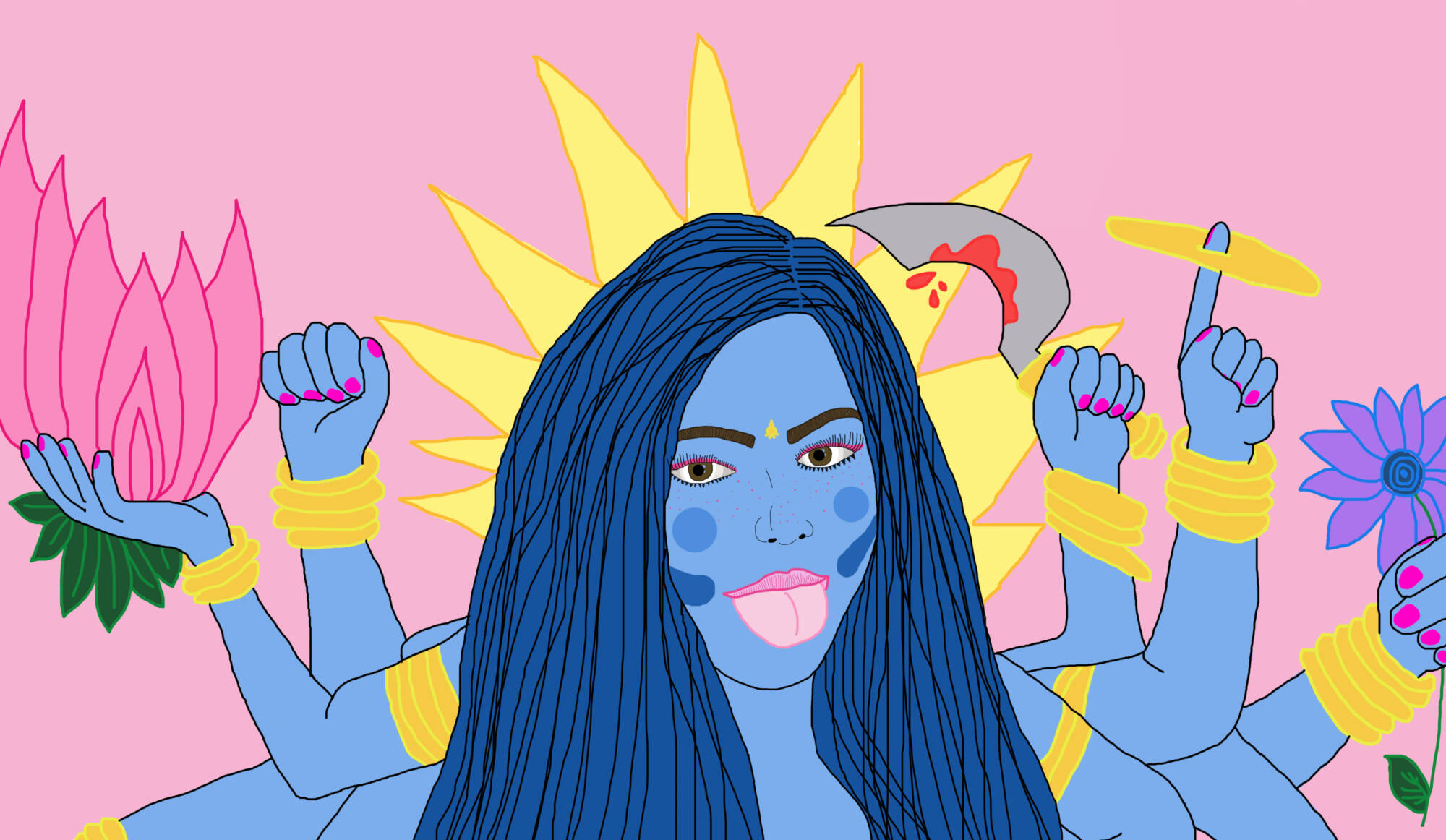 How would you describe your artistic aesthetic?
I like to use colours, geometric patterns, glitter, flowers, and polka dots, to complement and tell a story about the illustrated/photographed subject. A lot of my aesthetic inspirations come from things I saw in everyday life growing up in India and many of the backgrounds in my illustrated pieces are inspired by rangoli (patterns that are often drawn at the entrances of houses with coloured sand and flowers on Hindu festivals and special occasions).
What inspires your artwork?
I spent most of my life in India, so a lot of my work is inspired by that side of my heritage. My friends and I would collect Amar Chitra Katha comics that told Indian folktales and mythological stories and I think I take a lot of inspiration from the illustrations and style in those. I was always so mesmerised by the portrayal of Hindu goddesses like Lakshmi and Kali and the way they were associated with power and strength. As a little girl, I would look at them and always hope to someday have that too. I think these images of bold women who use their femininity as a form of strength is an underlying theme in the type of artwork I like to create.
Who are some of your favorite artists?
One of the first times I ever fell in love with an artist's work was when I went to see Yayoi Kusama's show at the Tate quite a few years ago. The colours, patterns, and her ability to surprise various senses at once left me completely in awe of her artwork. I loved that she created and provoked so many feelings through different mediums that ranged from a painting on a canvas to an entire mirrored room.
Ayqa Khan is another artist I am really inspired by. Her illustrations portraying women with their natural body hair is a message I think a lot of young South Asian women need, especially with the media that puts so much pressure on women to look a certain way. I remember how in school I would be so self-conscious about my eyebrows, my upper lip, my arms, and I never felt like I had a choice, I always felt like hair was something you HAD to not have and I think her art really sends out a powerful message to counter this.
Mika Ninagawa is one of my favourite photographer;, she uses lots of colours, flowers, and fish, and her sets are always so overwhelmingly beautiful. I like the way she increases the saturation on her pictures making them almost psychedelic and I take a lot of inspiration from the way she lays out her images in her books.
Girls seem to be an important subject within your work. Would you agree? Why do you like photographing and illustrating girls?
I still think as women, we are severely underestimated. I love having girls as the focus of my pieces because I want people to acknowledge that we are still fighting our own battles, to be heard, to be understood, to be respected; and it may not be large wars like in the Amar Chitra Katha comics, but they are still important.
What inspires you, in art and in life?
I am so inspired by the diversity we have in the world and the beauty nature gives us. I am inspired by flowers, the ocean, and the trees. I am inspired by India every day; I am inspired by the women in my life who helped shape and encourage me: my mum, my grandma, my sister; I am inspired by art people made centuries ago as well as the art people my age put on Instagram today. There are so many smells, sights, and sounds that fill me with hope and remind me why life and art are wonderful.
What's the last film you watched? Last book you read? Last song you listened to?
The last film I watched was The Way He Looks (it wasn't my first time watching it though). It's a Brazilian LGBTQIA+ coming of age film that was first made as a short and later got made into a feature I think. It's my favourite genre of film and the kind I relate to the most (it was also one of the films that made me want to study film at uni along with ones like Diary of a Teenage Girl, Blue is the Warmest Colour, Submarine, and The Virgin Suicides).
The last book I read was Milk and Honey by Rupi Kaur. It's a poetry book that is divided into four sections that each deal with a different kind of pain. Some of the poems are really small but so beautiful and each section takes you on a different journey.
The last song I listened to was "Berlin" by Bear's Den. I saw them live last week and heard that song for the first time and absolutely fell in love with it!