Interview of Lucy Roleff by Freya Bennett // Social media and the human tendency to 'compare and despair' can make you feel like you need to take enormous strides to be any good and that can be very overwhelming. Do it because you enjoy it and find a style and definition of success that is true to you!
Interview of Lucy Roleff by Freya Bennett
Tell us a little bit about yourself:
My name is Lucy and I'm an illustrator and musician living in Melbourne.
How did you get started in the arts? What mediums do you work in, and do you have a favourite?
I have always loved to draw and I spent much of my late teens/early twenties alone in my bedroom practicing and exploring different styles. Several years ago, I returned from a stint living overseas and was a little bit uncertain about what to do next in my life. The idea of spending my days as a freelance illustrator always filled me with a nice, content feeling so I decided to do the NEIS scheme and start my own little business.
I mostly work in colour pencil but I also do some digital stuff for animation content. Lately I have been exploring oil painting which is something I have always wanted to do since Uni, but for some reason thought was too hard/messy/above my skill set. I spent about a year just watching videos on technique and colour mixing to figure out which style resonated most with me and in the past few months have been doing it properly. I am pretty obsessed with painting now and very much enjoy the direction it's going.
Did you study art formally in school?
I've noticed that I had a funny 360 thing happen over the last ten years. I was initially accepted into painting at Monash University but I had had so much encouragement in my photography work during high school that I changed my preference at the last minute and ended up majoring in photomedia instead. I really enjoyed it at the time but I would still draw at home and took up all the drawing and painting electives I could. After Uni I was in a few photography exhibitions but gave it up pretty quickly and focused on drawing.
You're also a musician, do you find inspiration from music goes into your art? Or vice versa?
I get asked this questions a lot and I'm not sure if the two feed each other so much as they provide a refresher from one another and a new way of seeing the world. I feel like I have a pretty solid aesthetic that I'm into musically and visually and so it's quite wonderful to have different mediums to channel this through, if that makes sense. Sometimes music is better for expressing or capturing something more directly, where illustration might be more about a mood than a specific message or sentiment.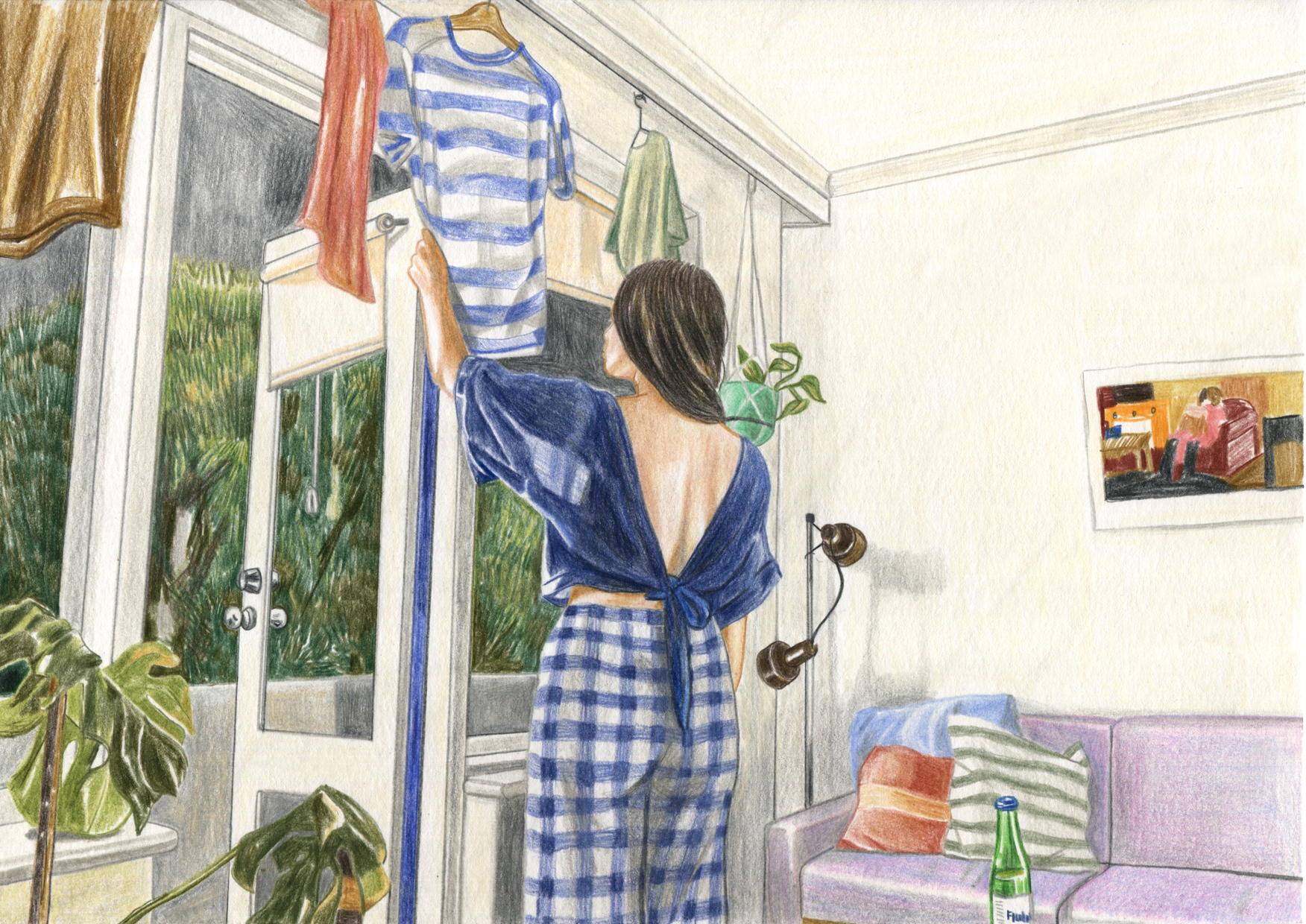 Who are some of your favourite artists/musicians?
At the moment I am slowly devouring about 20 different art books on painters who I admire; Félix Vallotton, Pavel Feinstein, John Singer Sargent, Rupert Bunny, Alice Neel. The list keeps growing. As for musicians, I don't tend to have many all-time heroes for some reason but a mix of long term and current favourite musicians and composers is – Rameau, Bridget St John, Baciamibartali, Lara Logic, Marais, Cocteau Twins, Steeleye Span, The Wake, Sally Oldfield, Laura Allan.
If you could give advice to someone interested in getting started in the visual arts who is unsure of where to start, what would it be?
Don't be scared off by the idea that you have to do everything at once or be immediately super successful. I feel like the most sustainable, respectable careers are held by artists who have a healthy relationship with their work and just chip away at it and keep creating. Social media and the human tendency to 'compare and despair' can make you feel like you need to take enormous strides to be any good and that can be very overwhelming. Do it because you enjoy it and find a style and definition of success that is true to you!
When I first started out, I did all the cold call emailing stuff that people suggest but most of the work I have gotten has come through word of mouth or through networking platforms like Instagram. I do think it can really help you to have a good online presence that shows your style clearly. I heard a quote somewhere recently that said the work you put out there is the work you'll attract which makes sense – so it can be good to refine your style for your online folio if you really want a specific type of job. Up until pretty recently, my style was a bit all over the place and it's only in the last year or so where I feel like I've tightened it up quite a bit and am pretty happy with what I'm putting out there.
What inspires your artwork? Are the portraits you paint/illustrate real people, or "made up"?
My artwork is very much inspired by quiet, domestic and contemplative moments. All my drawings are of friends, family or myself. My cousin Jessica in particular appears in quite a few of my drawings because she has a very gentle nature so often I'll see her just sitting there and suddenly jump up with my phone saying "hold that!" and try to capture it. Sometimes I'll take a snap of a model and then draw them within a different setting to where I photographed them. Google image search is a live saver if you want to, for example, implant a beach scene outside a brick-wall-facing-window.
Your art is very detailed, how long does each piece of art take?
My drawings take maybe half a day to a day whereas a painting would take about two days. I tend to work pretty quickly and am definitely the sort of person who forgets to get up and walk around or get some fresh air. I'm trying to get better at taking breaks for my own health but also to refresh my eyes and perspective.
How do you spend your time when you aren't creating art?
I tend to feel at my best when I'm creating something but I am also getting better at doing nothing and embracing boredom because I think it's very good for your brain and wellbeing. When not creating art I like to read about the mind and alternative psychology, play the harp, write short poems or vignette stories, sit around with my cat, read art books, make soup, go for walks, observe people, eat baguettes, drink tea with a friend. I also taught myself to sew earlier this year which was extremely enjoyable and I hope to get back into it when I have some more idle time.
What's something not a lot of people know about you?
Hmm I'm not overly reserved so I don't have too many deep, dark secrets. When I was a kid I was in the Australian Girls Choir and got to be in a pretty famous Qantas ad. Just google "Qantas I still call Australia home ad 1998" and you'll see – I'm one of the little black and white specks standing on the rock. We got up there by helicopter. There were dozens of us put up on camper beds in a huge circus tent thing which got flooded so we were moved to a fancy hotel for the last few nights.
I also finished a Masters in Teaching (Visual Arts and EAL) when I was 22 but haven't stepped foot in a classroom yet. Maybe one day!