Interview of Caylin Yorba-Ruiz by Sophie Pellegrini // I knew then and there that I wanted to make art that would raise awareness, challenge minds, and inspire social change. I want to focus specifically on empowerment, feminism, ecology, mental health, and just positive ethics and moral wellbeing. ​
Hi Caylin! Tell us a bit about yourself.
Hi Ramona Magazine, my name is Caylin and I'm a 20-year-old wannabe graphic designer who is studying studying art and media studies at the University of California, Riverside.
How did you get started in the arts?
I think the reason behind my decision to study art is largely based on my parent's support towards my academic endeavors. I am extremely grateful for their support and encouragement. I've known I wanted to be an artist from a very young age, and my parents never made it seem any less challenging, rigorous, or worthy than any other career choices. When I was ten, I saw Ken Gonzalez-Day's "Erased Lynchings" at LACMA's art show, titled Life After the Chicano Movement. When I saw this, I knew then and there that I wanted to make art that would raise awareness, challenge minds, and inspire social change. I want to focus specifically on empowerment, feminism, ecology, mental health, and just positive ethics and moral wellbeing. ​
You're currently studying art and media at the University of California Riverside. How are you enjoying it?
My art and media studies majors are actually two separate majors (double major), so when I graduate soon (hopefully a couple terms early), I'll be graduating with two different Bachelor's of Arts. I'm actually more fond of the Media and Cultural Studies major because I am in LOVE with media production, media theory, and advertising in pop culture. I highly encourage you to look up "media literacy," it will change the way you approach and think about social media, television, and capitalism in general.
You work in a range of mediums, from illustration to photography to zines to typography. Do you have a favorite?
I'm stuck in between zines, typography, and graphic design. I have always loved fonts and typography, and now my process involves hand lettering and then converting it to be digital so I can use it in graphics. I also really love zines as a way to spread a message and make information accessible to a wider range of audiences.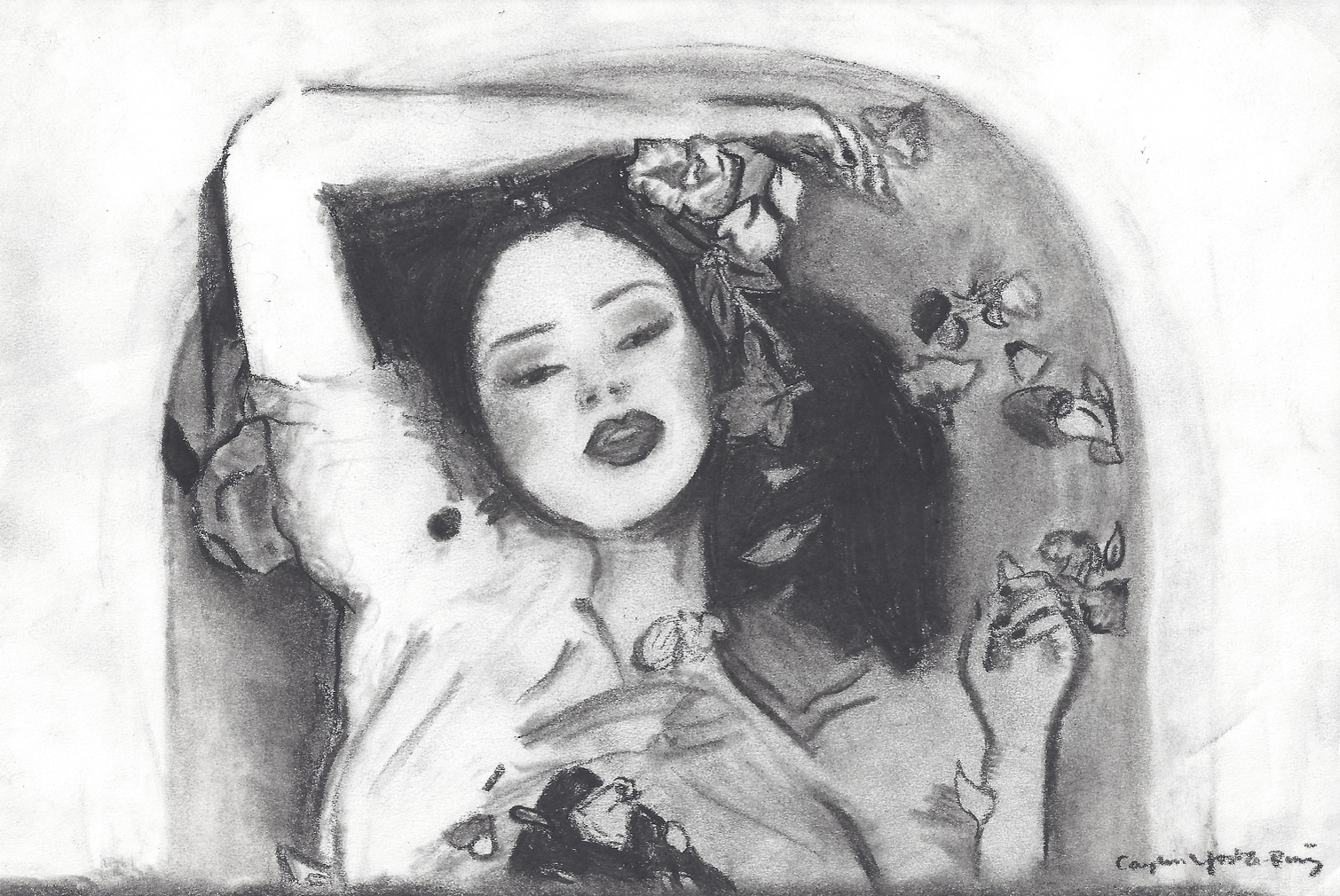 You created a zine called Empowered Women. Can you tell us a bit about it? What inspired the idea?
I initially created the zine as a response to the political climate in the U.S. As a feminist, woman of color, and a sexual assault survivor, I was incredibly shocked and disgusted with the things Trump was saying about women, towards women, etc. It was a political response without being directly political. I believe inspiring, empowering, and motivating other women is an act of rebellion in and of itself given our current political climate. 
AND you've made self-care and self-love coloring books. Where did this idea come from?
The coloring books started when I began participating in trauma-informed yoga through my school. Throughout the course, the idea of self-love and acceptance was continually brought up. Although I encourage people to practice self love, it was not something I felt I had ever done for myself. The whole "Transcending Trauma through Yoga" program is great in helping survivors feel comfortable and safe in their own bodies by surrounding us with positive and empowering affirmations. I wanted to take these new mantras and quotes I was telling myself in my self-love journey, and distribute them in a way that was therapeutic and in a form of self-care.
What do "self-care" and "self-love" mean / look like to you?
To me, self-care means acknowledging that your mental health is just as important as your physical health, and really listening to your body, yourself, and your needs.  It's okay to push yourself, but when your body and brain are tired, don't ignore it! Give yourself time every day to take care of yourself, whether that means watching something on Netflix or sleeping in an extra ten minutes. Self-love on the other hand has been a new concept to me and I am still exploring and discovering what it feels like to express love towards myself. Some days it really just means being content with my reflection, or giving myself pats on the back when I work hard for something or accomplish something. Ultimately, I think self-love is vital in self-care, because I don't think one can take care of themselves if they are not fully aware of all of the love, compassion, and strength they truly deserve.
How do you fill your time when you aren't working on your various art projects?
Work, food, sleep, and school! I'm working on making time for myself but it's really hard in between two jobs and going to school full time.
List five things that fascinate and inspire you.
The power and strength of women! Everyday I am astounded by the resilience of women and their courage in this world. There is power in unity, so please continue to support, empower, and encourage the women around you.

Learning! I've always been really into academics, and I think having the opportunity to learn is such a beautiful blessing. I feel like learning pushes you to test your boundaries, question the norms, and find something you are incredibly passionate about.

Ecofeminism: So I just recently stumbled upon ecofeminism and I'm really hooked, I'm even finishing up a mini zine surrounding it! I took an ecofeminist approach to the anthropocene in one of my classes, and it's really challenged me in my contribution towards environmental issues, causing me to consider going vegetarian and cruelty free in all my hygiene/beauty products. Ecofeminism doesn't claim ecology and feminism have the same issues, but as a feminist, you should consider patriarchal, capitalist, human-centric ideologies to be a really big factor in contributing towards both environmental issues and feminist issues, and feminists should be working in alliance with ecology.

L-O-V-E! I love, love, love to be in love, I love the power of love. I am a very big advocate for living a life dedicated to loving others, loving yourself. I think I am so infatuated with the strength of love because of my spiritual foundation in Christianity, so in turn I aspire to love my bestfriend and my worst enemy without limits. I really think a lot of what our world is missing is love, and being able to put someone's needs before your own.

I know this sounds really cheesy and not "feminist" at all, but my boyfriend. I believe it is such an amazing experience to fall in love with a great person, and my insight and perspective on the world has changed completely. I am constantly inspired to be the best me and I'm met with so much love and support in all my endeavors from him.


Follow Caylin's work on Instagram and her website.