Interview of Holly Flynn by Sophie Pellegrini // My earrings are hand drawn and handmade so you won't see any other earrings quite like them because it all comes from my head and my hands.
Interview of Holly Flynn by Sophie Pellegrini
Hi Holly! Can you tell us a bit about yourself?
Sure! My name's Holly, I'm 23 and I'm from Melbourne. Since graduating university I guess I identify myself as a creative type (a.k.a. always looking for work haha). I'm a major music addict, film buff, and TV junkie. I have a sweet tooth, love every song ever written by The Beatles, and adore dogs. The highlight of my life so far is being accidentally kicked in the leg by Benedict Cumberbatch. I seriously doubt I'll ever be able to top that before I die.
How did you get started making your wonderful earrings? Have you always been an artist?
I've always been a very creative person – be that fine art, music, or writing. I've drawn for as long as I can remember but after a while high school and then university and then life got in the way and I began to express myself that way less and less. Then whilst looking for work post-uni, I began to crave creativity again and started looking up different products and projects online for inspiration. I stumbled across shrink plastic (which has been around in various forms for years) and wanted to try it out. I was instantly obsessed – it's such a great medium to work with. Don't get me wrong, it's bloody temperamental and when it goes wrong for a perfectionist like me it's shattering haha.
Despite having my ears pierced since primary school I've never been a big earring-wearer up until now. I was never into the massive hoops or tassels or simple studs, and the idea that I could turn my own drawings into wearable and unique art was very exciting.
How do you choose the things/people you decide to illustrate and turn into earrings?
To begin with, I just chose characters and icons that appealed to me because I wasn't sure if anyone was ever going to see them let alone be interested in buying and wearing them! My main focus is "pop culture" which usually encompasses famous faces from film, TV, music, literature & art. Occasionally I do custom pet portrait pairs too.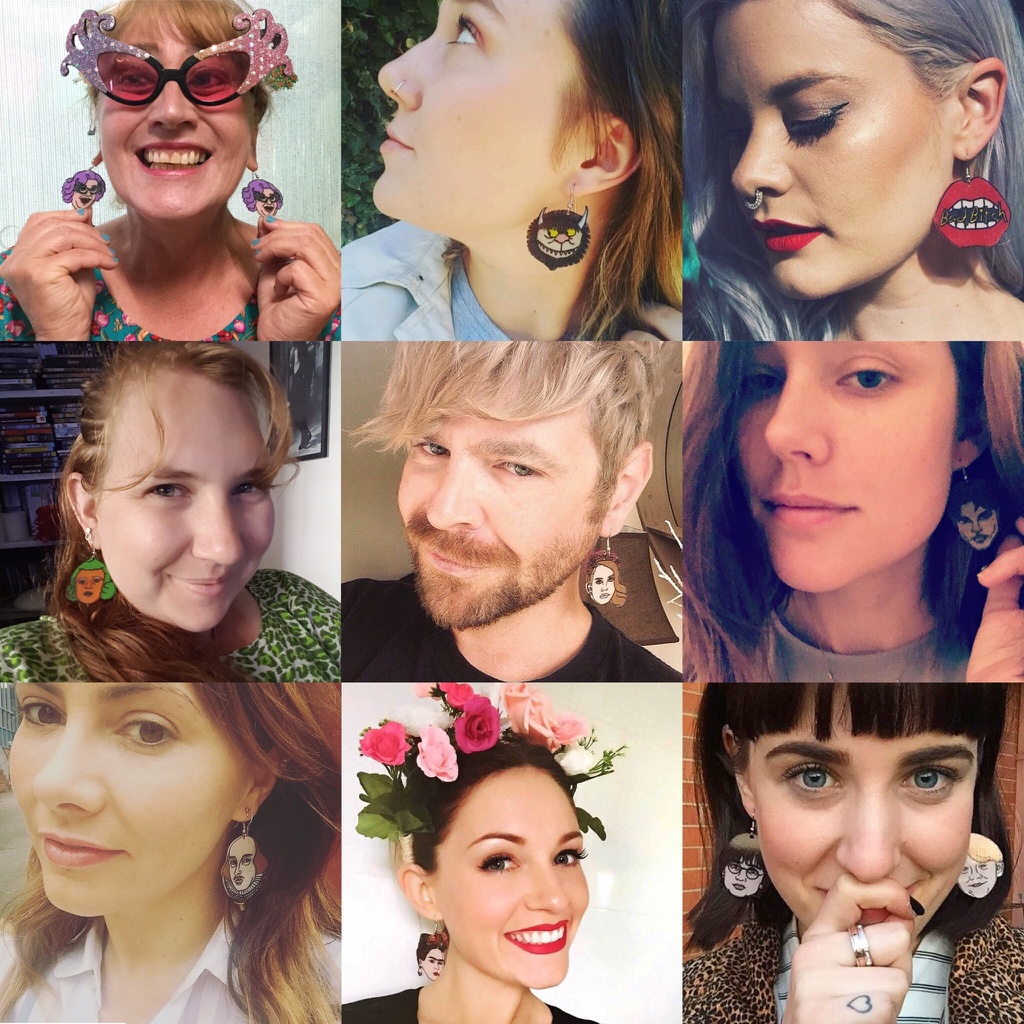 Tell us a bit about your work process.
I work with shrink plastic, which is roughly A4 sized sheets of craft plastic. I have templates on normal paper (that I've either traced roughly or sketched freehand) that I place under a sheet of plastic and re-draw. I do the outline on one side and sand and fill in the reverse side with pencil. Then I cut them out, hole punch them for the hook and bake them in the oven. Once cooked I then lightly seal each piece and ta-da – ready for wear!
How do you spend your time when you aren't working on Little Legends?
Currently I work as an assistant music publicist and social media manager, so that keeps me plenty busy most weekdays. The craft work typically happens at night and on weekends.
Do you have a favorite pair of earrings you've created?
Ooh good question. I've honestly never really thought about it. One of the earliest designs I did was Shakespeare so I guess I've got a soft spot for that design. I really like the David Lynch ones I've just done (as well as a whole bunch of Twin Peaks designs) and the Wonder Woman ones are vibrant and fun. My Aussie themed range is great to wear out & about (Dame Edna, Vegemite, Bubble O' Bill, and Kangaroo crossing sign). If I was to gauge the best pairs from my regular customers I'd say David Bowie, Frida Kahlo, Daria, T-Rex, and Frankenstein have been pretty popular. Luckily my designs appeal to a broad range of people, so whatever you're into I'm sure I've covered it somehow!
What's your favorite thing about being an artist/creator?
It's quietly therapeutic (when it goes to plan hehe) and everything you create is unique to you. I don't know anyone else doing what I'm doing. My earrings are hand drawn and handmade so you won't see any other earrings quite like them because it all comes from my head and my hands. I guess I'm a bit of an introvert too, so being bold and fun and playful in my art is the best form of expression for me.
What have been the highlights of your creative journey so far?
Honestly, selling my first pair of earrings was a huge deal. I never even knew I would even get to that! I've been lucky to get a little bit of celebrity support along the way. Ella Hooper (singer-songwriter, TV/radio personality, and frontwoman of Killing Heidi) has been a lover of my work from early on. After buying a pair of Shakespeare earrings off me last year we then collaborated on a limited edition range of earring merch for her double EP Venom/New Magic tour. I made her 20 pairs to take on the road and sell which was a real thrill! Through word of mouth via Ella I then made 10 pairs of custom dangles for sick-as Sydney acapella girl group Bad Bitch Choir. Comedian/radio host Em Rusciano has a pair of doppelganger earrings of herself and a Barbara Streisand brooch that her producers ordered from me as a surprise gift for her. They filmed a clip of her receiving them too which can be watched here. That was super exciting and I got a flurry of orders on the back of that clip going live.
I've also sent out a couple of pairs to people I admire and who have expressed interest in my earrings. I sent a pair of Prince earrings to actress & activist Megan Boone from NBC's The Blacklist after she shared my work on her social media pages, and then John O'Hurley (who played Elaine's hilarious, eccentric boss Mr Peterman in Seinfeld) got a pair of himself in his heyday made up for his wife haha. I also made a one-off keyring for Samuel Johnson to promote his Love Your Sister cancer-busting campaign (and he very sweetly sent me a handwritten letter of thanks for that). And then just a couple of months back I went to Oz Comic Con and met the gorgeous Sherilyn Fenn who plays Audrey Horne in Twin Peaks. I wore a pair of Audrey & Cooper earrings and she just adored them, so it was really cool to get direct, positive feedback from someone like her.