Interview of Marte Lindholm by Sophie Pellegrini // I want to treasure the details, our delicacy, and our strength; the ordinary and unique parts of being humans.
Interview of Marte Lindholm by Sophie Pellegrini 
Hi Marte! Tell us a bit about yourself!
I'm 19 years old and reside in Oslo, Norway. I am currently attending university, where I study single subjects in philosophy and Middle Eastern studies, but I start on a law degree in January. Aside from drawing and painting, I also enjoy reading, and am very interested in politics — especially human, women's, and animal rights, in addition to environmental issues, which is partly why I decided to study law. Personality wise, I have an overactive imagination, and I love learning new things. I am also quite naïve and an hopeless optimist.
How did you get started with painting?
This may sound cliché, but I have been painting for as long as I can remember. I have always enjoyed creating things with my hands, anything from drawing to whittling. However, I was never really serious about drawing until 9th grade or so. I, like many other adolescents, had very many thoughts in my head at once, and I had to vent it out somehow.
Tell us what your work process looks like.
One word: messy. From start to finish! My ideas are very spontaneous, and they usually appear when I am outside (without a sketchbook, of course), when I am dreaming, sometimes when I listen to music, am outside, or watch a movie. I usually never sketch an idea before I start on the actual drawing or painting, which is probably why at least 50% of my work is unsuccessful. But somehow, I quite enjoy that part of creating, the spontaneity, and not over planning anything. I do not have any structure in my drawing process, either; I paint the part of the painting I want to at the moment. As a result, my desk, my bed, the floor, or where I am working at the moment, looks like a catastrophe; pencils and paintbrushes scattered everywhere.
What inspires your pieces?
I have always preferred to draw people, maybe because I find so much beauty in our flaws and imperfections — humans have a charm which cannot be captured by inanimate objects. I want to treasure the details, our delicacy, and our strength; the ordinary and unique parts of being humans.
Most of you art is portraits; are the people you paint from "real life" or imaginary?
Both! I try to do a lot of studies of faces I find interesting to practice proportions and lighting. However, when I draw just to relax, the faces I draw are imaginary.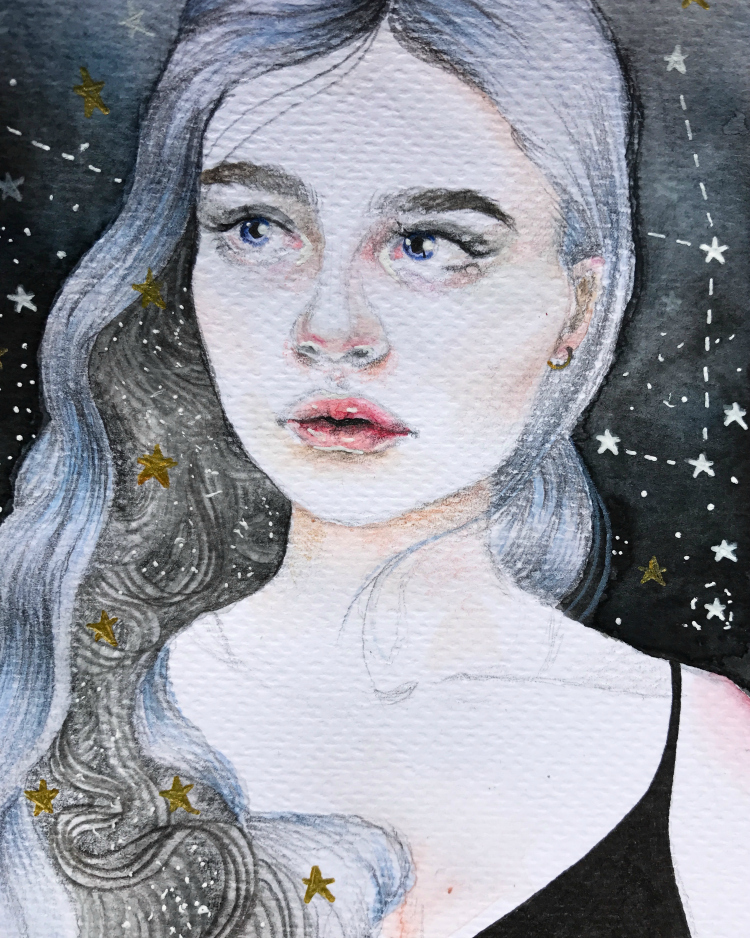 How would you describe your aesthetic?
At the moment, my aesthetic is very dominated by animals, insects, flowers, and other plants. Green is my favourite colour, and I am still aching to paint something very dominated by this colour. Otherwise, I also love blue and yellow — they just go so well together with everything! I think my aesthetic has, without trying to sound conceited, a dreamlike quality to it. I mostly draw to vent my feelings or to relax, and as a result to this, most of my drawings get a sort of serene atmosphere.
How do you spend your time when you're not creating art?
I moved away from home this year, so lately I've been very preoccupied with trying to teach myself how to cook (It turns out I am horrible at it), and working to cover the house rent. I also enjoy taking long walks outside, looking at the nature and other people. I also enjoy reading books, drinking tea or hot chocolate, and dreaming about all the places I want to visit.
If you could travel anywhere in the world, where would you go?
An impossible question! There are so many places I want to see, and so little time. However, if I had to choose one place, I'd probably choose the Amazon rainforest. It is filled with so many unique species, both in terms of animals and plants. It is also severely threatened by different industrial interests, and unless we can do something to revert the destruction there, it will die very shortly. Due to this, my choice is the Amazon rainforest, as I want to be able to see, hear, and smell what it is like to be surrounded by a rainforest.
Can you leave us with a favorite quote?
"All children are artists. The problem is how to remain an artist once you grow up."
Where can we see more of your work?
The only social media platform I use for my art is my Instagram! @Marte.li