Interview of Lucia Fainzilber by Tara Presnell // I come from a very feminine world. I am the oldest of three sisters and always been surrounded by lots of girl friends. There is something about the sisterhood, friendship and motherhood that I found incredibly moving.
Interview of Lucia Fainzilber by Tara Presnell
Tell us a little about yourself? What was your pathway to ending up where you are now?
Since I was a little kid I had a passion for color. I had phases I dressed in pink, another in black, another in green, and everything I chose was around those colors. The red from Dorothy's Wizard of Oz shoes stuck in my memory for a long time and so it happened with specific colors of objects I loved. I grew up in a family where films have been a very important part of my education: my father is a sound designer and my grandmother an absolute film enthusiast so I grew up watching movies. This is how my adoration for images started and I decided to study art direction in filmmaking. After finishing film school I discovered the world of the Colorimetry and that I how I started to work color-correcting movies, which gave me very useful tools to learn how to sail in the world of color.  I always loved photography but was just something I did when travelling or while being with my friends. I decided to take it to another level in my life and living in NY was something I always wanted. I moved to NY to study at the International Center of Photography and since then I found in photography my way of expressing my way of seeing the world.
If not New York, where would you live?
If I not NY, I would live somewhere with a warmer weather and more nature but with an exciting cultural scene. Haven't found that place yet!
I've been trying to decide my favourite series of yours, I am leaning towards 'The Cookbook' as the colour palettes of each image are so so pleasing on the eye ! However, I think I have to go with 'A Ballad of Everyday'' as I love the idea of finding hidden beauty and intrigue in the mundane. Do always have a camera nearby just incase a photographic opportunity arises?
I'm not the kind of photographer who is always with a camera around, but I observe a lot, that's why I love about a city like NY. Being able to unveil the layers that compose the city and find all these moments and spaces in-between the mundane is something that fascinates me. The eye is a muscle and as image-makers we have to constantly exercise how and what we see. The "Ballad of Everyday" is part of that exercise, trying to find those frames interleaved in the chaos of the city. I wanted to translate this feeling into images using photography as the tool, which is able to trim time in one single frame.
I love the thematic styling a lot of your images where the subject is almost camouflaged into the background – it's so visually stimulating! Is it hard to achieve this, maybe walk us through the process of one of your shoots?
"Somewear" is a series of self-portraits, being in front of the camera has been an absolutely new experience for me. It was an exercise of self-discovery, and of digging in what identity meant to me in a foreign country. When I started with this project I wanted to explore this concept in all the elements that are part of this city: nature, artificial nature, patterns, architecture, objects, etc. Finding how these patterns blended into the city was a really interesting experience to understand how we also use camouflage as a surviving method to be able to belong to a system.
Tips you would give to a beginner photographer?
To not overwhelm yourself with the excess of images we see and consume today. To constantly feed your inspiration and personal voice, to work in going deep to find that point of view that makes your work unique. Work in finding your own style and making it stronger and stronger.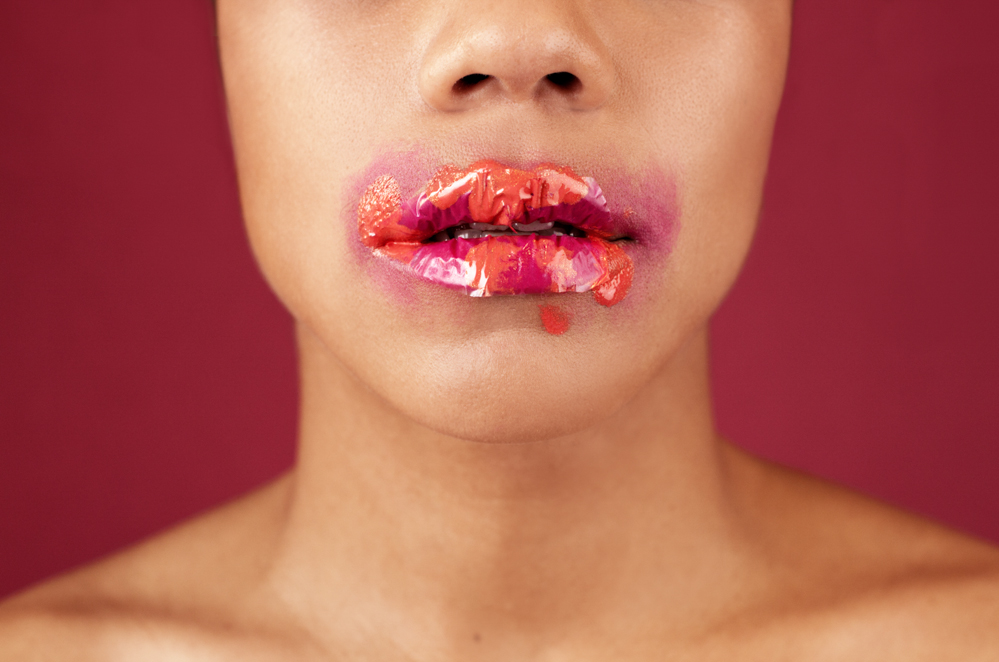 Are there any particular individuals who work visually (photographers, directors, cinematographers, designers or maybe even choreographers) that you are drawn to? Can you give us three recommendations?  
Absolutely:
Frida Kahlo
Henri Matisse
Many of your photographs feature women or aspects of the female form. Why is this a subject matter you are interested in photographing?
I come from a very feminine world. I am the oldest of three sisters and always been surrounded by lots of girl friends. There is something about the sisterhood, friendship and motherhood that I found incredibly moving. Even as a woman, the female world it is so mysterious and magical that is something I've always wanted to explore throughout my work.
Where do you hope to see your work as a photographer take you?
I would like to we able to work with creative people who's work potentiate my work as well. I love Fashion photography and so would love to work for designers and brand I like and that I feel that my work could be a great element for them. In the meantime developing my personal projects which always keep me inspired and creatively active.
Do you have any upcoming exhibitions ?
I have an upcoming show opening March 8th in Dusseldorf, Germany at Gericke + Paffrath Gallery and "The Cookbook" will be exhibited in June in NYC at Praxis Art Gallery.