Interview of Lea Linin by Sophie Pellegrini // I love drawing people and I love vintage vernacular photography, especially photo booth portraits.
Interview of Lea Linin by Sophie Pellegrini
Tell us a bit about yourself! 
I'm a 33-year-old self-taught female illustrator originally from Skopje, Macedonia and currently living in Vancouver, BC. My pronouns are she/her/hers. After graduating from college with a degree in English and translation, I started working on projects for various non-profits in my hometown focusing mainly on youth education and creativity. Taking part in these projects reminded me how much I actually enjoy the creative process.
How did you get started in illustration? What drew you to the medium?
I initially started making GIFs back in 2017, almost out of the blue. I had a bit of experience in graphic design before from helping out friends with projects, but I felt that graphic design was missing that extra layer of individuality that illustration inherently has. I also love the fact that especially in editorial illustration, you can contribute to the discussion of important issues.
What are your favorite subjects to illustrate?
I love drawing people and I love vintage vernacular photography, especially photo booth portraits. More often than not, I end up drawing women from the past. I have been trying to broaden my subject matter, but I'd say that portraits are still my favourite thing to draw.
Can you walk us through a bit of your process? In other words, how do you move from inspiration to a finished piece of work?
I usually dive into my Pinterest boards for inspiration. I have huge, go-to collections of vintage photographs. The research is often supplemented by a period of "zoning out," so to speak, before I do the initial sketch for the piece. I do my sketches on paper, scan them, and finish up the whole process digitally. I don't like to plan my colours beforehand. I choose them spur of the moment once I have my sketch in Photoshop.
Are there any projects you're currently working on that you can tell us about?
I recently started a daily Instagram challenge project focusing on illustrating idioms. I've always been interested in words and phrases and their origin, and this was a way for me to dive deeper into this topic. Although I enjoy this project a lot, I found that this daily format is too rushed and was hampering the overall quality of the illustrations. I decided to turn it into a bigger and longer project that I return to occasionally. You can check out some of the works I have up so far at #idiomillos_challenge on Instagram.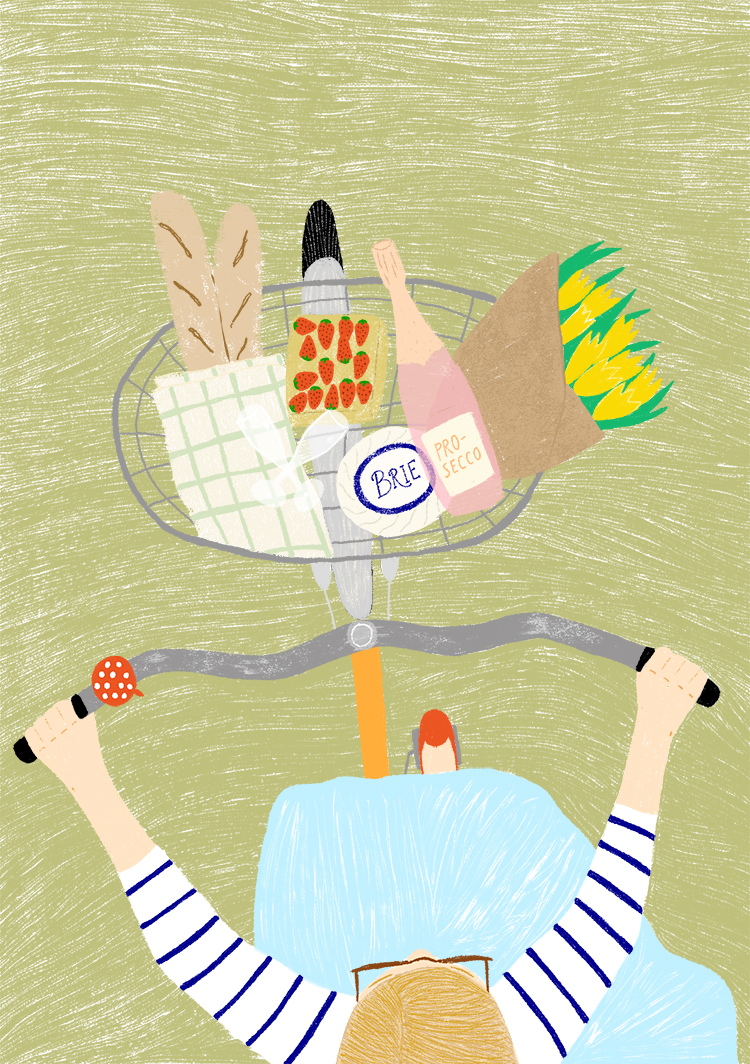 Any highlights of your creative journey so far?
I continue to love my daily creative flows.
What are some of the key influences on your work?
Ilonka Karasz, JooHee Yoon, Maira Kalman, David Bowie, Keri Smith, nostalgia, wandering.
When you aren't making art, how do you spend your time?
Looking for the perfect coffee blend, reading, wandering around the city, and learning new stuff (coding, most recently).
If you could go back and say anything to your 13-year-old self, what would it be? 
Have courage.
How can we keep up with your work?
You can stop by www.lea-linin.com or @lealiniiin on Instagram.