Writing and interview by Andy Reyes // Here in the land of migrants, white people tend to make you less or discriminate against you because of your skin color and how you dress, even among Latinos.
Writing and interview by Andy Reyes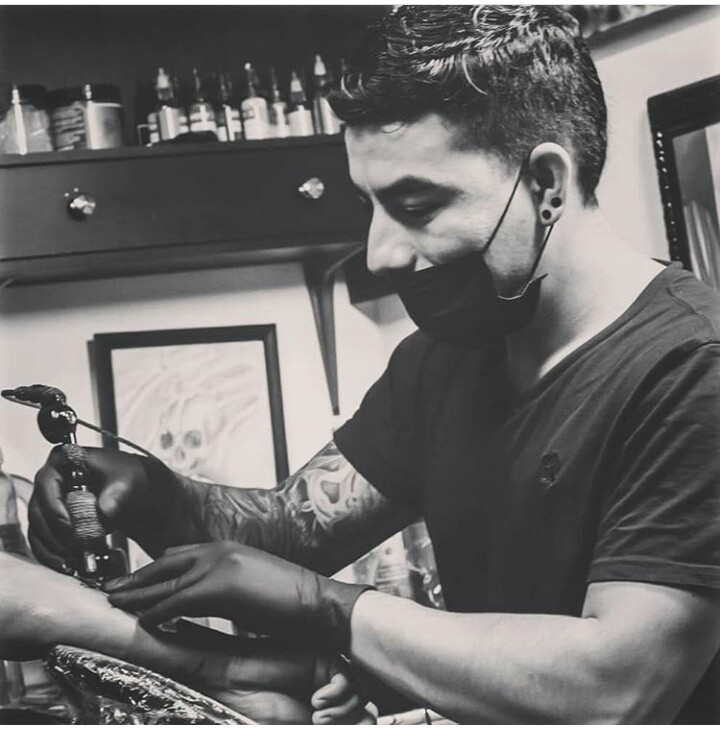 Rafael Melo is an independent Mexican tattoo artist and painter. He is based in Atlanta Georgia and from an early age was interested in tattoo art and painting.
You can find Rafael painting in acrylic, airbrush and pencil and if you're thinking about getting your first tattoo, Rafael gave us some very useful tips.
But not everything has been easy for Rafael, he had to leave his home country to follow his dream of becoming a tattoo artist and is currently based in Atlanta, Georgia. We chat with Rafael and he told us about his growth as a person and artist.
Hello Rafa, how are you?
I'm fine thanks, I am little nervous.
No need to be nervous at all! Can you tell us why it's important for you to show your Mexican culture in your work?
For me it is very important to show people how beautiful Mexican culture is, and the message conveyed by the Aztec or Maya gods. Many people do not know much about our culture, where I live there is a great variety of cultures and I am just one: Mexican. I try to show people from other countries a little of our culture and art.
What would you recommend to someone who thinks about making their first tattoo? 
I would recommend that they inform themselves more about the topic of what they want for their skin, since it is something they will have for life. Although there are already methods to eliminate tattoos, it is very important that when they decide to do it, go with a professional, because the hygiene in the process of tattooing is very important so that there is no risk of infection or in the worst case contracting a disease.
Which wrong idea do people have about tattoos?
Due to the lack of information, they begin to draw wrong the conclusions, for example… that they can not donate blood, but in reality you can donate since most of the pigments used are vegetables! So if you want to donate blood you can still get a tattoo, you just have to wait 6 months.
What inspires you to do your job?
The Mayan and Aztec cultures are my favorites to paint or tattoo, since they are pieces in black and white with stone texture. Also, the references that I use have a lot of dimension and this makes the tattoos and paintings have a better result.
How would you define your tattoo style?
So far I do not have one defined style, I can do works in the tradition American style, geometry, realism … I think it would be like black and gray realistic, work with shadows and  dimensions with dark and light tones
Have you ever been discriminated against for being an immigrant?
Here in the land of migrants, white people tend to make you less or discriminate against you because of your skin color and how you dress, even among Latinos.
What do you miss most about your country ?
I miss my family and friends. I miss the food and my people, who are very friendly and warm.
What is the most difficult thing about living in the U.S?
The most difficult thing for me at this moment is to improve my legal status in this country and I would like to be able to travel and improve my quality of life.
Why did you decide to migrate to the U.S?
I decided that I had to go to the country of opportunities, because it is as it is known and of course it is! I have achieved many things in the time that I have lived here, things that in my country I could not have achieved.