Writing by Haylee Penfold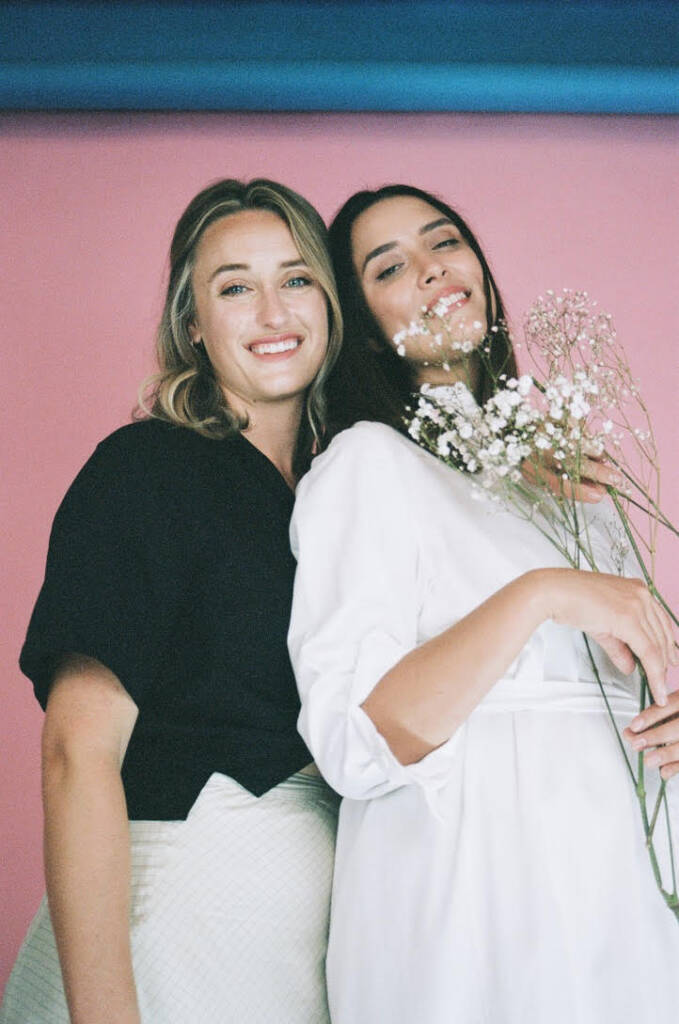 Meet Annie and Caroline, best friends turned business partners living in Brisbane, Australia.  After a seedy experience in a sex shop, they decided to create their own sexual wellness destination, and thus, Flossy was born. Flossy's intention is to create a shame-free experience that integrates pleasure as a part of health, without the hypersexualisation, seediness and overwhelm some sex toy sites convey.
Annie is responsible for all the design elements of the brand while working as a mechanic during the day. Caroline is passionate about all things sexual and reproductive health and is currently working as a Birth and Postpartum Doula, while overseeing the experience, engagement and copy-writing at Flossy.
Flossy is the glossier of pleasure products and sex-ed you never received but 100% deserve. Annie and Caroline knew that they didn't want to just offer sex toys, because there is so much more than that to becoming sexually liberated. The duo want to push the envelope of brands profiting off pleasure, they want to question the pleasure inequalities not only between men and women but for all people. Flossy live and breathe sexual wellness and liberation for people with vulvas.
"People don't just buy sex toys for the sake of owning one, they buy them to deepen their connection to themselves and that is what we hope our products can be a tool for, deepening the connection and exploration with oneself."
What makes Flossy different to the conventional sex toy stores is that they are just as passionate about sex education as they are about their products. The majority of women and people with vulvas continue to learn about sex through shameful societal narratives, fear mongering sex-ed classes and hypersexualised porn that often lies its focus on the pleasure of men.
The advice they give to anyone wanting to explore pleasure products is to firstly, give yourself a pat on the back because taking that first step to explore your desire further is HUGE. Secondly, take a minute to evaluate any assumptions or shame you have that might be coming up about what you should or shouldn't buy. This is about you and there's truly no right or wrong decision, so toss any negative thoughts in the bin. Third, think about how you want to use the product for. Solo sex? With a partner? Next, what type of stimulation do you think you enjoy? Pinpoint or broad? If you're unsure broad tends to be easier to start off with. And lastly, GUT CHECK. Simply look at the potential products and see what you're drawn to the most. The good is you can't go wrong in simply trying something.
Even if women make the decision to feel comfortable enough to buy a vibrator, there is still
an education gap in what should be common knowledge to know what products are best for us and how to spot body safe products. Flossy brings together approachable information about sexual wellness with curated, high quality pleasure products that de-stigmatise the relationship we have with our bodies, sex and pleasure. They are completely changing and redefining how people think of sex shops so that all women at any level of comfortability feel safe to explore topics related to sexual wellness.
Flossy have a strict criteria that the products they stock must abide by. Each of the stocked items must:
–  represent the end user (products that speak to people with vulvas)
–  not have an intimidating design (studies show that the look of beautifully designed things
make us feel good)
– be high quality (body safe silicon to avoid harbouring bacteria and creating vaginal
infections)
– not be overly gendered (no narrow concepts of only overly "girly" products)
As much as they've helped so many people with vulvas by creating this safe space, Caroline and Annie have also learnt so much throughout their journey. Unpacking their own shame and assumptions about sex and pleasure has been such an important part of making Flossy all the more meaningful. A conversation they both want to see brought up more within the context of sex is the timing of women to become fully aroused can be up to 40 minutes, when comparing that to the average amount of foreplay being 2-3 minutes you can imagine how that impacts women's experience of pleasure.
The future and dreams of Flossy aren't ever small, the duo push each other to constantly think of how they can make the biggest positive impact for the most amount of people.
They envision Flossy to be globally recognised #1 GO-TO place for purchasing your first vibrator. They have some very exciting things in the works at the moment that they cannot wait to share soon – all they can say is it's going to bring Flossy outside the digital realm AHHH!
Flossy have been kind enough to give us a discount code for our readers for the month of July, us RAMONAVIBES at checkout.
Find Flossy on Instagram @feelflossy