Writing by Devika Jain
Power To Her is a feminist organization that aims to empower a large network of diverse women within the global community. Currently based out of Toronto, Canada, we strive to produce an impact that is widespread, comprehensive, and effective on various levels. Our team comprises the founders Shuchi and Sachreet, the executive director, Devika, and our various media partners. Shuchi and Sachreet met during their time at the Schulich School of Business, where they quickly became close friends. Our story began in the August of 2020 when the founders realized that not only did they share, but that most of the girls and women they knew shared many frustrating and unacceptable experiences with sexism. After talking about such issues, they further discovered their common passion for feminism and gender equality. Sachreet and Shuchi strongly believe that it is each person's obligation – especially those who hold certain privileges – to cultivate support for those in need and change for issues or circumstances that are unacceptable. They recognized that it was their individual responsibility as global citizens to act on the problems facing marginalized groups in our world. This is why Power To Her was established, and such values have been the basis of our organization since our creation. In the most blatantly candid way, we decided to begin battling the long set systems of oppression, discrimination, and inequality because of years of frustration and anger with the misogynistic, heteropatriarchal nature of our society that we and many others have had to endure.
Power To Her seeks to empower women within the community and encourage social change with our three principal pillars; promoting, educating, and providing the necessary tools and services for progress. The first pillar of this organization is based around the idea of mutual support and growth – we aim to use our various media platforms to promote women, businesses, and other organizations that are at the forefront of change. The second pillar encompasses educating the public on the myriad issues that women face within society, such as (but not limited to) gender stereotypes, toxic beauty standards, access to education, inequality in workplace settings, and the lack of women in positions of power. The third and final pillar is characterized by providing the necessary tools and services to give back to marginalized communities in urgent need of resources. To stimulate actionable change, we will introduce a series of projects that focus on a particular cause. It is through these three pillars that we seek to empower a large network of diverse women. We believe that providing them with the necessary education, platforms, and resources is integral to their empowerment and further incites other women around them to do the same.
In the seven months since we launched, we are incredibly thrilled to say that we have completed two projects; The Generational Beauty Project and The Power Circle Project. The central intention of the first project was to demonstrate that, regardless of their fluctuation, beauty standards have always been imposed on women as a means of control. The Generational Beauty Project features interviews with eight mother-daughter duos, essentially looking to explore the differences and similarities in beauty standards between the generations, societal pressures on women, and social media's impact on beauty. The second project, The Power Circle Project, seeks to create a network of influential, successful, and inspirational women in various occupational fields and connect them with diverse communities of women who can aspire, idolize, learn, and grow from their experiences. This project explores the personal challenges that powerful women face and have faced in reaching their success and how they've overcome various hurdles, especially surrounding gender. Power Circle introduces our community to powerful, influential, and successful women who are shattering glass ceilings, changing the narrative, and showing you that you can too. We are currently working on a few projects, so stay tuned to see what we have coming your way!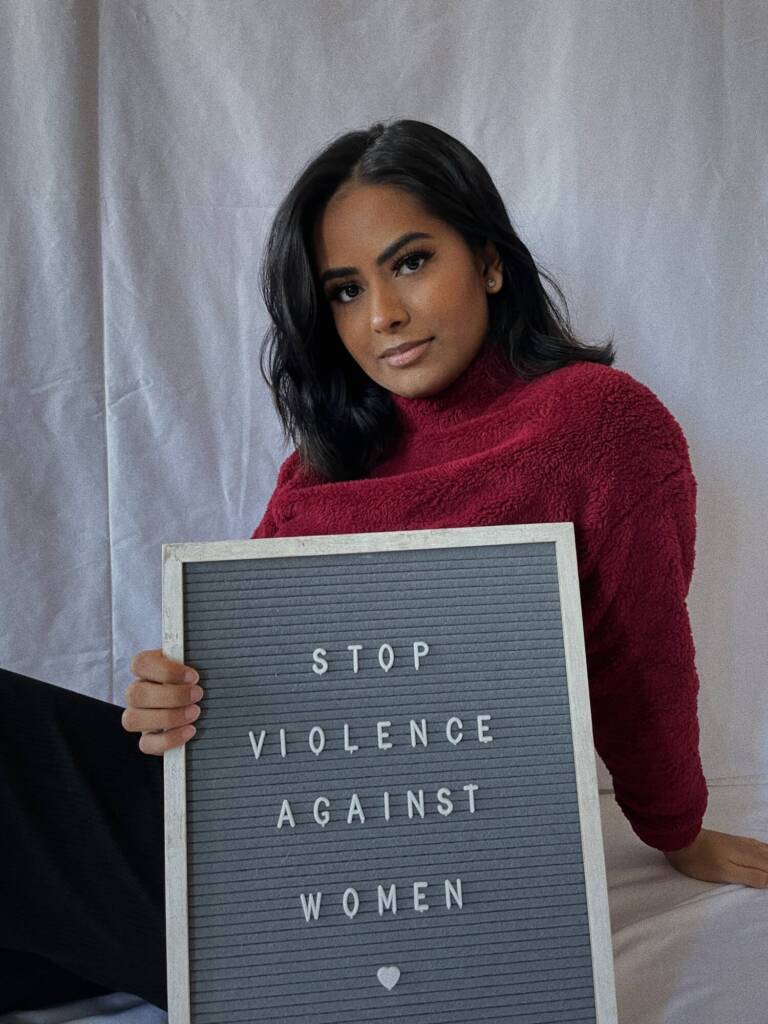 As per our first pillar, we are very active on our social media platforms Instagram and TikTok. Due to the ongoing COVID-19 pandemic, our endeavours have been limited to those that can be completed in a safe and remote manner. Thus, we have sought to develop a strong online community to raise awareness, educate, and stop the spread of misinformation. We have also collaborated with many social media figures on our platforms, such as Spencer Barbosa, the Sandy Lion, Adelaine Morin, Katia Kramble, Anoshinie, and more. Along with reels and TikToks, our Executive Director has also started an Instagram Live/IGTV series called FEM 101. In this series, she talks about important issues, concepts, theories, and more that are prevalent in feminist discourse. You can keep up with our organization through our platforms; our handle is @power.to.her on both Instagram and TikTok.
At Power To Her, we believe that feminism is for everyone, not just white, cisgender, wealthy, able-bodied women. We strive to create a difference in the way that not only our people, but our societies, systems, and institutions think and function. Join us in our fight against gender inequality, discrimination, prejudice, and oppression.