Interview of Mia Klitsas by Freya Bennett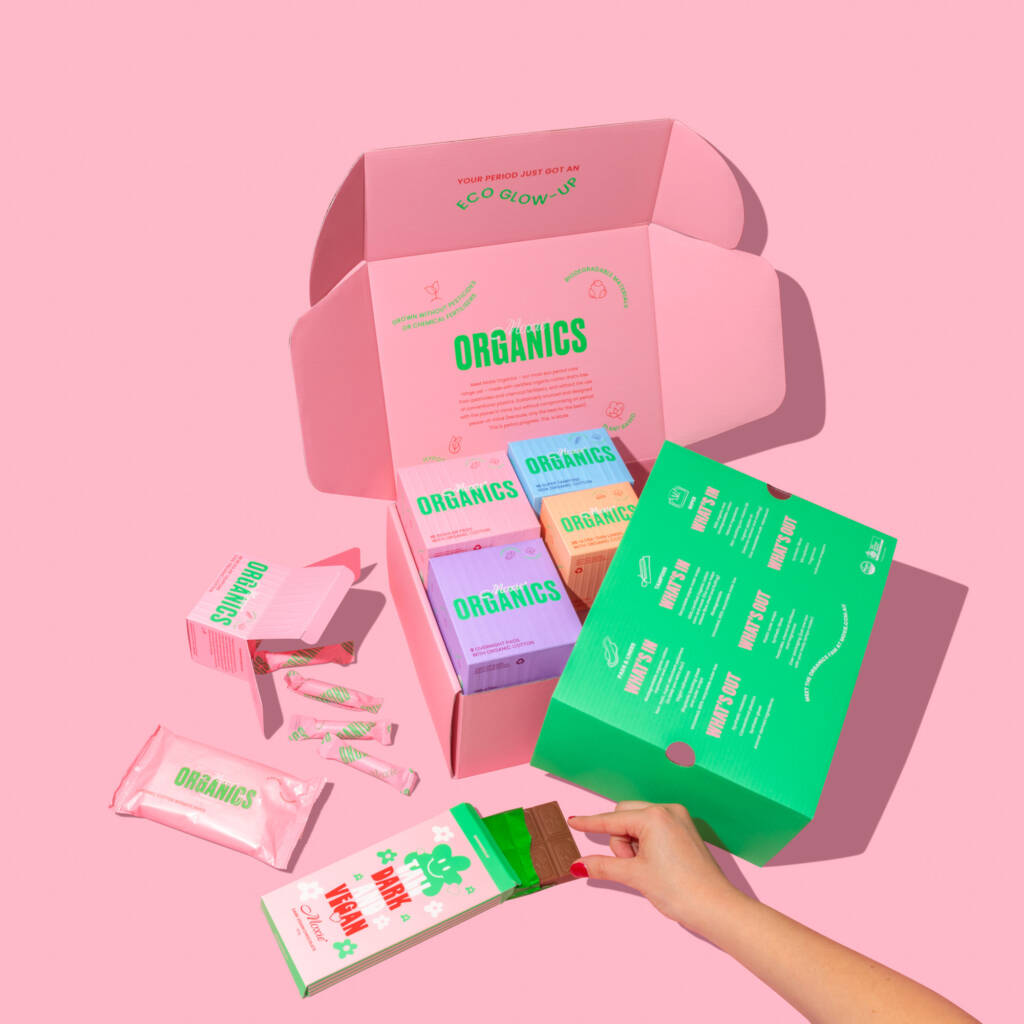 Hey Mia, how are you?
I'm better than ever!
As a fellow Melburnian, how are things going for you and Moxie post lockdown?
I'm so fortunate to have been able to work through the lockdowns, as we're considered an essential service (periods sure don't wait for pandemics!). We were kept busy developing and prepping for the launch of our new range, Moxie Organics, and I'm really grateful that this enabled us to keep our extended supply chain humming along. Work has been a welcome distraction, but it's so nice to be able to properly see family and friends again – IRL!
I am so excited to chat to you about Moxie's new range as Moxie was the first period product I used as a teen! I absolutely loved my moxie tin of tampons and I feel like your aesthetic has always been super important. Your style has of course evolved, but can you talk about why style and gorgeous packaging is important to you?
I was in my early 20s when the idea for Moxie sparked, fuelled by how embarrassing I felt existing offers were and how little they really reflected our experiences with periods. At the time, most period products were wrapped in plastic bags (may still are) in daggy prints, or cardboard boxes that easily broke open in your bag. I wanted to offer people a different experience – one that provided products that really worked, but that were packaged conveniently and consciously without compromising on aesthetics. I always thought, 'why can't our tamps be cute?!' Periods are nothing to be ashamed of and so creating something that looked the part (cute enough to display on your shelf, or proud to carry in your bag) was a way, I felt, to help de-stigmatise and change the dialogue around periods.
Moxie has never shied-away from talking about periods and being period proud, was this something you were passionate about when starting Moxie?
Absolutely. Before and when we first launched in late 2005, the conversation around periods was almost very clinical and shied away from. Advertising was unrealistic (remember those ads showing women frolicking on the beach in white pants?!) and it felt to me like no-one was really acknowledging or respecting people's TRUE experiences around periods. I wanted to change that with Moxie and just be upfront and real about what we could provide.
To have 'Moxie' means (in our interpretation), to have guts, spunk, determination and courage, even in the face of adversity. It's all about being your best self, however that looks and feels like to you. Everyone has 'Moxie' in their own unique way and we exist to help champion and celebrate that – open and honest conversations around the various ways people period are a huge part of that.
Your new Organic Range is organic 'cover to core' . Can you explain to us what this means?
Moxie Organics, our latest planet friendly(er) period care range, is made using certified organic cotton from cover to core – meaning, from the inner absorbent core to the outer top layer of the products. This equals good and efficient absorbency, comfort and less fluffing but with a lighter footprint on the planet – so we can bleed without bleeding the planet dry!
We love organic cotton because it's hypoallergenic (suitable for sensitive skin), biodegradable and generally softer on the planet to grow than conventional cotton (which requires lots of irrigation and chemical fertilisers) and planet friendlier than many synthetic fibres, which are not biodegradable and take hundreds of years to break down.
It's all part of our quest to provide progressive (not perfect) period care – the progress continues!
You've now wrapped your tampons in recyclable paper I've never seen this done before, are you the first?
This is a very proud period progress moment for us as YES, we've managed to remove the plastic outer wraps from our tamps and have instead wrapped them in recyclable paper! The world is wide and so we can't be 100% sure if we're the first to use this type of technology or not, but we're yet to see any other brands with paper wraps – we definitely haven't seen any of the major market leaders doing it. But if they do, it's a huge win for the planet and we'll be super proud to have led the charge!
Not many people know that the vagina isn't actually a sterile environment which means wrapping tampons and pads in plastic is unnecessary, what can you tell us about this?
It's true that our vaginas are not sterile environments – neither are our hands and even our period products, the minute we unwrap them and expose them to air! That said, we should still practice good hygiene when coming into contact with the most intimate parts of our bodies to prevent unwanted bacteria making their way into places where they're not welcome. We always suggest washing your hands prior to using period products and not over-handling them.
In accordance with rules set out by governing bodies like the Therapeutic Goods Administration (TGA), tampons must be wrapped to keep them free from unwanted bacteria – probably because they are inserted into the body and are associated with Toxic Shock Syndrome (a.k.a. TSS – a very rare but very serious disease). Pads, on the other hand, do not carry the same risks as tampons regarding TSS and as they're not inserted into the body, the risk of vaginal infection is less likely (though an external, vulval infection may still occur). That said, there's nothing to say that the products must be wrapped in plastic, specifically.
The Moxie Organics range is made in a factory that is powered entirely by water, can you tell us more about this?
Our tampons are made in a facility in Europe that's surrounded by the most beautiful, lush, green landscape, with a river running right alongside it – it's this river that helps create hydroelectricity to power the production plant. It's pretty incredible!
What makes something organic and how can consumers know when a brand is truly organic?
Organic means that the plant or ingredients in a product have been grown, harvested and processed without the use of synthetic chemical fertilisers or pesticides. Ask questions of the brands you buy and look for accreditation's – like Australian Certified Organic (ACO), which is a credible and very rigorous standard for organic products in Australia.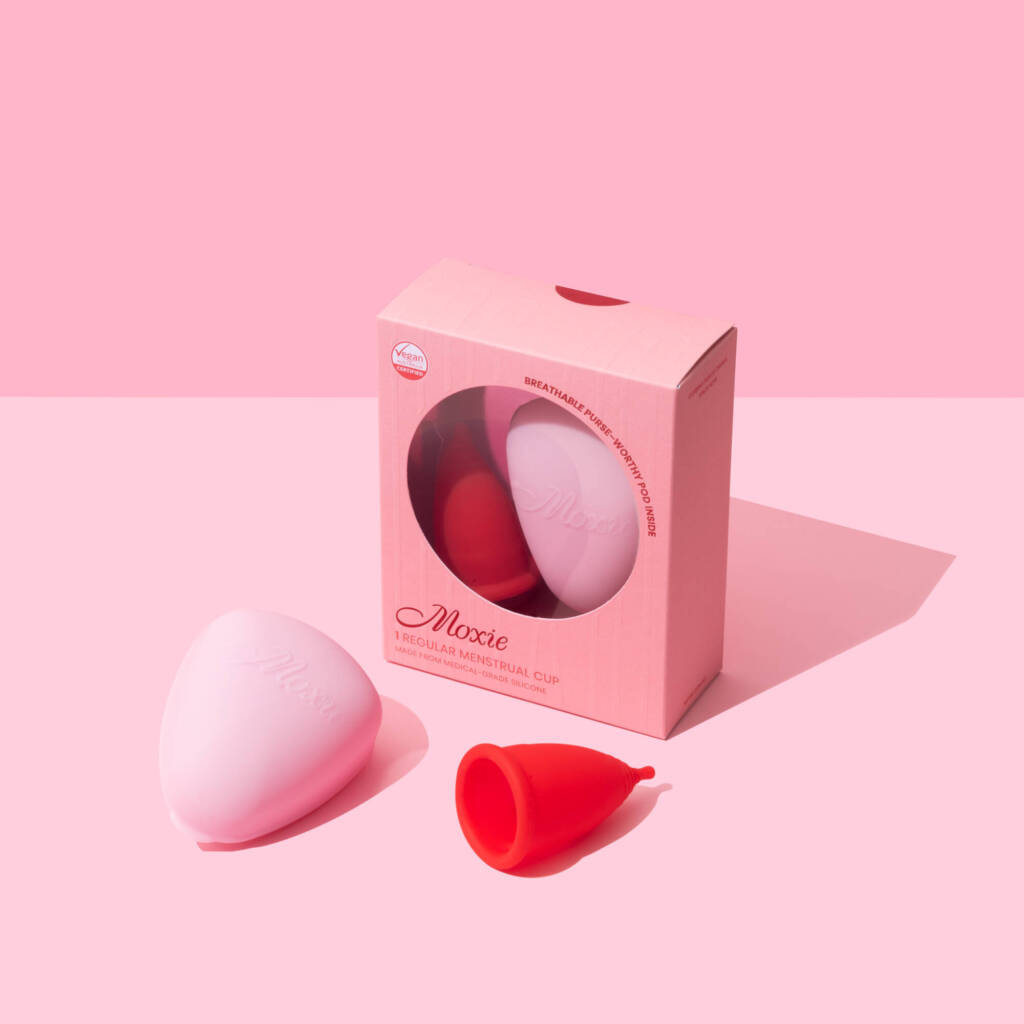 You've also launched some gorgeous Moxie Menstrual Cups, tell us a bit more about them:
We have! We recognise and respect that people period differently, and so we make options – menstrual cups being the first of our reusables. Moxie cups are made with medical-grade silicone in a zero-waste production process and are free from BPA, latex and plastic. They hold around 2.5 tampons worth of flow and so some find that they don't have to change them as often – though you should still remove, empty and rinse your cup at least every 8hours.
Moxie cups come with a unique and breathable carry pod for easy and hygienic storage between uses. They're a real period (and planet-friendly) game-changer!
I love reading about your new inclusive language, how important is it to Moxie to be as inclusive as possible when discussing periods?
All types of people and bodies menstruate and we believe everyone should have equal and adequate access to period care, education and support. We're conscious of how we talk about periods and the people who have them because part of breaking taboos, barriers and archaic stigmas means having open conversations. We want people to know that Moxie is a safe, judgement-free space for these conversations, and for anyone who periods – irrespective of how they identify.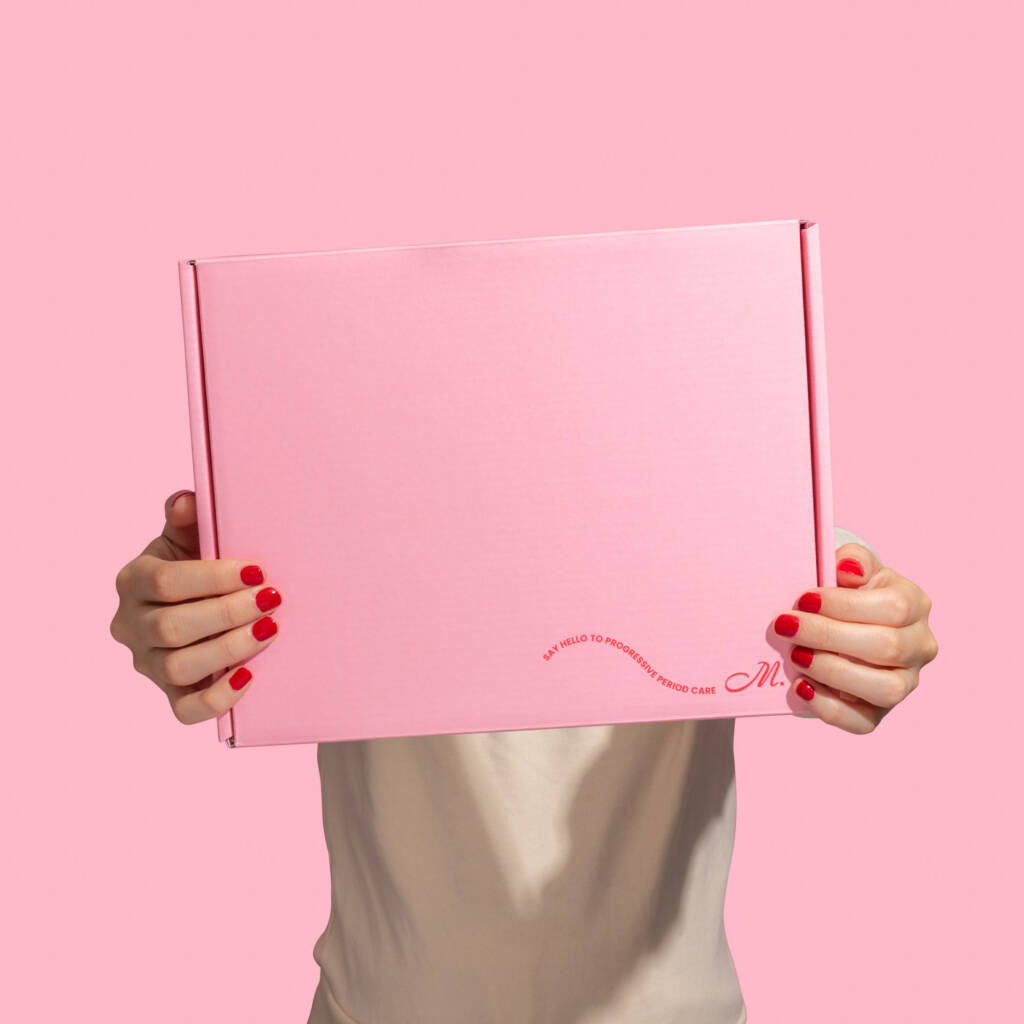 I am also deeply in love with your Period Subscription boxes, where did this idea come from?
Before Moxie, I was forever guilty of not having period products at the ready when I needed them. Being caught-out isn't fun for anyone. Like many things relating to Moxie and the products we make, our subscription stemmed out of a personal pain-point, but it turns out so many people experience the same issues! And so, it  just seemed to make sense to take the fuss out of having to remember to keep stocked all the time – that's how Moxie Box Club was born.
Tell us a bit about your 'Welcome to Periods' starter kits: 
We're all about providing period peace-of-mind and our 'Welcome to Periods!' starter kits really help to make what can be a daunting time a little less so. They're packed with all the things a period first timer might need to help manage their first period – like Moxie period products (of course), a 'what to expect' period education booklet, a mini hot water bottle to ease cramps, chocolate for PMS cravings and intimate wipes for unexpected leaks in private places. You can find them exclusively on our e-store at moxie.com.au
I loved hearing that you support fellow bleeders who might not have access to the products they need, why is it important to you to donate period products to those in need?
Having adequate access to period care is a privilege a lot of us take for granted – some would argue that it isn't a privilege, it's a right, and I agree with that too. Everyone should have access to the period care and support they need to manage their period with comfort and dignity. We aim to make products that are accessible (fairly priced) and widely available for those who can afford them, but also support with donations wherever and whenever we can via various organisations who will pass products on to those who are most in need or at risk.
We regularly partner with Share the Dignity – last year we donated hundreds of Moxie reusable menstrual cups to Australian Indigenous women, but have also donated period products as far as Uganda, where we provided 15,000 young women with reusable pads.
Period poverty is very real, all across the globe and even on our own doorstep. I'm really proud that we can use our business as a platform to drive change and provide support where it matters, even if only in a small way.
Finally, what advice do you have for budding entrepreneurs in starting their own business?
The best business ideas often stem from personal pain points. If you're having an issue with a product or service, chances are that someone else is having the same issue, too. How can you fulfill that need, or do it better than everyone else?
Being a business owner is all kinds of fun, but all kinds of stressful, too! You can often feel like the weight of the world is on your shoulders and it can all feel a bit much sometimes, but then there are those little moments – like being in Uganda donating products and meeting amazing people, or seeing your product on the shelves at a major retailer – that remind you why you do it. My advice is to ask yourself: "what have you got to lose?"