Review by Claire Tonti
Claire Tonti hosts a pop culture recommendations podcast with her husband James Clement. Suggestible came Bronze in this year's Listener's choice category at the Australian podcast awards and aims to help you answer that age old question 'what should I watch on Netflix?' Claire reviews the first two episodes of And Just Like That for us.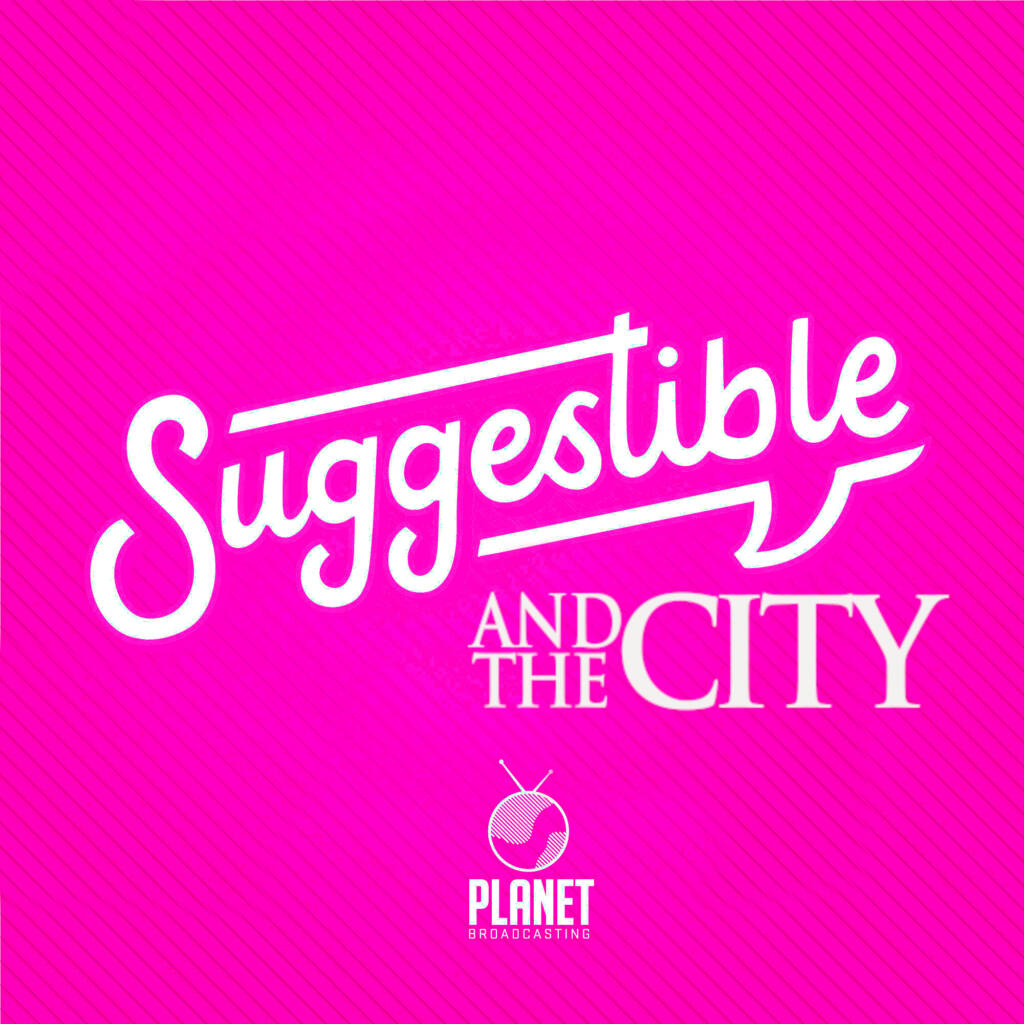 I think for me, it was the sheer genius of her cream linen jumpsuit, fitted and flowing at the same time, panels of fabric draping effortlessly from her hips and just lightly scraping her thighs. As Caroline O-Donohue from my favourite podcast of last year Sentimental in the City wisely observed watching Sarah Jessica Parker in Sex and the City sometimes feels like being a pervy dude. That woman is a spectacular human to watch. Her expressions alone in the first two episodes of this show deserve their own Emmy. Though if I'm super honest, the reason I loved her jumpsuit moment the most, is that as a parent of two very sticky fingered tiny humans, I have zero places I could wear that outfit. And so that is exactly what I want from my television shows. To leave my messy house and baskets of unfolded laundry and go live in the world of SATC in New York city for one hour a week.
I thought I would write a review about how ridiculous this new series was once I'd finished watching it, busy myself with pithy one liners about the sheer corniness and awful stilted dialogue and be done. And don't get me wrong, when my husband James exclaimed from the couch, the first 1 minute of the opening sequence, "Is this an ad?" while Miranda, Carrie and Charlotte bumped into Bitzy Von Muffling and awkwardly tried to explain that Samantha had just headed off to the UK, I was there with all the haters. I was totally fired up to be let down. But something happened once the three sat down in their customary way at the coffee shop with the soaring ceilings and pristine white chairs. Something came over me and all I could think was hello you. There you are. Somehow all three actors found pieces of those beloved characters and revived them all these years later and it felt like coming home.
For parts of my life I've lived overseas or in remote communities away from my closest girlfriends. Especially when I lived in Tanzania teaching in a rural village high school for 6 months (which I absolutely loved) there were points where we had no live broadcast TV, patchy reception and very little internet. And while living in the village and hanging with the brightest, funniest, sparky kids who taught me jokes in Swahili was awesome, I also felt incredibly alone. And then James (then boyfriend now husband) bought me a bootlegged box set of Sex and the City to watch on the only DVD player in our ramshackle volunteer house and for a few hours at night time I felt like I had some friends around me.
Years later in my thirties through those painfully sleep deprived and often lonely hours of the night when I was breastfeeding my son, foggy and full of worry, Carrie, Miranda, Charlotte and Samantha were there. As most of my friends didn't have little humans yet it was another time in my life when I felt incredibly isolated from the person I once was and at sea with very few women in my life who understood. Those 4 women on the screen provided me with an escape, an ability to release the pressure valve of new motherhood and laugh. Amongst the ridiculous outfits and often vapid, self absorbed and utterly privileged commentary, peaked some breathtakingly real moments of humour, sincerity and friendship. Ultimately Sex and the City made me feel less alone.
Don't get me wrong this review is not all sentimental froth. I am a hard hitting journalist here and there are a lot of problems to unpack with And Just Like That. For instance why does it appear that the series is sponsored by Peloton exercise bikes? I was in stitches when Steve Brady blamed Big's death on his bike and Miranda bizarrely rattled off all these statistics about why it definitely wasn't Peloton's fault, Peloton's are wonderful for your health, don't blame the Peloton. Cue the drop in Pelton's stocks by 11% and then this comeback ad from their team. And while we are on the subject of Steve Brady why has he suddenly become a caricature of his own good self? One gets the sense that at any minute Miranda is going to ship him off to an old folk's home and then start up an illicit affair with Carrie's non-binary podcast co-host Che Diaz (played by Sarah Ramirez from Grey's Anatomy).
While I have you can we also talk about the BIG M. For those of you who haven't seen it what I am referring to is the Mr BIG masturbation scene (here forth referred to as the Big M). It definitely was at least 10 seconds too long. I am all for seeing another side to their relationship, to explore what it means to be a sexual being in your 50s and 60s and bravo to Carrie for being less of a prude and opening up her sexual horizons but after a long day of parenting and working and trying to combat the ever looming sensation that the planet is on a freight train heading to apocalypse city I did not need to see that look on Chris Noth's face after he reaches for the lube in his silk robe. Rant done. Shall we move on?
Another surprising highlight for me was the clearly on the rocks marriage of Stanford Blatch and Anthony Marentino. The bickering between these two was heaven. When Anthony leaves the apartment to get to the concert first and then Stamford gets out of the cab, Carrie says "hey good lookin' what you got cookin'?" and Stamford yells to Anthony "You just left!" Carrie mutters to herself "oh we're not in the same place." and what ensues is the best 15 seconds of dialogue in the first episode. Anthony starts yelling back at Stanny "You couldn't decide what to wear. Periwinkle or Tan! Periwinkle or Tan!" It's the first time I've heard colours used as insults and if anyone could pull that off and make it so fantastically mean and exasperated it's Anthony Marentino. LOVED. IT. Also Stanford PS. is most definitely pulling off that periwinkle blue suit. Utterly heartbroken that Willie Garson is no longer with us. He is triumphant in these two episodes.
When at the concert recital for the musical genius that is Lily Goldenblatt (who saw that coming? she was spectacular!) Miranda says "Fuck it. I'm 55 and I have to pee." and heads to the men's room. I am loving how peak Sharon she is and I am here for the 55 years of rage she is exuding, endlessly waiting in bathroom cues that wind around every pillar in the place while women have to watch men saunter in and out of the little boy's room with casual abandon. Men just seem to have so much more time don't they? Less waiting, less time in make-up and hair chairs, less mental exhaustion from all the TO DO LISTS. Deep breath. Moving right along.
Another favourite morsel was when the new character Lisa Todd Wexley (played by Nicole Ari Parker) watches her son start playing his terrible piano in the fancy music hall and her husband says "my soul just left my body." Snort laughing ensued from both me and husband man's side of the couch.
And then there was *spoiler alert* Big's big ending.
Watching beloved characters who have visibly aged, deal with their own inevitable mortality is, I think, something new and fresh and frankly exciting about this series. It leaves so much scope for more and allows the audience to see an entirely new trajectory for this show. I think they handled Big's death very well. The moment when Carrie arrives home to see him on the floor and the moment he looks up, like he has been waiting for her to be there so he could die is utterly devastating. Am I PMSing this week? Yes. But still this moment brought me to tears and the way Carrie seems completely useless in that crisis! My immediate thought was "Call an ambulance!! Start CPR!! Where is the recovery position Carrie? Do you not know the DR ABC!!??") But in this moment, she was so recognisably the Carrie we know. The one that cannot handle difficult emotions, that shuts down when life gets very real and who doesn't like to experience the consequences of being human and vulnerable. Carrie is always getting saved in the SATC of old, she is not usually the saviour. What really made me cry was when she opens the door to Miranda and we see that look of shock and disbelief and utter brokenness that I think so many of us have felt at the unexpected death of someone we love fiercely. "What am I going to do now?" is what Carrie says and yes I think she asks the question that this series will now attempt to answer. I think the writers have made some really brave decisions with this new series and as much as it may not be cool to say, I am so thrilled to be on the ride.
Each week my husband James Clement (who usually reviews comic book movies at his channel Mr Sunday Movies) and I will be recapping And Just Like That on our podcast spinoff series Suggestible and the City. See what we did there? We took our recommendations podcast name Suggestible and turned it into a witty new title. Gosh so clever. My other title was And Just Like-gestible which frankly I think is better but may be a little niche. Anyway I digress.
We would love you to join us each week to unpack what I predict is going to be a really surprising season. So now you will have to excuse me, I'm off to find a cream jumpsuit with a straw hat to wear to my next Christmas event in which I will not eat a thing or sit down on anything and will need to leave all my children at home to fend for themselves. I think it's worth it.
I also will henceforth be using the catch cry 'Perwinkle or Tan! Perwinkle or Tan!' to greet my husband every morning. Very aggressive for 6am but you know, a gal has to get her kicks from somewhere – it's been a long year.