Writing by Brooke Mott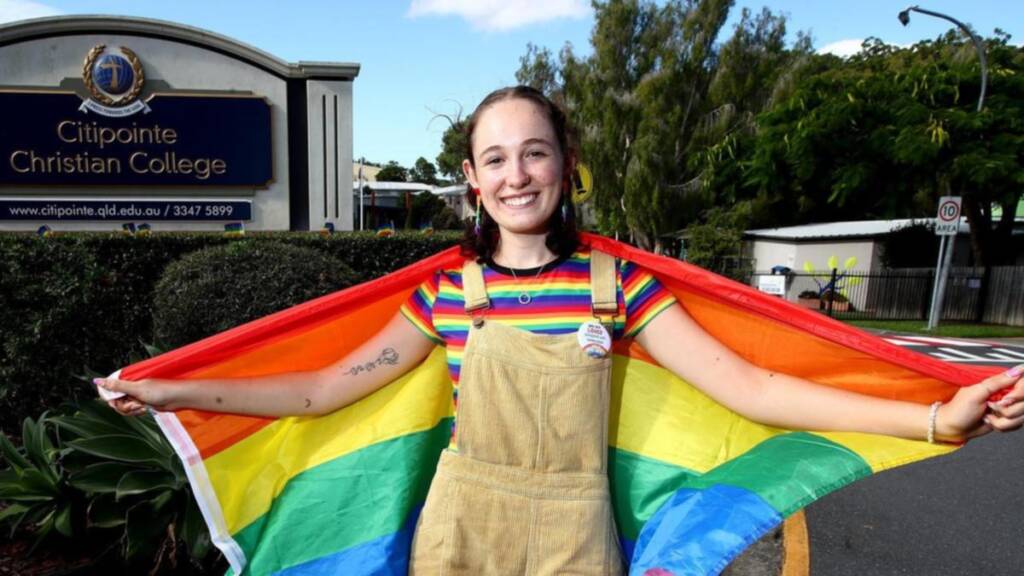 Image caption: Former Citipointe Christian College student Felicity Myers poses with a pride flag outside the school. Source: AAP
Last Sunday I was sent a post by a young activist by the name of Felicity Myers. She was drawing attention to a new student contract that was released by her former school Citiponte Christian College which is featured heavily discriminatory policies against LGBTQIA+ and specifically Trans students. This news should not be entirely surprising when we understand the impact of the Religious Discrimination Bill being pushed through by the Federal Government.
The fact that this particular school had now chosen to put these bigoted views into their enrolment contract is offensive and reckless but it's also not surprising. What we really need to acknowledge here is that this school is representative of many oppressive religious schools and the environment they create. They're far from the only school to think and teach this way.
Anyone choosing a religious school in Australia needs to be aware that it's quite possible the school holds these discriminatory "values" whether stated in the contract or not. This type of discrimination is not new, these homophobic and transphobic views have been simmering under the surface in these institutions for decades. The difference is that the Religious Discrimination Bill will empower these institutions to be unwavering in their discrimination and hiding under the guise of 'Religious Freedoms'.
Many will argue that by having a contract like this with clearly discriminatory clauses allows for attendees of the school to make an informed decision about their choice to attend. For LGBTQIA+ people, school years are oftentimes when they will first discover that they are queer. The environment that surrounds them at this sensitive time can be crucial for long term mental health outcomes.
LGTBQIA+ youth often rely on their school (through friends or that one queer teacher who supports them) as their only safe space. Familial rejection and estrangement is extremely common for people in queer communities, especially when they come from religious backgrounds that practice these exclusionary and binary views. What happens to the queer youth who have parents that feel empowered by this type of discrimination in the name of their religious beliefs? Students have the right to access education that does not discriminate against them regardless of their familial belief systems, regardless of institutional belief systems.
Government policies are meant to protect our human rights and they are meant to hold institutions that practice discrimination accountable.  The Religious Discrimination Bill does the opposite of this, it undoes all of the hard work that has been done by LGBTQIA+ activists. Human rights and LGBTQIA+ groups have warned that this bill would grant licence for people to express bigoted views. The written contract imposed by Citiponte Christian School is a direct example of how the Religious Discrimination Bill plays out in real life institutions. This is a crushing moment of truth, a warning sign of what is to come.
Using religion to discriminate against LGBTQIA+ people is bigotry and it has no place in schools. Discrimination bills serve to support marginalised communities from continued oppression. Privileged White Christian communities do not suffer at the hands of oppression, which is the very reason why the Religious Discrimination Bill has no place in Australian policy.
Felicity and a group of activists who have came together to fight this battle are now operating a campaign entitled Educate, Don't Discriminate. In a matter of days, their petition and advocacy has seen the contract removed by Citipointe Christian College. While this is a significant accomplishment, it's really only the beginning of the battle. Now is the time to fight against this legislation and continue to fight for queer rights to ensure this kind of abhorrent discrimination doesn't continue.
If you're in crisis and need support, Beyond Blue (@beyondblueofficial) and QLife (@diverse_voices_qld) have free access to mental health supports with queer affirming approaches.