Writing by Hannah Cohen // photograph by Cyrus Crossan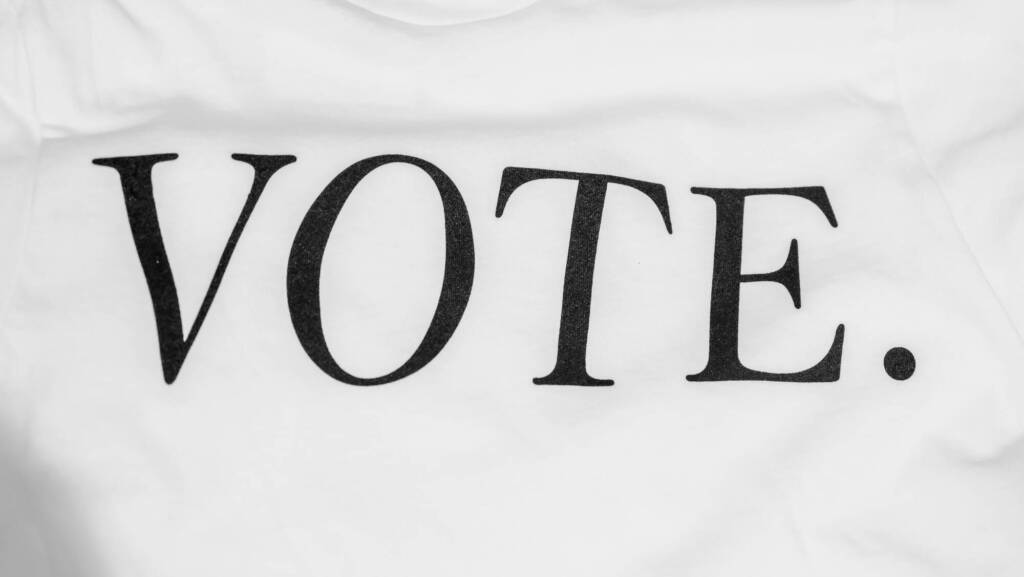 As a Kiwi-born, Australian resident who recently became an Australian citizen, this is my first Federal election! Yeehaw!
As Saturday the 21st of May hastily approaches, I'm doing my best to prime myself with as much information as possible before I hit the polling booth. Because I'm a first-time voter, up until now I've been in a weirdly privileged situation where I would pay attention to politics out of interest, but choose to let any sense of frustration with our leadership pass me by, using the 'It's not really my government,' as an excuse.
Not anymore. Now, I'm more fired up than ever.
Knowing I have the power to shake things up in parliament with a local primary school's sausage sizzle snag in one hand and a grey led pencil in the other, has me buzzing for election day.
So, in the lead up to this highly anticipated, crucial election, I'm doing my best to ensure I come prepared; consuming media and reading up on anything I can find to make sure that I, a young woman and first-time voter, can make my vote count.
Below, I've put together a few of my favourite resources for you to peruse if you're looking to get informed. There's a lot of stuff to get your head around when it comes to politics, so start wading through it all with these incredible podcasts, Instagram pages and more.
Left Right Out
Answering your questions to help you navigate through the murky waters of Australian politics, Left Right Out is a podcast hosted by two female Journalists, Justine Landis-Hanley and Elfy Scott, with a mission to demystify politics for young women by making them feel included in the conversation.
If you're confused about how our preferential voting system even works, I'd recommend starting off with their episode 'How Does Voting Actually Work?,' in which the hosts break down how to vote for the House of Representatives and the Senate in an engaging and comprehensive way. Throwing in interludes jam-packed with pop-culture references, anecdotes and hilarious storytelling, these incredibly intelligent women have somehow managed to achieve the impossible; they've made talking politics fun!
Another episode you should get around if you're like me and prioritising women's rights is high up on your voting agenda this federal election, definitely have a listen to their episode 'Which Party Is Best For Women?'. In this episode, the Justine and Elfy run through each major party's track record when it comes to empowering women. They cover everything from seat quotas and gender ratios, to in-house initiatives to get more women into politics, and the deplorable display of workplace sexual harassment coming out of the federal government. If championing women's rights is important to you this election, you're going to want to get this episode in your ears before May 21st.
The Daily Aus
News, but for young people. The Daily Aus has leant into the fact that most Zoomers and Millennials use Instagram as their primary news source. They create informative, bite-sized and easy-to-digest posts on the news and current affairs affecting Australian young people.
Holding our hand through the tumultuous race to the election day, they've been covering all the inevitable scandals that have come out of the campaign trail, summarising the major parties' policies on key issues like climate, corruption, aid, and the economy, and even partnered with the Australian Electoral Commission to encourage first-time voters to enrol on time. As an extension to their Instagram page and newsletter, they also have a corresponding podcast aptly titled, No Silly Questions. The show publishes episodes with more in-depth discussions on news Instagram posts we've come to know and love, for your drive or tram home.
The Daily Aus provides an incredible news platform for young people to speak their minds on the issues that matter most to them, and respond by providing us with handy explainers to get us properly informed come election day. They're doing the absolute most, and have even reached out to both Anthony Albanese and Scott Morrison to host a debate that the youth will actually engage with. Bravo, TDA.
Toilet Paper Australia 
King of political shit-posting, Toilet Paper Australia is known for satirically calling out Murdoch Media and the Liberal Party, ensuring no shady, corrupt behaviour goes unscathed.
A hearty mix of educational memes, political explainers, tweets and think-pieces, Toilet Paper Australia provides LOLs that will make you think. If you're after content that puts big media corporations under a ruthless magnifying glass with a side of spicy humour, this page is for you.
Guardian Australia TikTok – Run by Matilda Boseley
Oozing with Matilda Boseley's charisma, top-notch presenting skills and complete with the staple Gen-z editing style (think, fast cuts and abrupt zooms), Guardian Australia's TikTok account is your one-stop-shop for all your election needs.
Matilda packages everything you need to know about leaders' values, party policies, preferential voting and beyond into snappy, albeit slightly chaotic TikToks designed to empower youth with political knowledge. She also summarises the key events popping up along the campaign trail in a concise, upbeat, TLDR (too long didn't read) format.
If you're a TikTok addict like me, cast your eyes over to Guardian Australia's Tik Tok account to tweak your algorithm and curate a more educational FYP in preparation for the federal election.