Writing by Rebecca Turner // illustration by Haadia Khan Art for Disabled And Here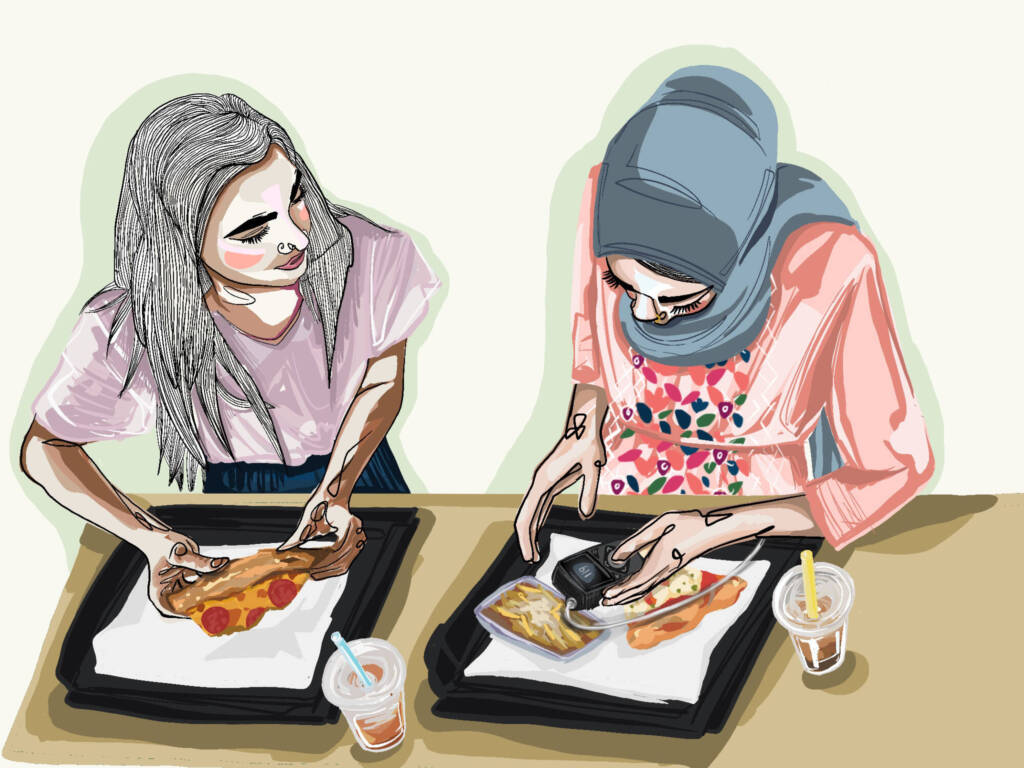 To be honest, dating in 2022 stinks, and if you're disabled, like me, it just makes the whole thing that much more difficult.
There is no cute or flirty way to say you're disabled (believe me, I've tried). It sort of halts a light-hearted and fun conversation and instantly turns it serious. I'm never sure how much to share – should I start with my premature birth or my Cerebral Palsy diagnosis at age two? How do I explain that, while I can walk, talk, and have sex, I occasionally use a wheelchair?
I have tried to switch up how people find out I'm disabled; sometimes through a photo of me in a wheelchair, sometimes I mention that I have a limp, and other times I do not mention it at all until we've started a flowing conversation. No matter how I go about it, it always seems to end in an awkward but predictable outcome. I've been unmatched or had really rude and personal comments about my capacity to please them sexually, and I've weirdly even been matched with people who have a fetish for disabled people (known as devotees), which is thoroughly uncomfortable.
Fortunately, I have, at times, been matched with people who aren't bothered at all. We move into the 'getting to know each other' stage, and it's fun to flirt with people who find you attractive online. After a while, however, I get bored with the online element (as anyone does with surface level conversation), yet I can't seem to convince myself to go to that next stage and meet up with someone in person. I can't decide whether I am not interested enough in people I am talking to or if I am too scared. It's a tough one because opening up is hard for me but I really want to build that kind of trust with someone.
I have only had one in-person date previously, and it was great. I loved the opportunity to get to know someone on a deeper level. We decided to just be friends, but it was still a worthwhile experience. Despite the good experience I had, when it comes to going on another date, my anxiety rears its ugly head and runs me through copious awkward scenarios. I can't seem to help wondering whether they will be turned off in person by my limp or if my "baggage" will scare them.
I am working hard with my therapist to shake off the internalised ableism I experience. We have discussed how important it is to recognise what I can bring to a relationship—I am a smart, intelligent, and compassionate person that someone would be lucky to have. As well as making sure the person has ticked my boxes (being politically and morally aligned, understanding and wants to get to know me) my therapist reminds me that every date doesn't have to end in a lifelong relationship.
I feel like my anxiety surrounding dating has a lot to do with the fact that disabled people are predominately viewed as undesirable. This view is so wrong and hurtful. We all are worthy of love and the respect of people around us. The undesirable narrative is still being perpetuated and needs to change. The disabled community shouldn't be viewed as a single unit; we are all different and have different wants, needs, and desires.
The Channel 4 show Undateables is meant to be  about making it possible for disabled and chronically ill people to date, but the title itself reinforces an ableist standpoint. The notion that disabled people are unattractive or unable to date seems to be one that society continually wishes to promote through shows like this.
Despite some poor media representation, there seems to be a shift in this view with the worldwide success of Love on the Spectrum as well as Special on Netflix and the inclusion of deaf contestant Tasha Ghouri on the current series of Love Island UK. I enjoy all of these shows, but Special is about an LGBTQ+ character with cerebral palsy, which I would have liked to see when I was younger. I truly appreciate these shows because they showcase that disabled people want to find love and that we experience the same nerves, awkwardness, and butterflies as everyone else when we meet someone we like. These shows are a fantastic, lighthearted introduction to disability and the reality that we are not one-dimensional.
Accessibility also has a significant impact on whether or not disabled people can date. When two able-bodied people go on a date, they don't think about whether there is a ramp to enter and exit a building, or whether there is a disabled toilet on site. If you want to take someone who is deaf or hard of hearing to a concert or play, consider whether a signer is available. Is there a seat in a quiet area for those with anxiety or sensory issues, as well as an easy exit if necessary? It all depends on the disabled person's preferences and needs.
My ideal date would probably be a meal overlooking the beach or bowling to help break the nerves. It would also be an opportunity to show my fun and competitive side, plus it is something I can do standing up or sitting in my wheelchair.
I still believe there is a long way to go in breaking down the barriers that disabled people face when it comes to dating. Dating apps are incredibly helpful for meeting people, but I wish there were other fun, inclusive, and accessible ways to help me and other disabled people meet their match.
I do have hope that I will find the right person for me. I just want someone who is nice, compassionate, and it doesn't hurt if they think I am good looking!