Review by Erandhi Mendis // photographs by Aynsley Mitchell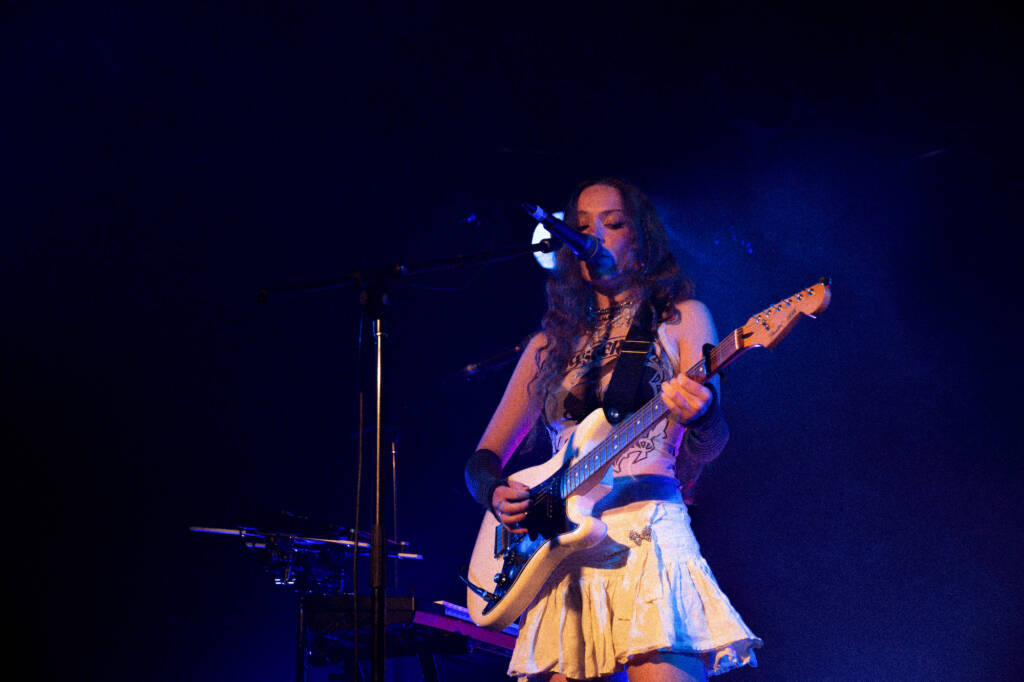 As a self-proclaimed connoisseur of the saddest of melancholy music – it's not often people leave me in charge of the aux. But, at the start of 2020 my cousin briefly handed over control to let me play him a song that had come out that week – it was called Deep End.
"My god, even the opening chords are sad," he said, driving down the freeway.
"Exactly."
I posted an Instagram story of the sunset over the M3, sound-tracking the song against it.
Holly Humberstone's debut single, Deep End would go on to record more than 20 million streams.
Fast forward a few years and despite having still not released anything longer than an EP, the 22 year old from Grantham, UK finds herself playing to a sold out room at the Corner Hotel in Melbourne. It's not her first stop, she's just come in from Japan, played a (muddier than usual) Splendour in the Grass and laments to the crowd how she was scared to play Sydney's Oxford Art Factory the night prior, worrying how she would be received by an Australian crowd.
Her fear is unfounded, the crowd roars as she kicks off with Vanilla. Singing along to a blunt assessment of love that I wish I had heard when I was 20, "we go steady we just get by, we coast until we hit a red light," the middle 8 breezes over a propulsive glitchy pop beat.
Overkill, encapsulates the fear of being too much in love and telling someone how you feel, "you don't have to say it back, I just wanna know where your head's at." She cuts the loop pedal and lets the crowd have a cathartic "say something!" as the beat drops.
More directly desperate, ballad Please Don't Leave Just Yet allows Humberstone to flex her inner multi-instrumentalist. Forgoing the mint green guitar for a synth pad before walking over mid-song to croon "I think I gave a little too much didn't I," at a Roland stage piano I've dreamt about a few times.
She picks the audience up again with her most recent release, pop perfect Sleep Tight – a co-write with the 1975's Matty Healy and her longtime producer Rob Milton. "You were the best thing I never knew I had," navigating the hazards of falling for someone, I was excited to hear this one live.
Without a band, she fills the stage on her own using heavily layered electronic tracks to create her signature sound, hazy synths and programmed drums make the Corner band room feel intimate.
Lyrically, Humberstone's sonic diary traverses the pitfalls of romance, penning a number of hits about modern day love stories, Falling Asleep At The Wheel, Friendly Fire and the crowd favourite, Scarlett – written for it's namesake, Holly's best friend who had the bad luck of dating someone who called her an "emotional grim reaper." If someone ever said that to one of my friends I don't know if my songwriting would be so eloquent.
She explores family on Haunted House, co-written with Australian Sarah Aarons "can't believe we're turning off the lights," and Deep End, an incredibly personal track written for her little sister. On the 2022 release, London Is Lonely, she shares with the crowd how moving to the capital to further her career caused extreme homesickness in a Southeast London shoebox "nothing can hold me like you do."
She laughs after her more broken-hearted performances that it isn't exactly a "Friday night vibe," but the crowd laughs with her, ever so clear in their appreciation for her melancholy. It's easy to forget Humberstone is relatively new to touring, the pandemic interrupting her otherwise meteoric rise. Her shock at applause and palpable uncertainty of how to handle a besotted congregation so far from home is charming, regularly interjecting to thank everyone for being so nice.
The crowd hangs off her words, singing back every line. The aesthetic of vividly diaristic pop seems almost omnipresent today. Cut from the same cloth, yet as singular as ever, Humberstone lyrics draw parallels to other young female songwriters from the Northern Hemisphere; Gracie Abrams, Nina Nesbitt, Griff, Carol Ades, Maisie Peters, trio MUNA and the mainstream success of Olivia Rodrigo – who Holly spent the past few months supporting on tour around Europe. It's no doubt once Humberstone releases her debut album, her own arenas are within reach.
The BRITs Rising Star Award winner returns to the stage for her encore, "as if I'm going to leave without playing the songs you came here to hear!" She closes with the titular track from her most recent EP, The Walls Are Way Too Thin, a triple j favourite. The all too relatable jealous claustrophobia is a electric number to finish on, "There was a possible connection, on the table for a second/I'm bored, I'm ignored, I'm being out of my mind."
Despite her gruelling schedule, Humberstone is a class act. While no doubt buoyed by the adrenaline of touring on the other side of the world, Humberstone creates a sense of safety like only a seasoned performer knows how. Before she leaves she treats the audience to the cheeky notion that they were the best crowd she's ever played. It's endearingly genuine – and much like her acutely honest songwriting, we believe every word.