Interview by Freya Bennett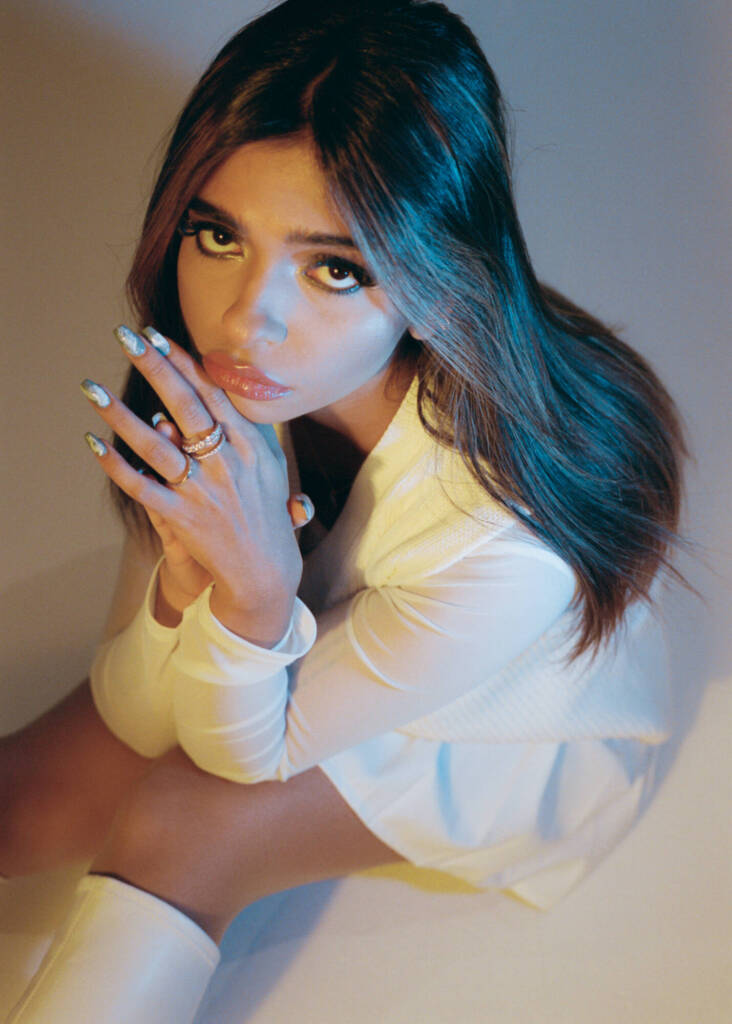 Prior to the release of her new track Sugarcoat, I sat down with Ash Lune to discuss songwriting, moving to another country and how growing up in India inspired her to find her own sound.
Ash talks about the process of writing her EP with Tom Eggert and how each song only took about 20-30 minutes to write. I'm curious about the collaboration with Eggert and ask Ash if the songwriting is all done together or if each of them come with ideas first.
'We definitely didn't come with ideas. My management had asked me to try a new way of songwriting as I can be very bossy in the studio. Just to get my skills polished up, we decided to go with this different way to write music.'
Ash seems very honest about her process and quirks, accepting that she may be bossy in the studio but also being open to new ways of approaching songwriting. A great combination of confidence and open-mindedness has helped her to be fluid in her art and happy to see her music evolve.
Ash talks about how she realised she can't let one piece of art define her, saying 'I can be proud of the work that I've done, but knowing that I've got new music coming – and music that is so different from my last stuff – you can't help but compare everything. You can't think your art form is going to be one thing and let that thing define you. You can't let one thing define you, you're going to be changing all the time.'
I'm curious about her childhood in India and the influence of her brother on her music taste. 'My older brother introduced me to all the music I love and that really got me into being passionate about music. I could sing from a really young age – that was one thing I felt I could do well. I wasn't really good at academics at the time so this was one thing I could do well and it made me feel really happy with myself. My brother definitely influenced my sound. My roots of music came from things like the OC, One Tree Hill, Gossip Girl.'
It feels like Ash has a very eclectic taste in music and I'm curious about her exploration as a teenager.
'Growing up I loved Bollywood music, but you have to go looking for English music. When you go looking for something, you put in that extra effort and gain that passion.'
Moving country at 21 is no easy feat, especially just before a global pandemic. I'm curious about Ash's move and whether she came to Australia to further her music career.
'I moved to Brisbane when I was 21 to do my Masters of Counseling and Psychology. I didn't think my music career would take off. Counseling was a back up plan to music but it seemed more likely as it was practical. So I didn't actually come here to stay, I came here to further my studies.'
Her new song Sugarcoat is such a bop and feels really nostalgic to me, despite Ash being a fair bit younger than me. I want to hear more about the meaning behind the song.
'Sugarcoat is quite literal. It's called sugarcoat because I'm not sugarcoating anything for the first time in my life. I'm kinda telling it how it is. I feel like I've sugarcoated a lot of my feelings to spare other people's feelings and then in the end I'm still left with all this baggage of things I wanted to say. Sugarcoat is my way of finally closing that chapter of my life, letting go of that relationship.'
I love the meaning behind Sugarcoat and feel it's something we can all embrace, the sooner the better!
The style reminds me of Lily Allen and so I ask Ash if she was an inspiration behind the track.

'I actually love Lily Allen, I grew up listening to so much of her music, I think she's a lyrical genius. It's funny you mention her for Sugarcoat because I think that my next single called Whiskey and Thai is as Lily Allen as Ash Lune gets haha. She was pretty much my only reference to Whiskey and Thai.'
I cannot wait for the next single if that's the case!
Finally, I want to know how Ash feels about her own music and how she's evolved since her EP.

'I think I'm a bit more comfortable with my voice and the music I make. I feel like I've grown to know a little more of what I want and don't want. I'm not always playing it safe, which is why this EP taps into so many different sounds and vibes for each song. I'm really excited for you to hear it.'
You can follow Ash Lune on Instagram and subscribe to her YouTube channel here.