Writing by Jasmin Carman // illustration by Andrea Valdivia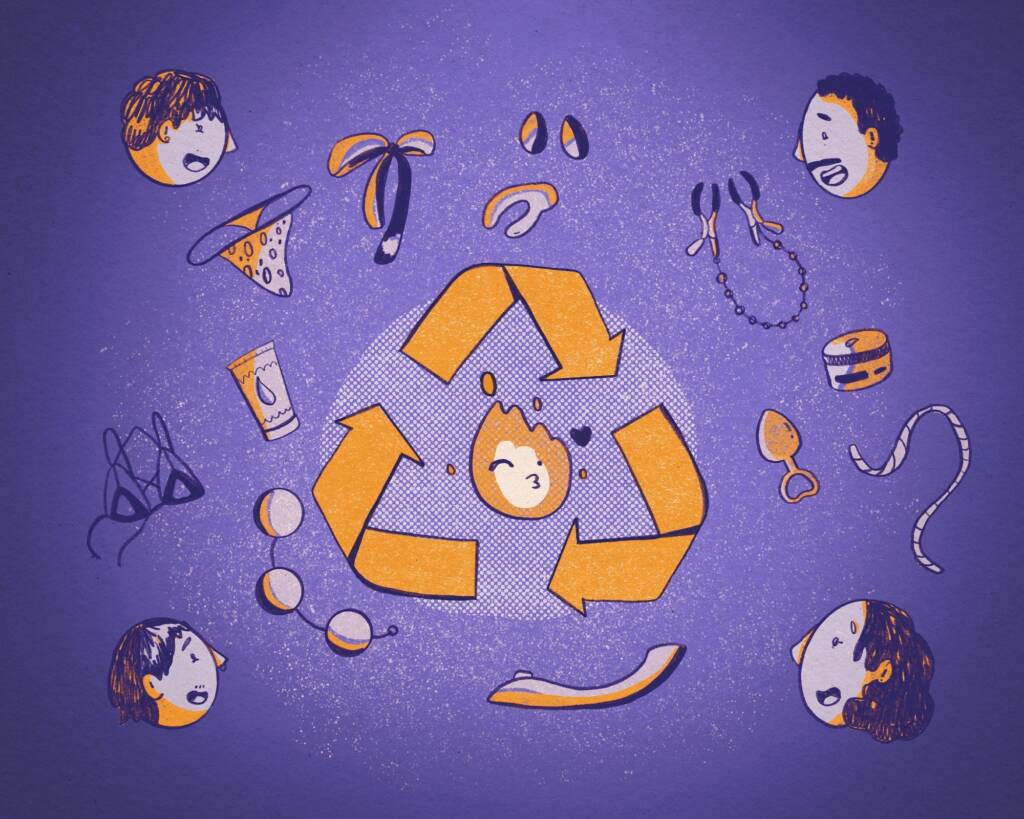 As the years quickly slip by and the effects of climate change are becoming apparent, we're talking more and more about the environment. We're regularly using keep cups to grab our favourite coffee, we bring our own shopping bags to the supermarket and thrifting is trending but what about sex and what does it even mean to be more sustainable when it comes to sex?
There are quite a few aspects of sustainability when it comes to sex, but today let's focus on what we do with our broken, unusable sex toys?
Thankfully, there are options available but it all depends on the type of toy and what facilities you have available in your city.
I want to quickly highlight a sex toy company, rosewell, that have done what all companies should be doing and taken responsibility for the disposal of broken sex toys. This is what we call a closed loop system! Praise be! You also don't have to have purchased from them – you can recycle any of your vibrators with them!
When we think of sex toys, we probably think of the usual suspects: vibrators, glass wands, crystal wands etc, but there are sooo many more toys out there so we're going to cover as much as we can! Let's break it down.
Rubber, Jelly, TPE (Thermoplastic elastomers) or non-moving toys unfortunately go straight to landfill. Toys in these materials are generally dildos and anal plugs.
Silicone is recyclable but not all facilities have what is required to recycle it.
Vibrators are most often made with silicone and are considered e-waste. So you can either utilise the above company and send your broken vibrators in, or you can go to your local council depot to drop off your e-waste.
Plastic can usually go straight into your yellow bin (recycling). Toys that are made of plastic are things like anal plugs and cock rings (anything that doesn't vibrate). If your toy comes wrapped in soft plastics, you need to take that to your local soft plastics recycling and of course, cardboard/paper can go in recycling
Black plastic, unfortunately, cannot be recycled and goes straight to landfill. Black plastic can't be recycled due to the optical scanners at the recycling facilities not being able to find them when it comes to sorting. Hopefully our local councils have plans to resolve this issue in the future. An example of black plastic toys are anal plugs, cock rings, dildos, black plastic packaging.
Glass toys are usually made from borosilicate glass, which is fantastic for us but not so great for the environment and unfortunately we can't recycle this and it goes to landfill. Examples of glass toys include: dildos, anal plugs and yoni eggs.
Metals (stainless steel etc) can be recycled, but not always directly from your home, you often need to take this to your depot directly. An example of metal toys are: weighted dildos/wands, anal plugs and also bondage wear – nipple clamps etc.
Crystal is a rock and does come from the earth, so let's just send them straight back there by burying it in your garden or using it as an ornament in your house. Toys made of crystal are generally dildos, yoni eggs and anal plugs.
Fabrics. We're talking lingerie, silky restraints, ropes, harnesses etc. Because these are considered as intimate wear, your regular textiles recycling won't take them, but thankfully Underwear for Humanity will!
Last and certainly not least is lubrication! The lube is most likely going to be absorbed into your body, but what do you do with the container it came in? Most can be recycled at home, however, sometimes the pump lids etc are different kinds of plastics. You can utilise two amazing companies for this.
Terracycle: they offer free recycling through a lot of major retailers.
Banish.au will take your special recyclables and in exchange, give you $15 credit to spend in their store. The bonus means you can start making your plastic free swaps this way!
The best way to avoid waste with liquids is to look for glass containers, that's much easier to recycle and much better for our environment.
As we begin to understand that each purchase we make at some point has to go somewhere else for its end of life, it helps us to make more conscious choices. So think twice before purchasing your next toy and remember, as consumers, we hold the power. I encourage you to write to your favourite sex toy companies and encourage them to offer end of cycle options. It should not be the responsibility of the consumer to work out what to do with a product, this should start (and end) with the companies.
Happy playing knowing that all your sex toys aren't just going to end up in landfill and enjoy orgasms that won't cost the planet.