Writing and photographs by Mina Dimitrovski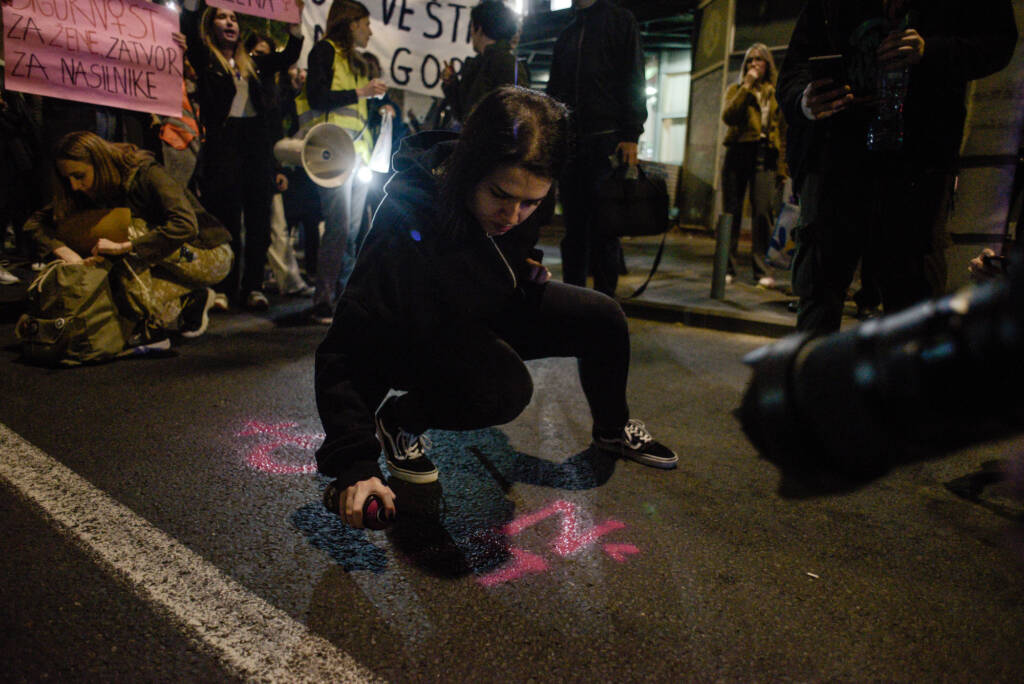 While we are witnessing protests for women's rights in Iran, an interview with a convicted serial rapist was published in Serbia by one of the most infamous, pro-government tabloids.
In a one-hour interview, a serial rapist Igor Milošević describes his tactics, his violent behavior and shows no remorse for what he's done and admits he might repeat his misdeeds now that he is a free man again.
This individual was convicted multiple times of rape and theft and has spent most of his life in prison. After each of his releases, it took him mere weeks before repeating criminal acts again.
His release from prison earlier in September caused panic in public, resulting in people, especially women organising on social media, taking photos and publishing Milošević's whereabouts in order to gain a sense of safety. The first question one needs to ask is – how does the system re-socialize ex-convicts, and how is it possible that a serial rapist reenters free society without any institutional surveillance? In Serbia, the answer to those questions is blurry.
The fact that such content got space in media is a scandal itself. Giving space to a convicted criminal who raped and attacked many women is re-traumatising both the victims and their families. Victims of rape bear trauma for the rest of their life and by media space to a violent criminal, shows incredible lack of empathy and any moral compass by the authors of the interview.
A few feminist and non-government organisations expressed outrage towards the news outlet responsible by organizing protests in front of their headquarters in Belgrade, the capital of Serbia. Requests for taking down the interview have so far been ignored, as well as request for prosecution reacting to the promotion of violence in media but the protests did lead to an interesting stream of events.
The day after the first protest took place, female journalists who lead the interview with Milošević accused him of threatening their security, which resulted in quick arrest and detention of Milošević until the trial starts. This events was shown as a "victory" of the news outlet, "washing themselves clean" by taking this man off the streets again.
A huge problem is that national institutions barely reacted to the publication of the interview. Not taking any legal actions against the news outlet by the prosecution shows how little determination to punish irresponsible journalism there is. This is all happening in a relatively small country where more than twenty femicides were committed in 2022 alone, where patriarchy is so strong that the violence towards women is normalised.
On the other hand, Serbia is a candidate country for membership of the European Union, which means that great respect to human and women's rights, fight against any type of violence and building support systems for the victims of violence should be top priorities.
Unfortunately, it seems that accepting European values does not apply to pro-government tabloids.
Nevertheless, women and feminist organisations are protesting and raising awareness about numerous issues the society is facing.
Wide discussion on domestic violence, violence against women, abuse and neglect of women at childbirth, terrible conditions in birth centers and other forms of mistreatment are putting constant pressure on institutions.
A recent survey revealed a lot of women revealing why they did not report abuse or violence – most of them had no trust in the system or simply got ignored, laughed at or accused of exaggerating. It is a shame that most rape convictions result in very mild punishments, just five to ten years in prison, after which a criminal regains the right to live in free society.
The fight is on, women are getting louder and louder and there is hope that someday we will be able to rely on the system, instead of having pepper spray or a paralyzer in our purse.