Writing by Madhumalika Bharani // illustration by Nea Valdivia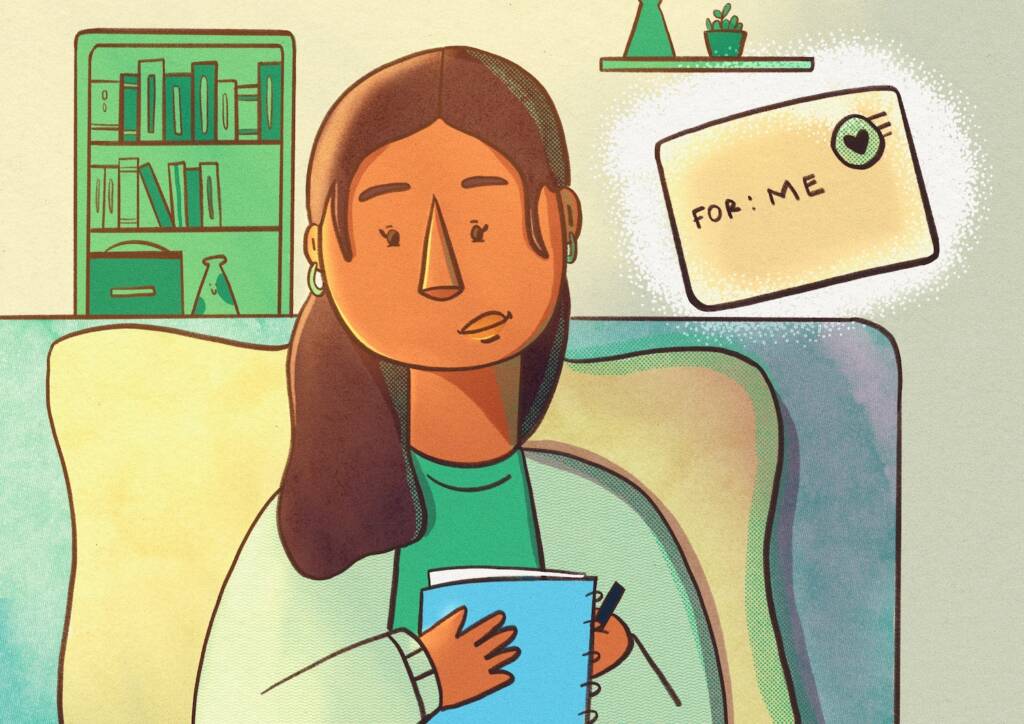 When I was sixteen, the question I found the most difficult to answer was a simple one:
'How are you?'
I didn't understand why the first thought that worried me was if my response would be acceptable. I'd ask myself all these questions – Will they walk away if I break down? If yes, do I still be honest? Can I call out for help? Will it be worth it? Or should I just stuff it all back in and move on? – these worries kept me awake all night.
So I wanted to write a letter to my sixteen year old self.
Here's the thing, little one. You made it. I know it seems unbelievable and I know why. I know that it's been hard, terribly. It wasn't an easy drive, trust me. There have been moments when we felt like we were done, and we started questioning the possibilities and opportunities in front of us. We often asked if it was all worth it.
You're in robot mode now, aren't you? At this point, everything's a blur. I don't remember a huge amount  from being fifteen or sixteen because I was just trying to get through a phase of bullying and a lot of academic pressure that I had set for myself.
We have friends who are supportive.
"But, does it all matter when everyday feels longer than a year?", you ask. Yes. Yes it matters because they're part of the reason I'm here, writing this letter. They're part of the reason I got us through to where we are now.
You know what? I know a lot of people have told you this and it's hard to believe but trust me, with an open heart, when I say, it gets better. So much better. Let me tell you about the world you're about  to enter.
You're questioning if you'll survive school, right? Well, you do, top of the class too! You get accepted into one of the country's best journalism programs and you're working very hard to live the life you've been dreaming of. It was hard to fit in initially, you know, new city, new people, but, once college starts, you find your people, you find comfort and you find yourself. I'm not saying we have life figured out or that we're the perfect person we're expected to be. We're a mess and we're still figuring laundry out, haha., we still have those days, the ones we dread, but we've learnt to tread through them.
I'm proud, kid. We've come a long way. Yes, it has been a difficult period but we've also unlocked some beautiful moments and made some great memories.
We have come to cherish some of the best people and they've made such a great impact on our life. Our friends are good people, genuine and kind, people who make every day genuinely better and I can't be grateful enough for them (note to future us: DO NOT for any reason, let go of them,they're the good ones). We're loved and accepted for who we are as a person. We're not judged for how we look or for the decisions we've made or will possibly make (and trust me it took me a long time to accept that).
I'm not saying we've peaked, no, but we are definitely in a safer, better and happier mental space.
To everyone else reading this: You've made it all the way here. Trust me, if life is feeling tough right now, it gets better and if you ever need anything,reach out to those who love you.
With Love,
Madhumalika Bharani