Interview of Maisie Peters by Erandhi Mendis
On the morning I speak to Maisie Peters, it is raining and I am reminded of a bad breakup I went through.
"I think we've all been maimed by a man," she reassures me.
Sharing how her music soundtracked some of my less perfect moments feels like a very natural thing to do, her dry wit and friendly demeanour causes one to forget she is a pop juggernaut counting the likes of industry heavyweights Taylor Swift and Ed Sheeran as fans.
The 22 year old songwriter turned global popstar has had a somewhat meteoric breakthrough – despite much of her rise aligning with a global pandemic. The week that we chat, she has just announced headline shows in Australia and New Zealand. "I've never been [to Australia and New Zealand]  but I've always felt kinship…I'm coming over for a month, it's going to be the most fun ever."
It's obvious there is an unbridled love for her craft and career. In the past two years Peters has gone from cancelled tours and posting snippets of original songs online from her bedroom to writing a soundtrack for the Apple TV+ original series Trying, having her first album debut at number #2 on the UK Albums Chart and headlining international shows alongside supporting Sheeran's massive +–=÷x stadium tour. All the while she has been releasing a slew of stand-alone singles in preparation to drop her sophomore album, known to fans still as MP2.
"It's biting," she says of her next body of work. "I've been working on this album for over a year and the past few months I've really been honing in on tracklisting and getting a sense of the story of the album."
Describing her first record, You Signed Up For This as "naive, hopeful and euphoric," by contrast she says MP2 will be far more confident and wry – "spelt with a w, not rye like the bread," she laughs.
With each 2022 release, the confidence step change is immediately notable. "I've always been a sad girl who makes sad girl music, but there is something really good for me and I think for my audience as well in writing a song that is full of joy and confidence and humour."
Releasing two sister singles, Blonde and Good Enough in August, Peters showcased her hallmark vulnerable songwriting while teasing themes to come for her second record. "I wrote [Blonde] two days before I actually went blonde…and three days before I got 'soft-dumped,' so I kind of manifested it." Where Blonde is rambunctious, cheeky and filled with female rage, Good Enough is an almost painful coin-flip. Written with Dan Nigro years ago, "I always loved the song and it never felt like it had a space to offer that yin and yang [until Blonde]. I was in such a different place and a different person [writing Good Enough]. Sometimes you need the years to understand what you made and what you wrote. The person I am now can see Good Enough in a very different way and a way that [still feels] really relevant and maybe more relevant now."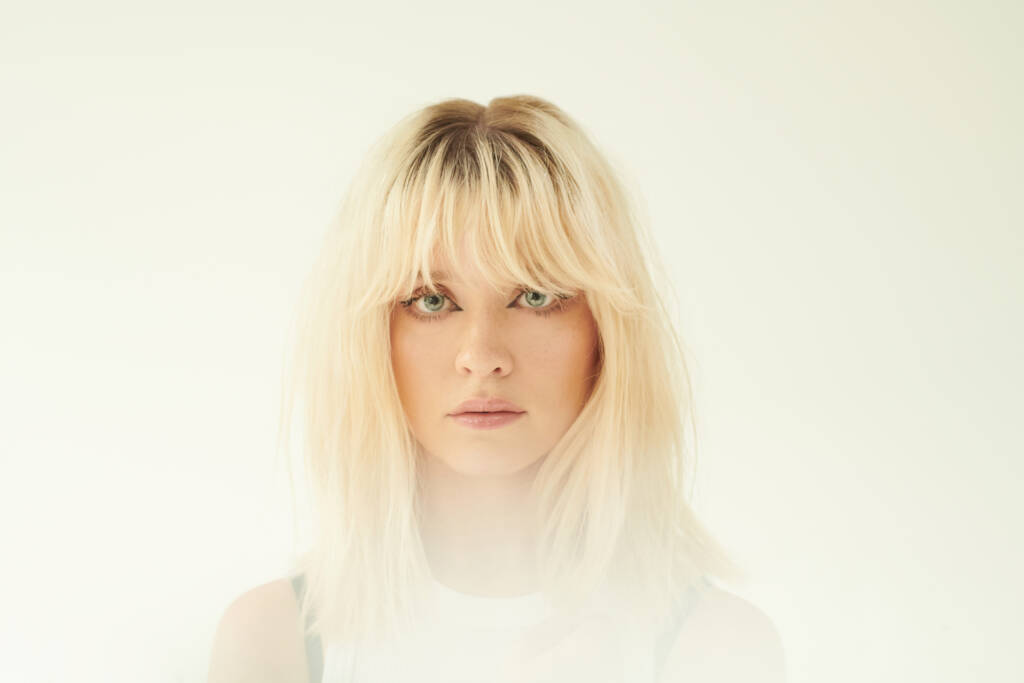 In the timeline of writing, between the dejection of Good Enough and the "stomping around" of Blonde came the self-aware joy of Not Another Rockstar. "That's a true friends record," she says referring to Joe Rubel and Ines Dunn with whom she wrote the track. "It's a song literally about how terrible my taste is…after a particularly savage summer [my friends said] enough is enough."
Friendship appears to be a cornerstone in Maisie's discography, noting Rubel as a consistent collaborator on her first album. When I mention her work with national treasure and a long time friend of Ramona, Gretta Ray, she beams. "She is my older sister, my spiritual leader, my guide in this world…she's extraordinarily talented, one of the best people I know." In a win for pop enthusiasts everywhere, Ray contributed ethereal harmonies to Volcano on Peters' first album – which coincidentally was released on the same day as Ray's debut, Begin To Look Around.
Maisie and Gretta's palpable friendship reminds me of the power women have in collaboration and the magic of diverse storytelling. I get the sense that Peters is much more comfortable championing others than speaking of her own success. "The stories that I most enjoy listening to are stories from women, women of colour, people within the LGBTQ+ space…I think those for me are the stories that feel the most relevant and the most important that we hear."
By the end of our time together the kinship feels apparent, so when I ask if she feels like a sexy baby or a monster on the hill she immediately understands what I mean.
"Oh I hope I'm a sexy baby," she laughs.
We are joking but if the complex connotations of a sexy baby imply one never ages – banter aside, I'm confident the music Maisie Peters is making is timeless.
Check out Maisie's music in Ramona Weekly Playlist.
MAISIE PETERS HEADLINE TOUR DATES
Thu 16 Feb – ​The Northern Hotel (Byron Bay)
Tue 21 Feb – ​The Triffid (Brisbane) *SOLD OUT*
Tue 28 Feb – ​The Metro (Sydney) *SOLD OUT*
Sat 4 Mar – ​Prince Of Wales (Melbourne) *SOLD OUT*
Sun 5 Mar – Prince Of Wales (Melbourne) *SOLD OUT*
Sat 11 Mar – ​Freo.Social (Fremantle)
SUPPORTING ED SHEERAN TOUR DATES
Fri 17 Feb – Suncorp Stadium (Brisbane)* sold out
Sat 18 Feb – Suncorp Stadium (Brisbane)* sold out
Sun 19 Feb – Suncorp Stadium (Brisbane)* new show
Fri 24 Feb – Accor Stadium (Sydney)
Sat 25 Feb – Accor Stadium (Sydney)
Thu 2 Mar – MCG (Melbourne)
Fri 3 Mar – MCG (Melbourne)
Tue 7 Mar – Adelaide Oval
Sun 12 Mar – Optus Stadium (Perth)