Reviews by Haylee Penfold and Zade Omar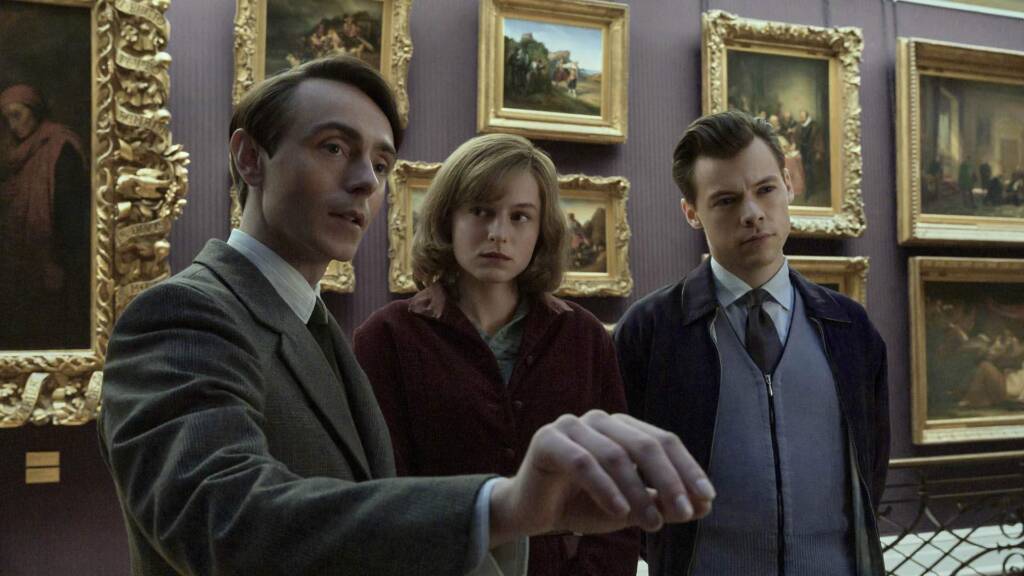 My Policeman is a Thoughtful and Sensitive Story, True to the Book

My Policeman has been released on Prime Video after much anticipation to mixed reviews and here is why I loved it.
The film's theme of wasted time was heartbreaking in its honesty of a time of extreme homophobia and, as a newly "out" queer person, I found myself surprised at how I related to Tom and the internal conflict that comes with accepting your own sexuality.
Granted, I live in an era and country that aims for (but doesn't always achieve) celebration over oppression, but the internalised homophobia remains, and I found myself identifying with Tom's struggle.
The film has been criticised for its slow pace but in my opinion, it's slow for a reason. While it may feel like you want more from the film, more from the relationship between Tom and Patrick, we aren't granted that because Tom and Patrick weren't granted that- we're left wanting more because they were left wanting more. This was done with intention which is clear to those who have read the book. The measured pace reflects that within the story which made it all the more enjoyable for those who've loved the book.
Something that really stuck with me after seeing this film were the sex scenes. They were so beautifully curated, directed and thought out and as a sex educator, my favourite part was how sensitively executed the scenes were. The focus was not so much on the act of sex, but on the intimacy between the two characters. Quite often, the portrayal of gay sex in more more mainstream cinema can lack intimacy or connection, this was not the case with My Policeman.
The scenes with Tom and Patrick were shot with so much intention that even a small touch of a fingertip made your heart skip a beat. As the interactions between the two men escalated you felt the connection and passion grow into love.
Harry Styles says of the scenes "There will be, I would imagine, some people who watch it who were very much alive during this time when it was illegal to be gay, [Director Michael Grandage] wanted to show that it's tender and loving and sensitive." and I felt this was achieved.
Overall, My Policeman was beautifully made, sensitively directed and gently acted. I applaud how the creators stayed true to the book – every book lovers dream.
This film is holding rank in my top ten queer love stories, and I look forward to watching it again.
My Policeman is Pretty But Bland, Like a Vanilla Cupcake
Although it was billed as a beautiful and heartbreaking tale of repressed love, My Policeman offers little more than nice outfits, nice music and weepy white people.
Adapted from the novel of the same name, My Policeman opens with the 1990s versions of Tom (Linus Roache), Marion (Gina McKee) and Patrick (Rupert Everett). Tom and Marion are married and living a quiet life by the English Seaside, they fill their time by looking wistfully at the ocean, looking wistfully out their windows, and looking wistfully at each other. Their old friend Patrick arrives to stay with them in their home as Marion has volunteered her and Tom to care for him after a stroke left him mostly non-verbal and bed-ridden.
Marion feels it is their responsibility, a repayment of debts owed. But, Tom can't bear to even look at him, an especially cruel detail given Patrick only wants to see Tom.
It's only when Marion begins reading Patrick's old diaries that we finally travel back to the 1950s to see where these three began. Marion (Emma Corrin), a schoolteacher, and Tom (Harry Styles), the titular policeman, meet in '57 and begin courting each other. He is impressed by her intelligence, she is impressed by his dedication and the bond they form is sweet and caring. Once they meet Patrick (David Dawson), a museum curator, the three of them become inseparable. This little timeline is recontextualised once we learn that Tom and Patrick had already begun a sexual relationship by the time he and Marion were dating.
It is up until this point that Marion is framed as the story's main focus and protagonist, but the revelation of Tom and Patrick's relationship makes her little more than a side character in what the beginning would have us perceive as her own story. Of course, it isn't, and a story of two queer men trying to avoid being abused, arrested, or ostrasized for their sexualities shouldn't be framed through the perspective of a woman they both know. This isn't helped that she is the least developed of the three, her character failing to amount to much more than a sheepish homophobe who wants to save her marriage at all costs. The other characters suffer a similar fate; we know barely anything about who these people are without each other and plot points that should take up time, energy and space (Tom revealing his and Patrick's relationship, Marion finally leaving, Patrick's recovery, Tom and marion's married life, etc.) are treated with meagre care and meagre time.
I think this is the most appropriate time to bring up the acting. It's not great, I'm afraid. The performances are mostly pretty monotonous, yet every now and then we are treated to odd little outbursts that erupt from seemingly nowhere. While Corrin manages to give a strong, thoughtful performance, it's hard to focus on her when the actors around her seem to be anxiously waiting for the shooting to be over.
I know this to be the opposite, though, which somehow makes it worse. In press coverage and roundtables, those behind the film wanted so desperately to tell a considerate story of beautiful but dangerous love, of caring but deeply flawed people. Instead, My Policeman comes across as the same kind of easily digestible story of homo-woes that has been told time and time again, ready to be over-analysed and lamented on by teens everywhere. To its credit, however, it has worked. There are already thousands of GIFs flooding Tumblr and Twitter of breathy reactions to being felt up and loving moments that, when taken out of context, entirely go against the point of the film.
Among its failings, My Policeman has its virtues. If at any point you may be fed up with a certain performance, or writing that seems trite and overplayed, the film's aesthetic quality may provide solace. It's filmed so beautifully in historic areas of London, Brighton, and Venice that it makes you wish the characters could enjoy being their truthful selves so as to fully enjoy their environments. The custom design is also gorgeous and interesting. Designer Annie Symons decided on approaching the costumes "emotionally and visually", focussing on how each actor could elevate their character by what they wore, rather than be restricted to adhere to certain colour requirements or accessory placement. I think this works to the betterment of the story, and the film certainly provides enough time to really think about what each of the characters is wearing.
The parts the film succeeds at, it succeeds thoroughly. The costume design is lovely, the scenery is stunning, and the lilting music pairs perfectly with each era and the characters' feelings. But these are some of the only things that make the film worth watching in my opinion, which is not the glowing recommendation I'm sure they would hope to receive. Behind its pretty exterior, My Policeman suffers from the same things that plague other gay love movies; it's too long, it's uninterested in providing a unique take, and perhaps worst of all, it's boring.