Writing by Zade Omar // photographs by Sara Regan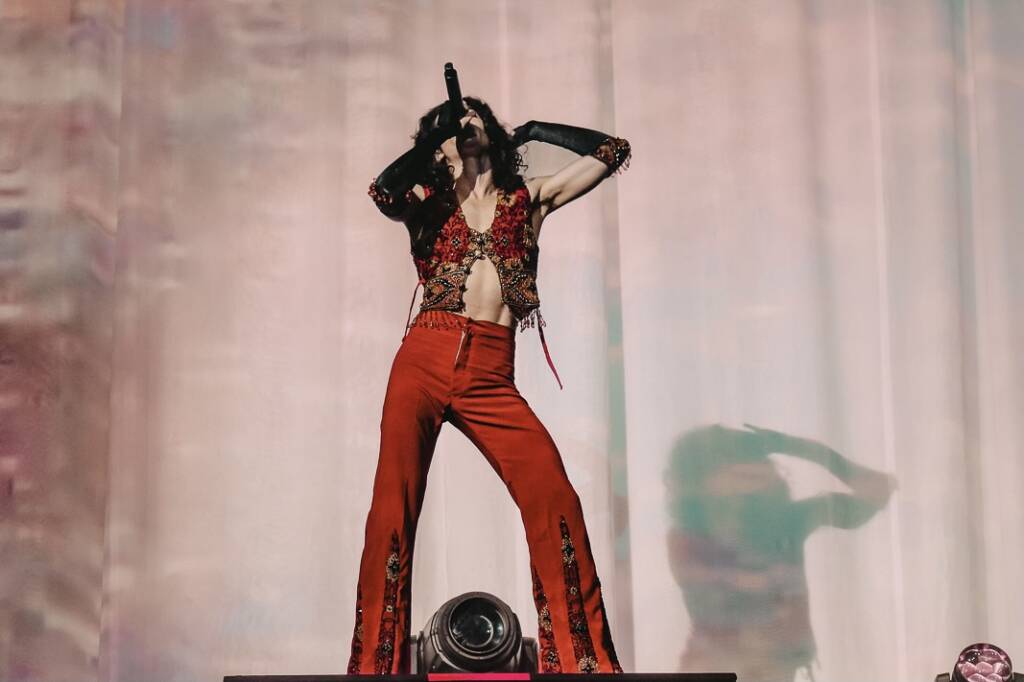 Knowing the kinds of fans that rally around Conan Gray, I couldn't help but feel a keen sense of irony as I walked through the Rod Laver gates towards Margaret Court Arena. I was taken aback by the abundant crowd that stood before me, decked out in riotous, beautiful outfits with glitter and gemstones and sequins that sparkled as the sun began to set. This was almost in contrast to their quiet, nervous excitement that swirled around like the cool breeze.
After cancelling what would have been his first tour in Australia due to the pandemic and subsequent lockdowns in 2020, there was a kind of timidness exuded by those in attendance. It was as if they weren't convinced Conan was actually in Melbourne, that the concert was finally happening. It didn't take long for this feeling to be shaken off, however, after years of waiting, this indefinite hunger to be sated by the performance of a lifetime.
Awaiting the performance, fans found their seats and gathered in the mosh, singing along to the songs that filtered in through the speakers and waving to each other across the arena using their phone flashlights. By the time Charlie Collins took position on stage, friendships were formed like lightning, beginning and ending in an instant but unforgettable.
Starting off strong with her song Fuck It, Charlie and her band were bathed in red light, confidently performing to a crowd that was trying to figure out how boisterous they were allowed to be.
Charlie used every inch of the stage, striding the length of it and waving to the crowd as though she knew them. As she interacted with each of her bandmates, her raw chemistry and charisma encouraged the crowd to let loose and be bold. By the end of her set, she had definitively won them over, reminding everyone that "we gotta fucking send it" as they eagerly danced and cheered for her.
The 30-minute period between Charlie's and Conan's sets was a return to the kind of nervous energy I'd seen earlier, the air buzzing with discussions of his outfit, what would be played and how much longer we would have to wait. I knew it was storming outside, but there was a kind of storm inside too.
Finally, the lights dimmed, and a roar immediately filled the arena. As his band members got in position and the curtains were opened, the sight of Conan Gray standing atop the stage sent the crown into a euphoria. Standing in gold boots and a red and gold outfit to match, the wait was worth it.
He opened with Disaster from his album and tour namesake Heartache. His unwavering voice and confidence in combination with the song's fun, powerful tune were like a premonition to the rest of his performance. His audience ate it up, needing no further encouragement to dance and sing.
I think Conan encompassed his music pretty succinctly when he instructed us to "have fun" but not too much because "most of these songs are depressing." Being able to combine emotional, heart-wrenching messages and lyrics into his songs that are cleverly accompanied by an upbeat and poppy beat speaks to Conan Gray's prowess as a musician.
If that weren't enough, the performance itself was assured and dauntless. Wrapping up his stint in Australia at this Melbourne show, I wouldn't have been surprised if Conan showed signs of tiredness, but this couldn't have been further from reality, Conan performed like he had been waiting a lifetime to do so, dancing like it was as natural as breathing and singing his songs like he hadn't already dozens of times.
The crowd's love for Conan was undeniable. It was like a test they had been studying for months, I'm sure when Conan started singing Best Friend the girl in the crowd with a homemade T-shirt that read "that's my FUCKING best friend" felt like she passed with flying colours. There also wasn't really a song the crowd didn't know. By the time he performed People Watching and The Story from his 2020 album Kid Krow, he almost didn't have to sing as the sound of the crowd knowing every word was almost as loud.
For his more emotional ballads, the performance was allowed to speak for itself, the lights dimming and only a guitar to join his voice. The crowd became a swath of waving phone flashlights as though Conan was performing to the night sky, the audience's devotion as guaranteed as the stars in the galaxy.
Leaving the arena to see clearing skies and rained-on asphalt was like the storm that was Conan's concert. Just as I knew it was about to start raining again anytime soon, I knew this concert would only temporarily satisfy those in attendance. His fans would be excitedly awaiting his next tour before he had even concluded this one.