Writing by Rebecca Turner // photograph by Disabled And Here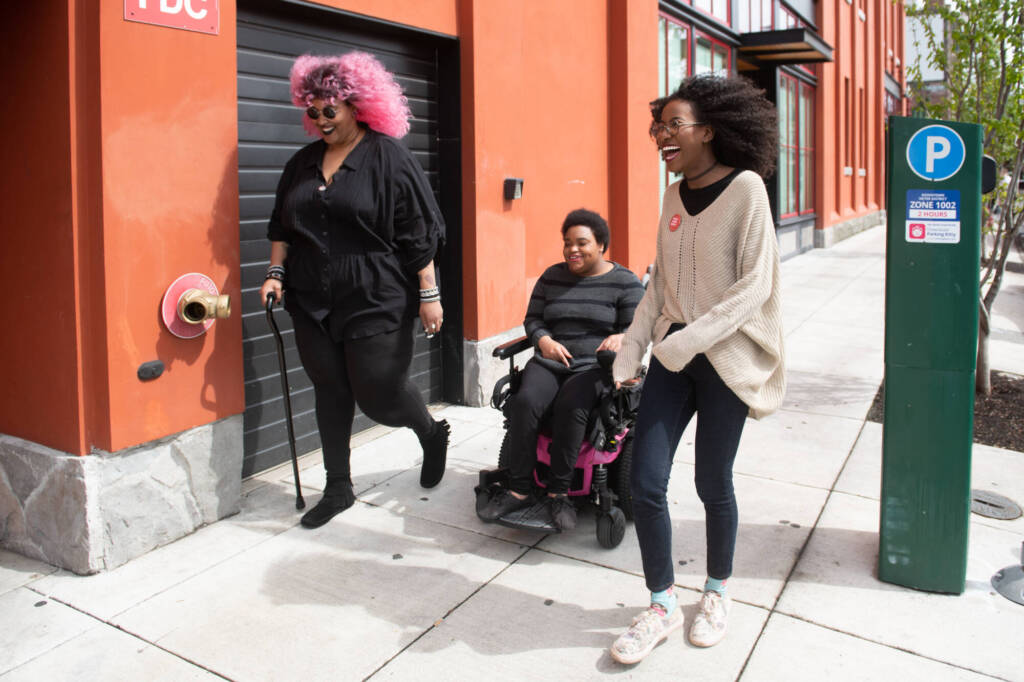 December 3rd is International Day for People with Disabilities. This is an opportunity to shine a light on the issues we face living in a society that is not built for us. It is a day to remind everyone that not all people with disabilities will be paraolympians or 'inspirations' – we don't exist to inspire able bodied people. It is a chance to celebrate existing with disabilities and being proud of it.
When I was growing up I didn't feel proud of my disability (Cerebral Palsy Spastic Diplegia). I wanted nothing to do with it quite frankly and pushed it away because all I wanted was to be 'normal'. I wanted to be able to walk without scuffing my shoes, say something and not have to repeat myself because my voice was too soft, and I wanted to stand up straight. This mentality made my self-esteem take a hit during my teenage years when funding and availability of appropriate services were at an all-time low.
It wasn't until I was in my mid-twenties that I came across the Disability community on Twitter and Instagram. I felt like I had found my people. We aren't a monolith, and we deal with our disabilities in various ways, but we have each other to lean on.
Curating a community across multiple social media platforms has helped me feel less alone in my experience. Although I have an incredibly supportive family and people that care for me, unless you're waking up every day in a body that is different to the majority, there is no way to ever fully grasp what it's like being disabled.
Therefore, days like IDPWD are so important to people with disabilities because it's a day where we take center stage. Our voices can be at their loudest. While sharing our lived experience is emotionally draining, this is a day where people are more likely to listen, whether that is because of news coverage, infographics or shared stories like what you're reading right now. We can't miss the chance to emphasise our importance and worth to society, reminding them that we want to live our lives as fully as anyone else.
Here are my tips for any allies reading this:
Diversify the content you consume. Add disabled creators such as Imani Barbarin, Keah Brown, James Parr, Alistair Baldwin, Hannah Diviney, Peta Hooke, Katie Griffin, Natalie Fornasier, Mali Hermans, Jamila Main, Alice Wong and Carly Findlay to your social media feeds. Read books by disabled authors (Queer Feminist and Crip by Alison Kafer, Disability Visibility: First-Person Stories from the Twenty-First Century by Alice Wong, Growing up Disabled in Australia by Carly Findlay) and watch television shows with disabled characters.
Help us make the world more accessible. This could mean adding a ramp to your workplace (or lobbying your company to do this), making sure to add Image Descriptions to your social media posts and turning captions on when you share videos.
Uplift our voices because we want to attend concerts and eat at restaurants. We want to take accessible public transport to turn up on time. We want to be in your workplaces (in person or remotely) and we want to make serious changes to government policy regarding disabled issues. So when voting, please take that into consideration.
The world has a long way to go to be completely accessible but if International Day for People with Disability continues to pick up steam like it has over the past five years, I can only imagine what can be achieved. Let's keep celebrating, embracing, and improving the lives of those existing with a disability.