Review by Erandhi Mendis // photographs by Sara Regan
The magic of television is in full force on the 24th of November. Flume is performing at the ARIA awards in Sydney. And yet, here he is playing to a sold out room at John Cain Arena, more than 800 kms away in Melbourne.
Actor Charles Wu appears on the red carpet in Sydney dressed in Flume's instantly recognisable motorcycle kit from his video Highest Building. A few hours later, when Harley Streten takes the stage to a rousing audience in Melbourne – he is dressed in the same suit.
It's smoke and mirrors – which is often what the stage at John Cain resembles as Flume gets a crowd of close to 10,000 jumping out of their seats. It's his first solo tour down under in six years though it feels like the Australian DJ never left.
The most adept performers know exactly what their audience wants, and this is no exception with Streten. The set is stacked to say the least, working through almost 30 songs with the first half including Holding On, a remix of Drop The Game as well as Disclosure and SOPHIE covers. The oscillation between eras and genres maintains a level of unpredictable madness – particularly for the fan favourite deep cuts.
From my seat, the general admission area is as packed as I've seen it pre-pandemic. It's also fascinating to see how Flume's demographic has evolved. "The first record is 10 years old" he says before laughing "we old as fuck." I find this comical, seeing a number of 18 year olds in the audience who ardently love his music just as much as the 32 year olds in the crowd who were likely front row at Stereosonic the last time he headlined.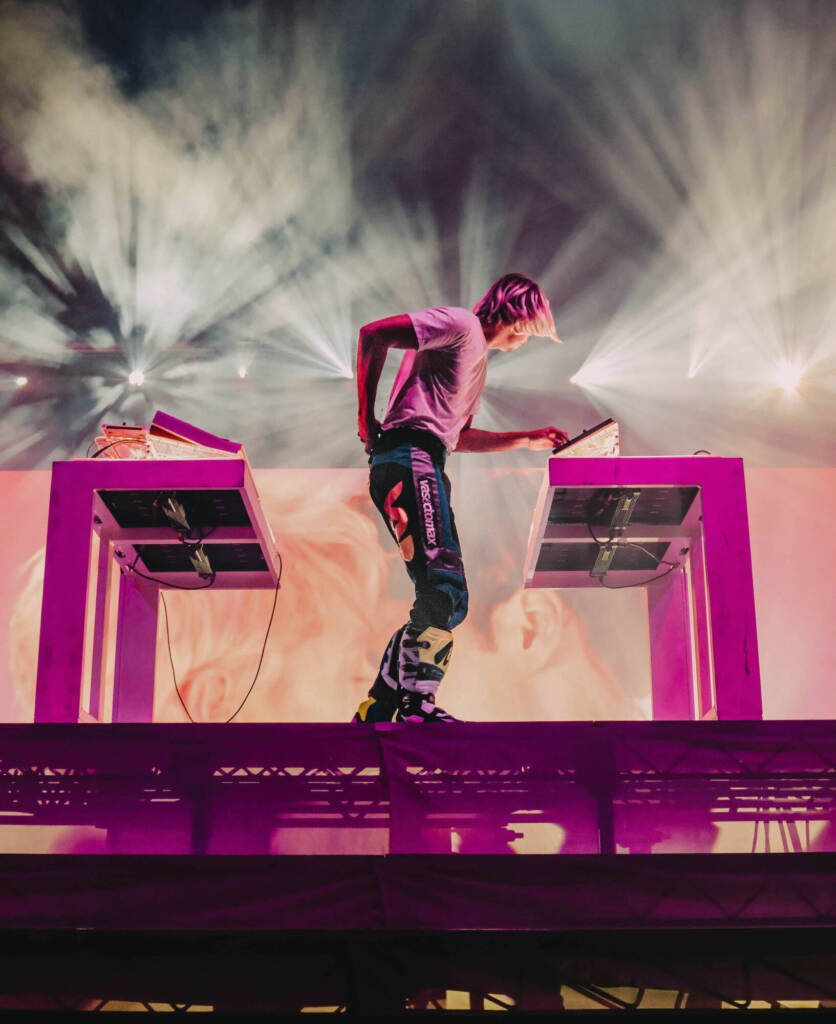 The production of an electronic music set is always interesting to me. Unlike singers or traditional band members (save for drummers) who have some level of freedom to navigate a stage – most DJs remain somewhat trapped by their decks. This does two things: it draws a narrow focus upon the music. Showpersonship is important but it is not relied upon. And secondly, it leaves room for stunning art to accompany the music.
To say the visuals are mesmerising is an understatement. From giant ibises and demons, the technicolour animations are heavily influenced by Flume's go to creative director, Jonathan Zawada – the ARIA award winning artist taking home best album art for Flume's 2016 release Skin.
Streten continues to spotlight local talent as he brings out vocalists including support acts Toro y Moi and May-a, the latter providing numerous vocals for some of Flume's biggest crowd pleasers. The 21 year old Australian brought a youthful exuberance, twirling and dancing across the platform as the crowd held up phone torches. There are a number of small perfect moments that stay in my mind as the set rolls on.
But in the end, my favourite part of the show isn't when he pops champagne on stage, or when he shares a track that he finished earlier that day. It's when he makes a mistake.
During what is arguably his most streamed song of all time, Never Be Like You he seemingly jumps to the wrong part of the track before deciding to cut it while May-a is singing and requests a do-over. It's endearing and feels almost ironic considering the lyrics.
At the end of the day, no matter how much smoke and mirrors you have – the most engaging thing an artist can do is be human. And as Streten's melodies cascade over the arena "I'm only human can't you see, I made, I made a mistake," feel like the most important lines he's ever shared.