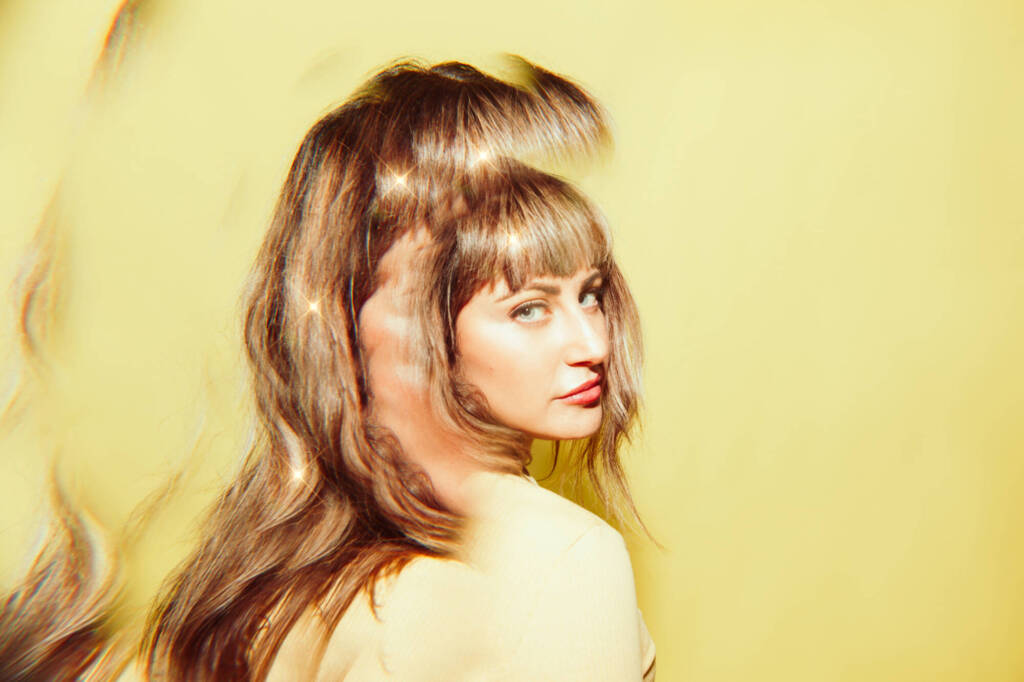 meadowhip is the solo project by singer-songwriter-poet Cara Walkam who, after a major hemorrhagic stroke in 2019, decided to eliminate self-doubt and create as much music as she can. "I feel a bit exposed. This is potentially the most sincere song I've written as meadowhip." 
Over sees the Wollongong's artist emerge with newfound confidence. Her voice bends around gossamer guitar licks and ambient layered vocal textures fusing introspective lyrics with woozy alt-R&B, pop and soul.
Take a listen and have a read through what inspired the creation of this sonic journal.
Amie McNee
Amie McNee (@inspiredtowrite) popped up on my social feeds when the idea of meadowhip was first rolling around in my mind. Her love letters to creatives, and her sharing her  journey in creativity were hugely motivational for me and in the development of 'Ruckus' – in fact, her work directly inspired 'Bloom'.  I've been lucky enough to do a creativity/writing session with Amie and can confirm that her energy is even more palpable in the flesh, and the community of people who gather around her are sublime, and they continue to inspire the shit out of me!
The Icarus Deception
The Icarus Deception by Seth Godin was recommended several times (including by Amie McNee in her podcast Unpublished) before I finally dove in.  Honestly – life changing.  Epiphanies on epiphanies.  It was this book that taught me about the importance of "making a ruckus", and about how conformity is not the key to success.  'If I'm Being Honest' and 'Over' were written with the lessons of this book in mind.  There's a reason that the EP is called 'Ruckus' and it's Seth Godin.
A big old stroke
Lol. So in 2019 I very nearly died when an artery in my brain said "nah, this is shit" and busted, resulting in a major hemorrhagic stroke.  The neurosurgeon who saved my life is a gift (as were the nurses who laughed at my opiate-fuelled jokes and washed my hair).  But, perhaps surprisingly, the near death experience itself was the real treasure – there is really nothing quite like nearly no longer existing to force you to reflect on what's actually important in your life, and motivate you to get your shit together to go after it.  Without the stroke, yes, I'd still be making music and performing, but I'm positive that meadowhip wouldn't exist.  Note: strokes are not recommended, it was truly horrendous :')
COVID
It wasn't too long after my stroke that the world shut down due to COVID-19.  Clearly, the pandemic has been horrific for a number of reasons – death, isolation and economic destruction are not cute.  However.  Being forced to cancel all plans and stay home right when my post-near death experience motivation had kicked in was honestly perfect timing.  What I needed was pressure- and distraction-free time alone to work on my art and decide on a way forward, and that's exactly what I got.  What I didn't get, though, is COVID.  Which is both a boast and a testament to my introversion.
My mum
My dedicated cheerleader since day one <3  Throughout my life, whenever any real life shit got hard, my mum would be there trying to convince me to quit whatever I was doing and "just sing".  Panic attack on the first day of the HSC exams? "Don't go, you don't need the HSC to sing."  No idea how to manage my life when I first moved out?  "Move back in with me and you can just sing."  Work is getting stressful?  "Quit and sing!"  I didn't exactly do what she said, but I've followed the vibe, and arranged my priorities accordingly.