Writing by Zoë Jenner // photograph by Jonathan Kaufman
TW – Weight stigma, ED related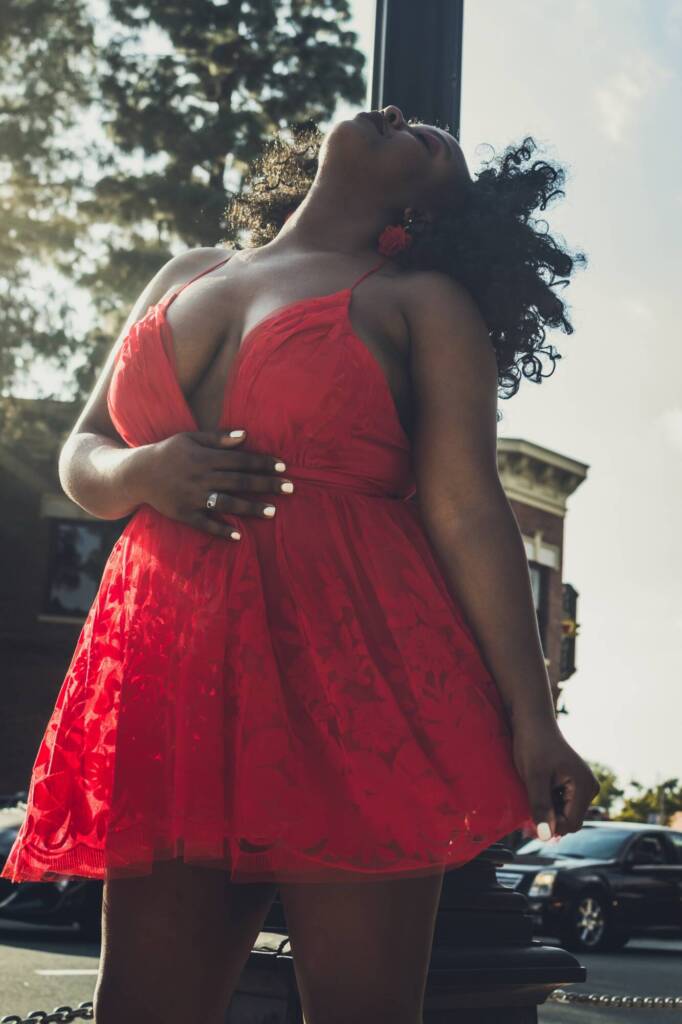 As we head into the warmer weather, my body dissatisfaction plagues me. I'm reminded of the skirts I can no longer zip up and the bathers I can't believe I ever had the courage to wear.
Mainstream media is full of conventionally desirable bodies modeling clothes that don't come in my size and fashion trends that weren't designed for my hips.
Gyms begin launching their get hot for summer sales while online fitspo brands feed us before and after images, marketing smaller bodies as the ideal.
As an average Australian sized woman, I think of those in bodies larger than mine and am flawed by the lack of diversity and representation within these key industries. The less I fit in, the more inclined I feel to shrink. Disordered eating habits creep up on me like a toxic ex-lover and before I know it, I'm consumed by an internalised hatred that I thought I'd buried years ago.
We live in an economy that relies on self loathing, feeding us insecurities in order to sell us solutions. This system profits off the discrimination of marginalised bodies and communities. Fitness, beauty and wellness brands directly benefit from body dissatisfaction and these multi billion dollar companies have fashion to thank for marketing unattainable standards of body image and instilling us with fatphobic beliefs and ideals. These age-old tactics have had us fooled for centuries, but with more people waking up to the false notion that health and beauty comes in one size, why is the fashion industry still so reluctant to change its ways?
It's common for designers and brands to reject the idea of extended sizing due to the so-called weak consumer demand leading to higher production fees with 0 profit. This assumption is laughable considering over 60% of the population in Australia fall outside of standardised sizing, which might I add is an inconsistent and unreliable system at best. When asked if they planned on extending their sizing in 2016, Gorman replied "Feedback from our consumers is assessed regularly and if the demand for something new is there, we are certainly open to it". It's been 6 years and although Gorman are now dressing dogs following the launch of their pet collection in 2018, they have still chosen to ignore the demand for inclusive sizing of humans.
The biggest argument we hear from brands reluctant to expand sizing, is that it's simply too hard and not worth the extra work. Fashion designer Christian Siriano spoke on this with Ashley Graham on the Pretty Big Deal podcast earlier this year. "The process is longer," he says "you have to fit your clothes on multiple sizes before you actually produce them, which a lot of brands
just don't want to do it because they don't want to take the time or the money and the resources. But it's doable. We do it. And I have a small team. It's not that hard."
A common hurdle brands face when extending their sizing is reaching a demographic that they have otherwise since ignored. Nadia Boujarwah, founder of Dia & Co says "Customers in our sizes are extraordinarily ad-blind to brands that are speaking to them for the first time," she said, "They intuitively believe it's not for them." This is true, as a size 16-18 woman, I instinctively boycott stores that I know will only lead to disappointment, however, this is nothing that can't be fixed with more diverse and inclusive marketing and representation of all bodies, ethnicities, shapes, sizes and abilities (something brands should be striving for anyway).
According to Vogue Business, the move towards inclusivity will be worth it with the global plus-sized market valued at over $178 billion and growing. JUST TAKE OUR MONEY AND MAKE THE DAMN PANTS.
What about plus size lines? I've never liked the term "Plus Size". The average sized woman in Australia is between a size 14-16, yet the majority of plus size lines begin at a size 16, some brands even consider size 14 "Plus Size". I just really want to know… Why are we creating a separate realm for the averaged sized person to shop in? Why are we creating a separate realm for ANYONE to shop in? "Standard sizing" is a way to enforce exclusivity within the fashion industry. This system supports the idea that there is something inherently wrong with existing in a larger body, ostracising those who don't fall into the standard size range. The term "Plus Size" to me, contributes to the persistent messaging that you can be too large for this world and the average sized woman is just that.
Other industry professionals argue that "health" is a valid reason to discourage those in larger bodies from embracing their size, as if their weight is an accurate representation of their overall wellbeing. In 2017 an anonymous executive from a luxury fashion brand summed it up in an interview with Glossy mag when he said "Being overweight is not very healthy, so it doesn't matter how much of the population is fat; it's not a healthy image to be putting out there." This is of course weight stigma and I can assure you that it is far more dangerous than existing in a bigger body.
In this society our health is often assumed based on our external appearance. As someone who has been a size 6 to 16 and everything in between I've experienced this first hand. During my late teens-early twenties I lost 20 kilos in a matter of months. Despite losing this weight dangerously, my weight loss was celebrated by those around me. Friends and even medical professionals have made assumptions about my health based on my size. From strangers commenting on how healthy I looked when I hadn't eaten in days, to doctors invalidating my eating disorder because I "didn't look thin enough" to be sick.
Myself and many others have learned the hard way that we live in a sizest society. Weight stigma is not only damaging to our mental health, it's also extremely dangerous and can lead to fatal consequences.
Weight loss is NOT health promoting. Yes, a person's weight can have an impact on their health, so can the amount of sleep you're getting. Assuming someone's health based on their size is ignorant and lazy. Do you really care about their cholesterol or does their confidence just challenge your internalised fat phobia?
"Health" aside, doesn't everyone have the right to celebrate themselves in all forms of their being? At all stages of their journey and at every size? Doesn't everyone deserve representation within our society? Not only are larger bodies sized out, they're also rarely visible in the majority of mainstream marketing. It is crucial that people of all sizes, ethnicities and abilities are accounted for, especially within this key industry. With this aside, trying to imagine how a piece of clothing is going to fit your figure when it's modeled by someone with a drastically different shape to you is straight up impractical and simply inconvenient.
Clothing is a necessity, why should a significant percentage of humans be deprived of the same access and privileges that those in smaller bodies hold? We all deserve the freedom to express and explore ourselves through the platform that fashion offers. The fashion industry continues to ostracise those that don't fit their mould and I'm tired of their excuses. We are all worthy of love, acceptance and liberation and I say a big F*** YOU to anyone who makes you question that.