Interview of Eleanor Hutchison by Freya Bennett // photos by Shelley Horan and Laura Du Ve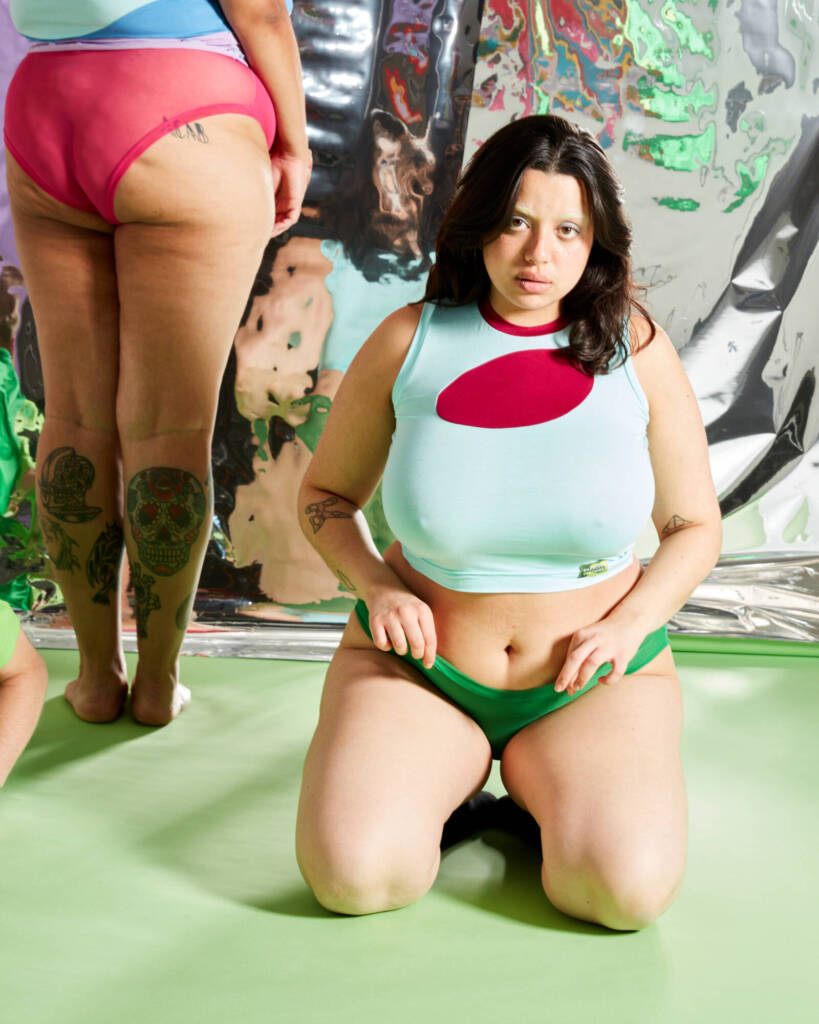 Hi Eleanor, how are you?
Pretty good thanks, just ate a democracy sausage.
Yum! I hope it tasted like victory! Tell us a little bit about yourself: 
Welllll, I've just turned 29, I'm based in Fitzroy North and work in a tiny studio above the post office. I'm a maker for a few different things, I work freelance as a costume and puppet maker, which is what I trained in at uni. But mainly I run a clothing label. For fun I like to draw pictures and cook for my friends.
When did you start Warmcore?
It began sort of by accident in the 2020 lockdowns. I'd been working full time at an animatronic studio and had just been diagnosed with this super rare blood condition. When Covid hit, my doctors told me it was safer to leave town. So I moved home to the small rural town where I grew up. As a coping strategy, I began making warm clothes for my friends who were stuck in their crappy rentals back in Naarm. Things very quickly got out of hand and after 6 months of rural life I'd accidentally started a business.
What was the inspiration behind Warmcore?
After a while of making cute little fleece jumpers, I realised that I'd accidentally landed in the fashion industry, a place that I had never really aspired to be.
In general I find the fashion industry to be pretty negative. It's typically wasteful, gendered, trend based and fat phobic. I struggled with this idea that I was now entering an industry that didn't align with my ideals, so I decided to do things the way I thought they should be done.
I widened my size range to include sizes 8-24, I hired diverse models and photographers, and I began showing followers the behind the scenes of the making process. I also kept my original business model of only making clothes to order, so that fabric waste was as low as possible.
I wanted to create a label that embraced all bodies and all genders, with a focus on the making process and what the real meaning of slow fashion is.
I suppose the answer to the question is; I was inspired by how much I didn't want to end up like a fast fashion label.
Can you give us a rundown of what happens when someone orders from you?
I get a very annoying 'chaching' sound on my Shopify app that I'm not sure how to turn off. I generally make things in batches, so on an average day in the studio I'll be making 10 of one thing in different sizes.
Within that day there is a lot of time getting distracted by machines that need cleaning or maintenance, filming myself work for BTS reels, and my very silly studio mates.
Where do you get your ideas from?
I only ever have good ideas when I give myself time to relax and chill. This is actually quite hard to do when you run a business, so I have to be strict on myself. When I start having bad ideas, I know it's time to rest. I take walks, I watch old movies, I draw pictures and listen to audiobooks.
Working by yourself, how do you curb loneliness?
Ah, yes, I'm actually one of those people that would much prefer working alone.
I listen to podcasts, audiobooks and sometimes some sweet 70s ambient. If I feel like chatting I'll go walk down the hall to my friends studio, or call my sister.
What tips do you have for creatives/small businesses?
I guess the things I wish I'd been told are these:
~You don't have to go full speed all of the time, because you will burn out. Taking rest is important for you, and the quality of your work.
~you don't have to have sales or give discounts, just because bigger businesses do it, doesn't mean you do. Your labour is worth the same, regardless of the season or the month or whatever.
~ people will want to 'represent' your label or your product or your work on social media, you don't have to say yes to them. Often this just means they want your stuff for free. Sometimes this is really great, and helps you to grow, but it's still a financial risk that you get to decide on.
~ have fun, and enjoy your work. It's ok to make mistakes, and it's ok if something doesn't get the same traction or interaction on social media as other things. People are fickle and that's ok. As long as you're enjoying the process, it's a win.
What's your favourite piece?
I usually love every piece equally, then after I've made 10 of them, I never want to see them again.
But I do like some of the pieces from last summer especially, I'll be bringing them back this season.
Where can we order?
On my webby!
The size guides are super easy to follow. You just need to measure your chest and hip. All orders take about 3 weeks to complete, and are then posted to you.