Writing by Erandhi Mendis // photographs by Jose (Jar) Johann Ramos-Arteaga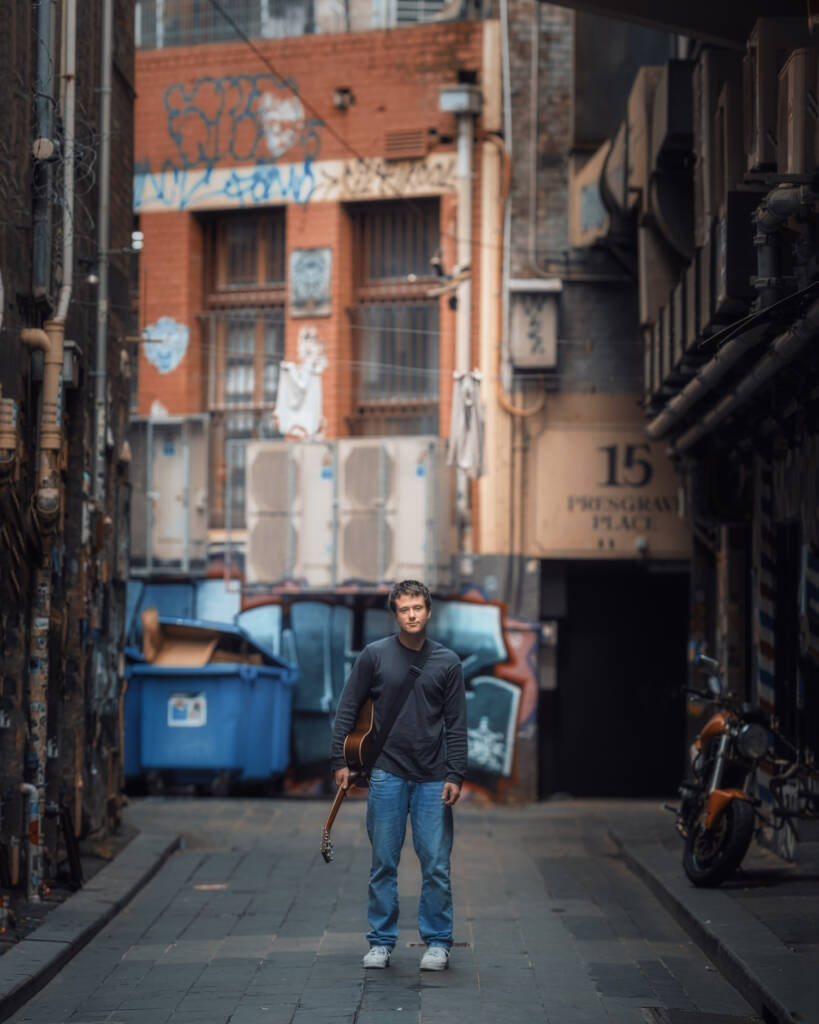 It is just past 12.30pm in Melbourne and I can already see a line of 20+ people waiting outside Max Watts, where in 9 hours Alec Benjamin will take the stage.
"It's crazy, the tour here sold out in the first few days so we added extra shows. When I started doing music I used to think how cool it would be if people in Australia or India wanted to listen to my songs. It's a big milestone for me to play shows [internationally]."
He tells me this, visibly exhausted as we sit in his hotel lobby. "We toured a lot this year, after Brisbane it will be 137 shows."
Benjamin has 1.8 million followers on instagram alone – but I get the sense he would probably quit social media if given the option.
"I like to write songs. Having to promote your stuff is not fun – but if you want it badly enough as an artist you will make it happen."
He's speaking with some level of experience. In the folklore of his career trajectory, it's well documented that his self-made success is often attributed to playing parking lot shows outside artists like Shawn Mendes or Troye Sivan's concerts.
"I sat down and mapped out all the artists that fit my genre and demographic, I put them all in a spreadsheet… when they were touring, where I would be in the world. There's no [other] logistics, you just kind of show up."
I had heard the story before but the new details he shares about touring his own shows and then racing to a different part of the city to play in a parking lot are astonishing. It's obvious that Benjamin is a songwriter first, but his awareness of industry mechanics and his ability to harness that understanding as a young artist is insightful.
"I wanted to reach new people – that's still always a struggle [today]. I wanted to get to a point where I had enough fans where I could tweet and we could fill a coffee shop…I had people sign up for an email list and would share when I was doing free shows."
It sounds as though he's talking about an entirely different era but with the warped time crunch of a pandemic, his rise to success has been objectively recent – only being able to tour records he released in 2020, now. A few weeks prior to our chat, Benjamin had recorded a new version of one of his first offerings, Paper Crowns, a call back to his soundcloud days and the beginning of what has become an international success story – 4x platinum in Australia alone. I ask if revisiting older music has made him nostalgic for his earlier touring structure.
"I wouldn't go back," he laughs of the parking lots. "I did all that so I wouldn't have to do it again. That's not to say I'm above it – I really will do whatever it takes."
Commitment to the craft above all else is an attitude that has served him well – two sold out nights in Melbourne starting that evening are evidence enough.
It is heaving inside Max Watts come 9pm – the crowd is squashed across two levels and eager; my first thought is that I hope he knows he has achieved much more than a coffee shop. Walking on with his band I see an almost entirely different human behind the microphone. He is still the same witty 28 year old I met earlier, but his energy feels magnified somehow. To explain how at home he looks on stage feels like attempting to describe waking up – autonomic. Benjamin's voice and lyricism is the centrepiece of his autobiographical setlist, dissecting the small moments of growing up into both intimate incisive minutes and unrestrained crowd singalongs.
About 10 songs in, someone in the crowd appears to have fainted. Benjamin notices and immediately stops the show. What follows is a charming interaction between artist and fan that demonstrates genuine care. The young girl is invited to sit on the stage and have some Gatorade, while Benjamin speaks to her as though they are old friends – doing everything in his power to make sure that an uncomfortable experience is not embarrassing. He checks in throughout the remainder of the show, consistently making the room feel smaller and safer for everyone present.
"I love playing shows – but there are seasons for everything. I'll go home after this and that will be writing season. I feel like you have to have an ethos as an artist. I don't write songs to just write songs I write songs because I have something to express. For me the kind of music that I love is the kind of music that is written because somebody has something that they really need to talk about."
It seems both cathartic and methodical the way that Benjamin approaches songwriting. There is an air of unbothered vulnerability in writing and sharing his own experiences in such a precise manner. It's well documented how audiences respond positively to his candid writing, most evident in the crowd's response to songs like 'Mind Is a Prison,' and 'Dopamine Addict,' both of which hone in on feeling a loss of control in one's mind.
"I never felt uncomfortable talking about [mental health]. I don't think I'm doing something brave because these are always things I've talked about in my music. For me there's not much of a discrepancy between if I'm talking about if I broke my leg or if I'm depressed. Nothing in my life is separate from music."
Of course vulnerability and talent are only half the equation. Benjamin is a good example of being aggressively yourself and never compromising. When I ask if there is anyone who is interested in collaborating with he immediately says no.
"Cynically, now you have to collaborate with other artists to grow your brand. But I'm a very shy person when it comes to my creative process. It's not because I don't think it will be fruitful artistically…and the artists that I'm a fan of, what could I possibly contribute to their work. I like them because they do something I can't do," he laughs before following up "but I am going to do it, it's not fun but I guess I have to get out of my comfort zone."
To the hundreds of fans roaring for an encore; it seems they would be perfectly content with him staying exactly the same.