Photographs and review by Sara Regan and Ella Marriott

After a two year wait due to the pandemic, Falls Festival finally made its return but this time to the Melbourne CBD, it's new location: the Sidney Myer Music Bowl.
We knew the 3 days were going to be electric, but as we approached the gates, we were astounded by the vibe that was already pumping before we had even entered.
MAY-A: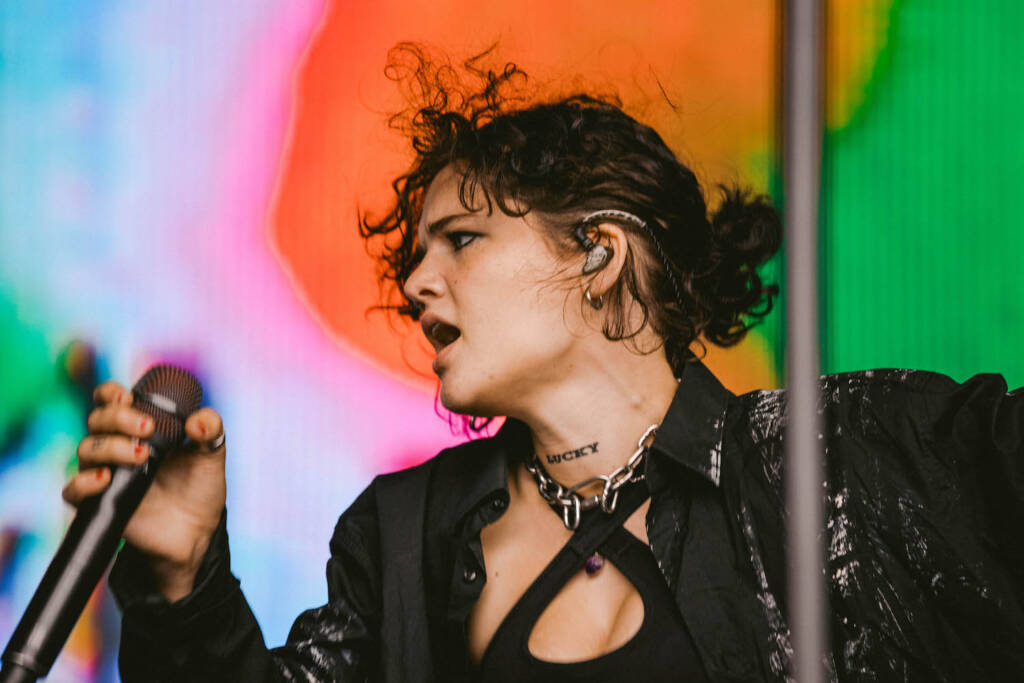 After her smash hit with Flume this year, Say Nothing, many were excitedly anticipating MAY-A and the minute she stepped on stage, the crowd roared to life. I was captivated by the presence of not only her but her incredible band members G, Chloe and CP. MAY-A surprised us with her unreleased single Sweat You Out My System that has been getting thousands of clicks across her TikTok page with little snippets of the song teased to fans who haven't yet seen the song live. MAY-A's ability to interact with the crowd, her bandmates while still maintaining incredible vocals truly proved the insane potential for future success of MAY-A and her band.
THE WIGGLES:
This was the one act on the lineup that everyone had been holding out to see as it's not everyday that the OG Wiggles perform to a crowd of people that grew up with them on TV. Beginning their set with Hot Potato the crowd went wild singing along to the classic hit of our childhoods.
Playing their Like A Version cover of Elephant by Tame Impala that scored the #1 spot on Triple J's Hottest 100 for 2022 was a super special moment.
All of our favourite friends began to appear on stage from Wags the Dog, to Captain Feathersword, Henry the Octopus and Dorothy the Dinosaur. The highlight of this set was the constant call to "Wake Up Jeff!" and Captain feathersword falling over every time anyone said "Falls Festival".
Overall, it's safe to say that no matter how big your ego is, nothing was going to stop you from singing along to the OG Wiggles that day.
DMA's:
DMA's returned to the stage at Falls Festival with their setlist of songs from all three studio albums and recent singles. We were treated to the hits Delete and their iconic cover of Cher's Believe. If you're a true Australian festival goer, you know that most musicians have done a cover on Triple J's Like a Version. So Believe was a strong expectation from fans at Falls and DMA's didn't disappoint.
LIL NAS X:
To close off day 1 we were treated with a set from one of the biggest artists right now. Known for the surprise hit Old Town Road featuring Billy Ray Cyrus, Lil Nas X continues to make hit after hit. Unlike other sets at the festival, Lil Nas X had a more theatrical performance. With decked out costumes designed by Coach, Lil Nas X sparkled his way through songs alongside his phenomenal dancers.
Considering that fans have been waiting for over 2 years to see Lil Nas X live, he couldn't have welcomed us into the world of MONTERO in a better way. Lil Nas X creates such a safe haven for the LGBTQIA+ community and the warmth with which he welcomes us into his music is beautiful.
PEACH PRC:
The pink princess, Peach PRC graced the stage on day 2 of Falls. The glittering set included performances of her hit singles Josh and God Is A Freak. However the highlight of the set was the surprise appearance of G Flip, who popped on to play the drums during Teenage Dirtbag. Treating us to some unreleased music, Peach PRC and her pink magic did not disappoint.
GFLIP: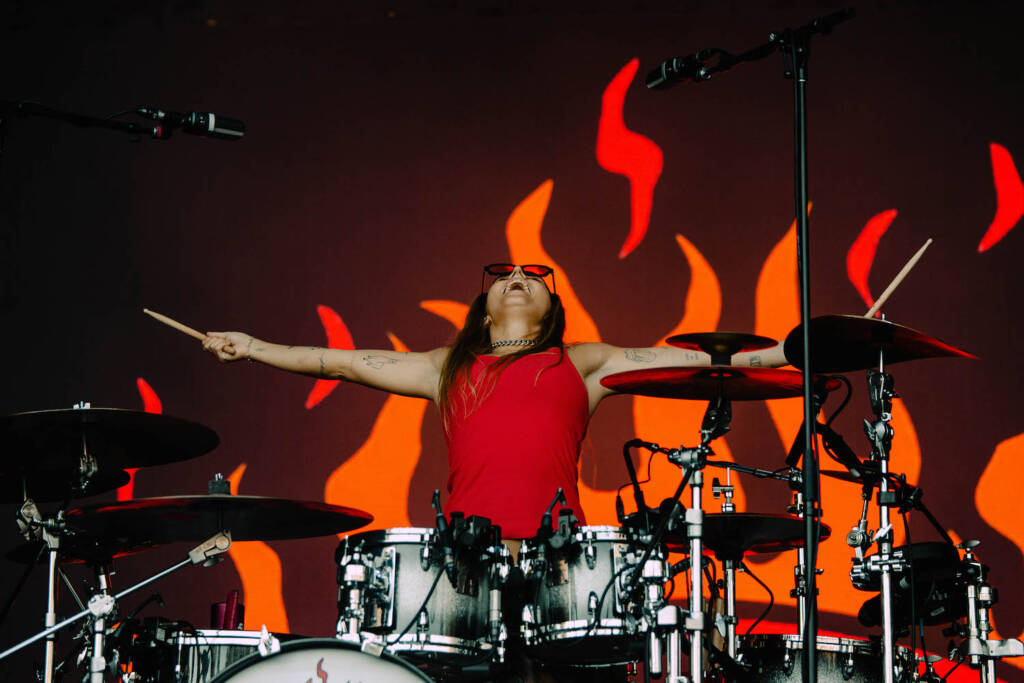 Where do we begin? Wow, wow and WOW.
As soon as Georgia Flipo aka G Flip ran onto the stage, the pocket rocket was untouchable. Starting with their newly released single GET ME OUTTA HERE, the pop/rock tune got the whole crowd jumping. Running, jumping, skipping and sliding from one side of the stage to the other. They ensured that no one in the crowd missed out on their attention.
The crazy energy continued throughout the set with songs like Drink Too Much, Gay 4 Me, Lover and About You. To be honest, I was waiting for the energy to drop off but I was proven wrong with G Flip giving their all from the first song to the very last second they were on stage. Despite their incredible upwards trajectory over the past three years, the now LA-based musician still calls Melbourne home.
SPACEY JANE: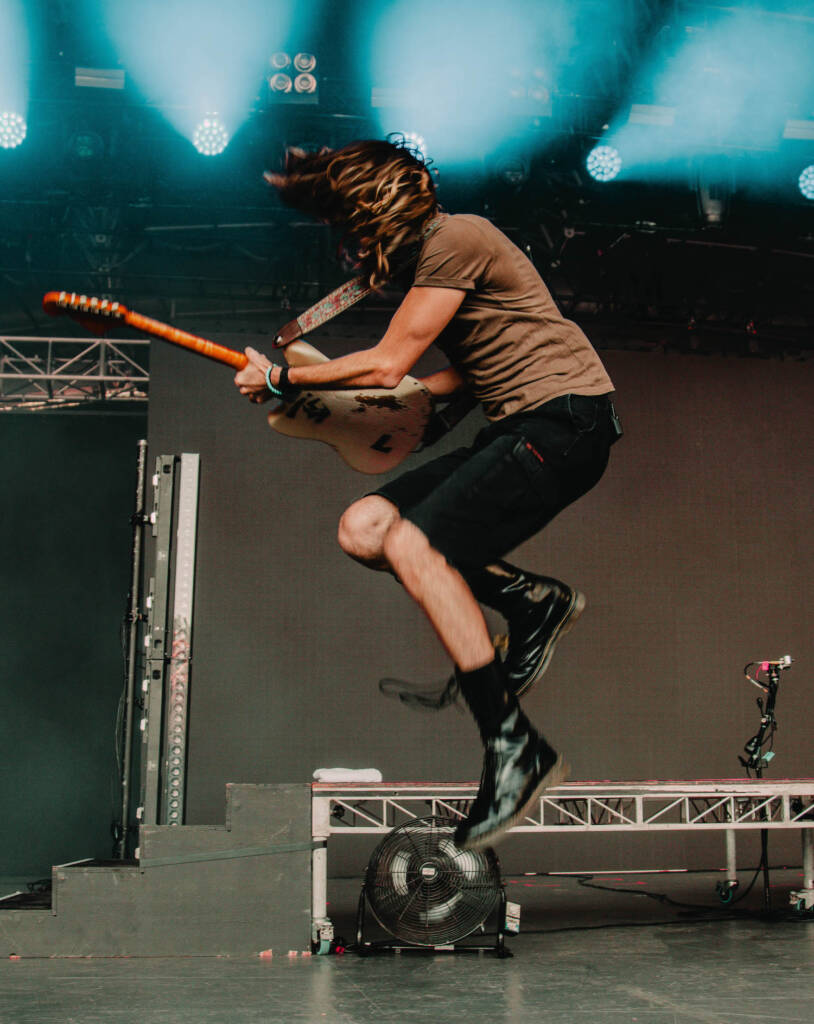 Spacey Jane has had an incredible couple of years since their hit Booster Seat taking over everyone's playlists. This year they have been touring non-stop and decided to finish off the year back in Australia gracing the stage for day 2 of Falls in Melbourne. Performing as the sun set and the hot weather started to cool down, Spacey Jane was the cherry on top of an immaculate evening.
Starting with their bangers Lunchtime, Skins and Sitting Up the crowd was jumping and singing the songs word for word. Matching the energy, guitarist Ashton Cornu never fails to grab the attention of the crowd with his insane guitar skills combined with his high kicks and jumps. Caleb Harper, frontman of the group, stuns the crowd with his dance moves and beautiful vocals. Peppa Lane, bassist, and Kieran Lama, drummer, matched this energy perfectly, making the perfect recipe for a great performance.
ARCTIC MONKEYS: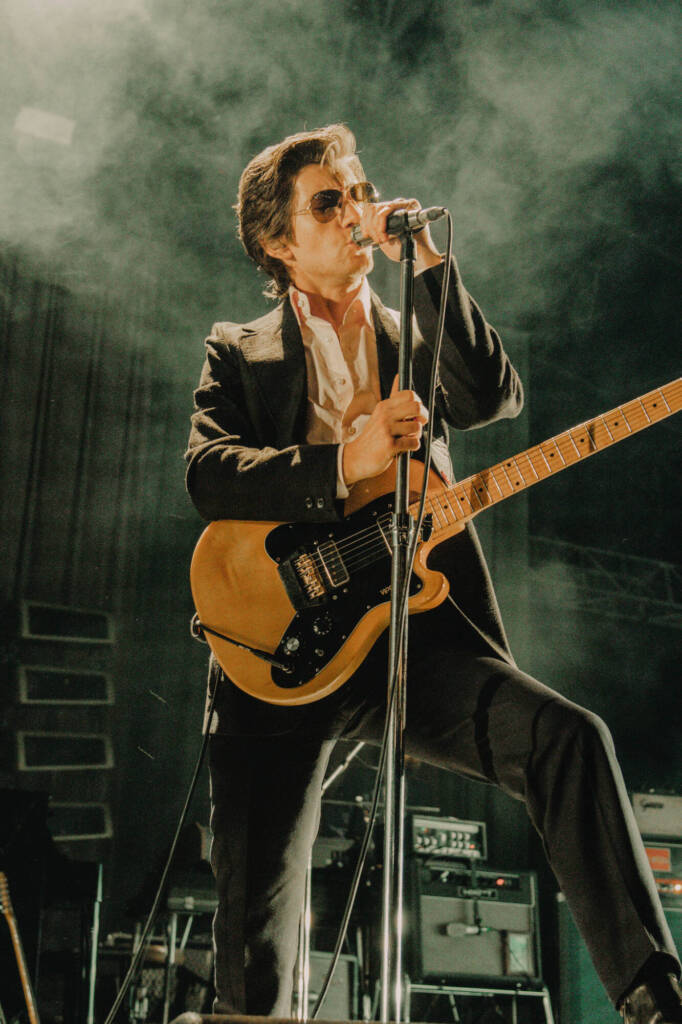 Now for the headliner of the festivals, Arctic Monkeys. The English band formed all the way back in 2002 with members Alex Turner, Jamie Cook, Nick O'Malley, and Matt Helders. It's been a while since they have visited Australia to perform, so the anticipation 0f their set was huge.
They didn't disappoint, ensuring they gifted us with their classics Why'd You Only Call Me When You're High, Do I Wanna Know, Arabella and I Wanna Be Yours. There were also some new releases such as There'd Better Be A Mirrorball, perfect for a New Year's Eve celebration. Despite the heat and the slight exhaustion of the three-day festival, we were revived by their electric set just before the clock struck 12 am.