Interview of Lorren Chiodo by Freya Bennett // photographs by Sara Regan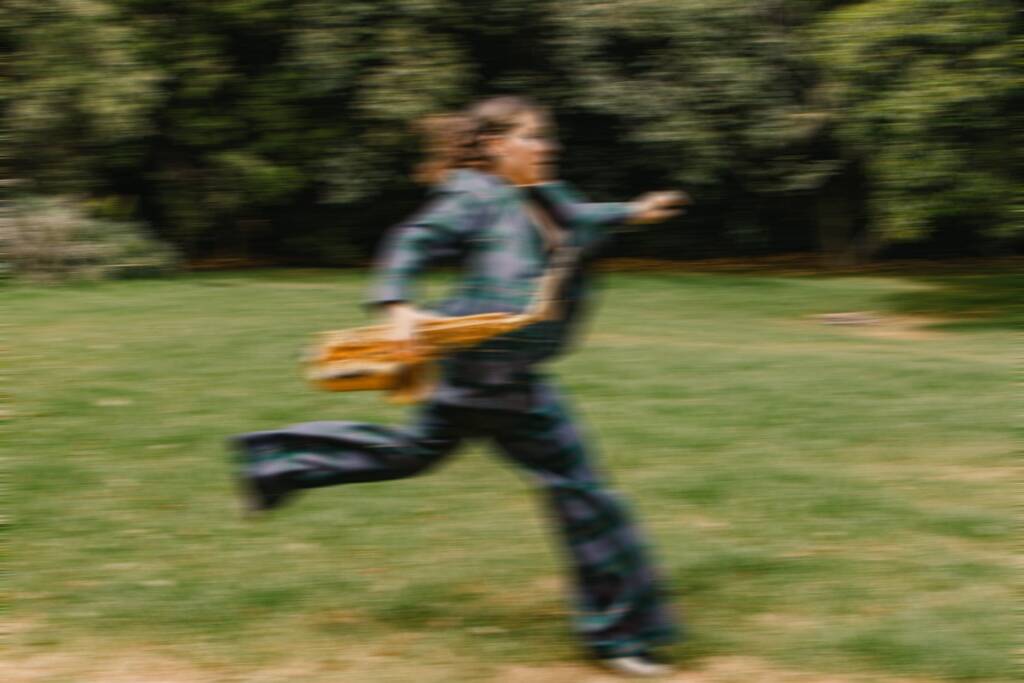 I first saw Lorren Chiodo, donned in a red jumpsuit, her curls bouncing wildly as she danced on stage at Coachella as part of the horn section for Harry Styles. Her energy was infectious, and I watched with joy as she (and the other horn players) joined Harry as part of his Love on Tour across America.
When I found out Lorren originally hailed from Melbourne – my hometown – having moved to the US to study music, I knew I had to interview her.  

I studied saxophone at uni and although I decided to take another path after graduation, watching a Melbourne babe take on the world with her infectious zeal and unique talent is a balm to the inner musician in me who used to spend her time thinking 'what if?'. I noticed with interest that instead of a jealous bubble I may have felt in the past ("that could've been me!"), I felt a sense of pride watching a fellow Melbourne sax player succeed.
I reached out to Lorren who just so happened to be back in Australia over Christmas and New year. She generously agreed to an interview and photoshoot with Ramona during her brief stint in Melbourne and we planned to meet at a café in Hawthorn to chat. 

I immediately recognised Lorren's incredible hair and sparkly make-up as she walked to our chosen café. I jumped up to greet her and we sat down for a chat. We discussed her studies, what it's like moving to another country and her experience playing for 15 consecutive nights at Madison Square Garden.
It was getting warm, so we decided to get some photos taken and so, under the direction of our stylist and photographer, Sara Regan, we headed to our first chosen location.
Dressed in local designer, Anna Cordell, Lorren shone in front of the camera. Her ideas sparkled as she suggested poses I didn't think were possible with a saxophone. I stood back and watched in awe, happy to observe. 

After a few hours of shooting, we departed with well wishes.
A few days later, after some chats over email, we decided to have a further zoom to follow up on some interesting discussions on what it's like carving a career as a woman in music.
When we reconnect on zoom, we both laugh at how our chat had gone before the photoshoot. I confess I get easily distracted trying to interview in public with Lorren responding, "I feel like there was more I definitely could've said!"
I start by bringing up how I personally felt in terms of representation and not noticing a lot of women past uni age continuing saxophone.
Lorren responds with "It wasn't active [her thoughts on power-dynamics in the music and entertainment industry] and, in my face, and I didn't realise till after the fact," I nod in agreement as often is the case, when you're in it, it's hard to see but with hindsight it can be glaringly obvious. It takes confidence to carve out a space for yourself and your unique ideas.
I mention how confident she seems which feels very different from how I felt in my music days and she says "it takes a lot of work. I definitely missed out and didn't go for things that I should have in hindsight, not necessarily because someone told me no, I innately thought I couldn't and that's both me and the environment I'm in."
I'm intrigued by Lorren's style, as when you follow her on Instagram, you'll notice she plays some epic solos to pop songs, specifically Y2K songs (you've got to hear her Sk8ter boi solo *chefs kiss*). While jazz is wonderful, we discuss how both of us wanted to explore different things despite learning at jazz heavy schools.
"I feel like everything being taught to me was in this narrow range," Lorren says.
And while we discuss the importance of maintaining tradition, we agree that music institutions can be quite inflexible if you want to branch out and try different styles, especially when you venture outside of what's considered traditional.
Lorren shares about the difference between studying in Australia and studying in the USA. While she only has high school to go if in Aus, she noticed a big shift in attitude towards her tone.
While no one mentioned her tone in Australia, she was being constantly told her tone wasn't right in the US. The feeling that every saxophone player should have a uniform tone was abounding, but because of the way she was brought up, she stuck with her instinct.
"I like my tone." she says simply, and I can say, after deeply stalking her Instagram, her tone is something special.
Lorren graduated 8 months before covid was in full throttle. She had a brief stint of being able to play gigs before widespread lockdowns began so was working mostly as a music editor for an LA Music Editing house. Lorren still works as a freelance music editor and composer.
Once things began opening up again, Coachella happened and Lorren was invited to join the horn section for Harry Styles.
I ask Lorren what her highlight has been in the last year, and she responds with "Madison Square Garden was a big deal for me. Being there and the energy it has and doing the 15 consecutive nights was a big moment." She talks about the feeling of being part of Harry Styles' record-breaking shows and how the energy was more than she expected. I ask about what it was like being in that horn section to which she responds, "this is the first time I've been in a majority female horn section ever, which is really nice."
Lorren has recently become a D'addario woodwind artist, joining saxophonists such as Kenny G and Bob Reynolds, so I ask her what it's been like making a name for herself in a different country. "It's been difficult but amazing," She responds, continuing that her mum often says she has "the highest highs and the lowest lows."
I ask her if her goal is to stay in America, "At the moment it's where I'd like to be, there's a lot of opportunities for what I want to do. Ultimately, the goal is to be there and also here."
We end by rejoicing about the resurgence of saxophone playing in modern music. We talk about our love for cheesy 80s music with roaring saxophones solos and how wonderful it is that it's back and being celebrated.
Lorren shares that she grew up on that music, often learning the solos from songs such as Who Can it Be Now. Lorren states that wanting to learn these solos, was one of the reasons she started saxophone in the first place.
We talk about the snobbery in some jazz scenes against the cheesy saxophone and Lorren says, "I always respected it [saxophone in pop music], but it's nice that people are getting the taste for it again."
We can't wait to continue following Lorren's career as she represents Melbourne sax players to the world, showing people what saxophones can truly do.
"It's [saxophone] doesn't have to be something extra on top, it can be the meat and the potatoes."