Hailing from Queensland, Betty Taylor are Sophie Patrick and Kayla Smart who have recently released their debut single, Stallin'. Live shows see the two-piece turn into four, with bandmate besties Claire Chittick on bass and Katie Ishaque on drums, to truly captivate the audience. A heartfelt guitar driven track about falling for someone, the duo sat down to chat with Ramona about how Betty Taylor came about and the launch of their first song.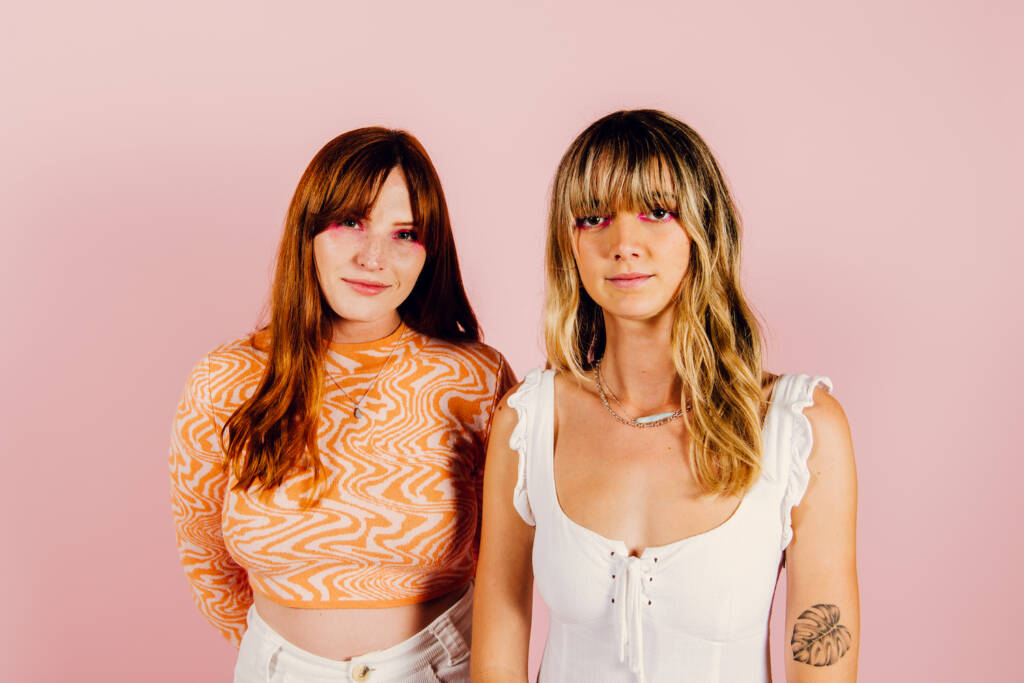 Ramona: Hi Sophie and Kayla! How are you both? Where are you chatting to us from today?
Betty Taylor: Hello, fantastic! We are vibing out in our home town of Coolum, Sunshine Coast.
R: How did the Betty Taylor project start? Where did the name come from?
BT: BT comes from humble beginnings, but in 2 short years there has been a lot of growth for this project. Originally I (Sophie/frontwoman) met former band mates at a local open mic night. We played a few songs together the following weekend. Another band asked us to open for them, and we had 3 weeks to learn more than 3 songs. We also had to come up with a band name quick smart, and I had recently been flicking through photos in an old family album, and Betty Taylor had stuck inside my mind. 'Betty' being my grandmother's first name 'Taylor' her maiden name.
R: Congratulations on the launch of your single Stallin! Talk us through how that single came about.
BT: Thank you! Well, after Kayla joined the project everything just sort of clicked. It became her and I for a short while and during that time is when Stallin' was created. We spent a lot of time just writing and recording at home listening to old voice memos I'd recorded in my car driving home from work (when I do lost my writing haha) we spent an entire day dissecting and putting back together parts of this voice memo and we ended up with a 6 minute demo of Stallin'
R: How would you describe your sound to new listeners?
BT: Day dream indie rock is what we've been calling it haha we are here to soundtrack your romantic fantasies and help through the heartbreak. Lots of dreamy harmonies and melodic guitar riffs (Kayla, lead guitar / backing vocals) driving bass (Claire) and drums (Katie) paired with very honest story telling taken from my (Sophie) personal life.
R: You held your single launch in Noosa, what was that evening like?
BT: Our first headline was a sell out! It was such an amazing night! Having people single back lyrics at you, that you created in your head, is such a surreal feeling and I don't think I will ever get sick of it
R: What are your favourite things about the Sunshine Coast?
BT: The music community. It is truly one of the most supportive music scenes in the country. The love that people on the Coast have for live music and each other is really special. Betty Taylor wouldn't exist without this community.
R: We're also big fans of the music video. How did the concept for that come about?
BT: Believe it or not we whipped up the concept 2 days prior to filming. It's a pretty genuine representation of how I am in real life. I've spent countless hours singing alone in my bedroom pretending I'm a rockstar and daydreaming about boys (who hasn't) Stallin' in itself was written via fantasy (I wanted to write something not mean for once haha) so it just felt authentic to that.
R: Last but not least – we curate a weekly playlist of tunes we love (you've featured on it!). Are there any tracks you're loving that we should check out? – I am obsessed with a band out of Brissy's new one. Obsessed. It's called 'Pockets' by Big Blue Eyes's ft. Eloelo
Stallin' is out everywhere you can stream music. Check out their music video here.