Writing by Erandhi Mendis // photographs by Sara Regan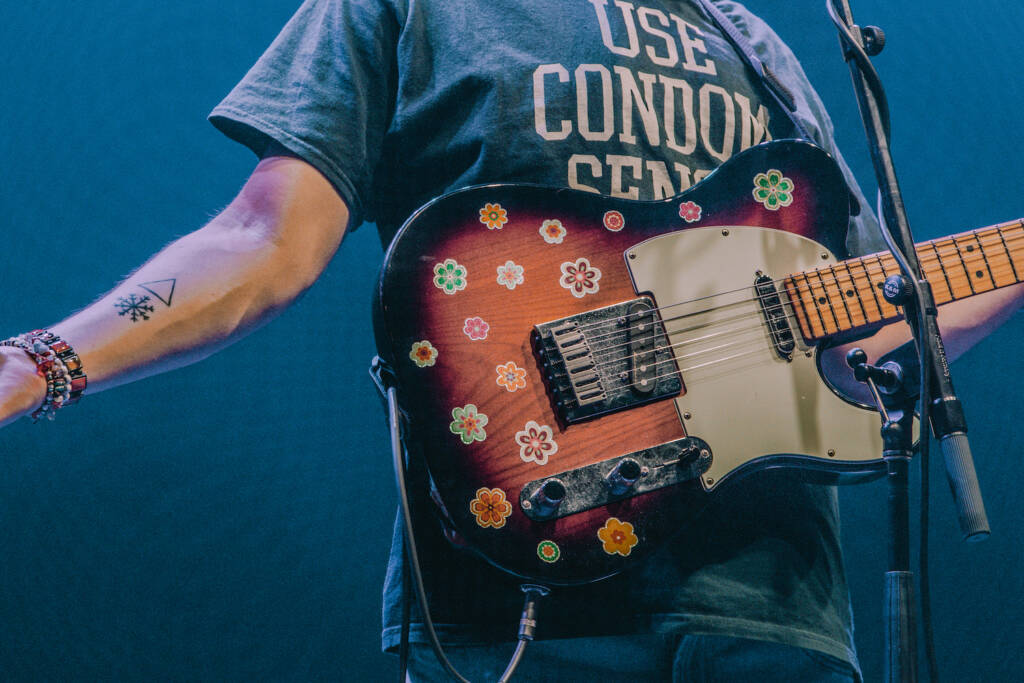 "It's about a girl called Caroline."
Thomas Headon hesitates before saying this when I ask him to describe his latest release, a cheeky upbeat love song called Georgia. It's the first time he's publicly commented on who the song is referencing.
"She's not even from Georgia, so the first line of the song is 'It's not her name but it's still a state,' and [she's] in America so it's kind of like 'Georgia's where I should be.'"
America definitely feels far away as we sit backstage at the Forum in Melbourne. Headon is playing an opening set to a sold out crowd at the iconic venue in a few hours but endearingly, the singer-songwriter admits he is nervous.
"It's just me and my electric guitar, I think it's going to be awkward as hell. I couldn't bring my band this time, they had Christmas plans," he laughs "where are their priorities?!"
His fears are naturally unfounded, the Forum floor is packed and singing along at 8pm that night as he dives back into his catalogue – with songs predominantly from his popular EP, Victoria.
"It's the most truthful I've ever been. Songs like Victoria and the last song, Most Beautiful Thing in the World, that is purely just me in a room alone writing it. I love writing songs that way. Sometimes you get some really truthful things out of moments like that, and sometimes you get things that are like 'woah, stop putting that in a song no one needs to know that.'"
It's interesting to note that neither of the songs he mentions as his most vulnerable work make it into the setlist. He admits, similar to the bait and switch of Georgia, as a songwriter he will embellish as long as his loyalty lies with the song.
"I heard someone say once 'never let the truth get in the way of a good story,' and I think that applies to songs too. I always write autobiographical material but I will take liberties where I can… [On Victoria] we most definitely did not break into a building site to look at the stars…we did drive around a lot though."
Having released a slew of singles and EP projects over the past few years, Headon is gearing up for his next body of work.
"I'm travelling a lot this year but I'm writing for a new project." He smirks, acutely aware of the discourse online with his fans waiting for new music. "My next body of work is coming, eventually, but it is coming. I'm trickling music out over the next few months."
It's interesting how much of a fanbase Headon has cultivated in such a short space of time – only sharing his first official single less than a year before the pandemic. Particularly in the UK, his rise appeared to be bolstered by spending significant time online with fans before even playing live shows.
"It wasn't the best time to release music," he laughs, reflecting on his breakout year. "I was meant to play a show in London in April 2020. I remember putting up a tweet saying the show is so small it'll go ahead. Obviously it got pushed to September and by then it was bigger. Then November and it was bigger still. By the time we rescheduled to April 2021 it was a whole tour. We finally got to play in November that year. It's a weird thing, we came out of the pandemic properly in 2022 but it was cool I played a bunch of festivals. My headline shows were 2000 people, so it felt weird [like skipping a level] because we go to the States and do the normal thing of playing 100 cap venues."
Looking around later that evening as Headon takes the stage, the Forum is likely to be a far more familiar environment.
"I grew up 2 hours from here, so this is technically my hometown show," Headon announces to a raucous cheer. Even though he hasn't lived in Melbourne since 2019 he banters with the audience "if you're taking the Pakenham line home tonight, I'm sorry."
Interspersing a crowd pleaser cover of Taylor Swift's We Are Never Ever Getting Back Together into his set, he announces it comedically "you will be able to sing along to this one." It's spellbinding to see an artist so early in their live career command a room the way Headon manages with only his voice and guitar. His nonchalant vocal is a comforting escape from a busy Thursday night. It is noticeable when he performs his originals, the sing-along is led confidently by the front few rows, with some fans lining up for hours to see Headon up close on this side of the world.
When I enquire about his thoughts on fandom culture he smiles.
"There's a fun side and a serious side. The serious side is that there are a lot of things that you actually really get frustrated with. Meeting fans is always a very rushed, security [heavy], complex thing. There's no free way to do it that isn't unsafe. Stuff like that is very frustrating, it's the same as concert tickets. I would fucking love every second day to put on a free concert but then its like I wouldn't be able to eat," he laughs.
It's said in jest but you can sense a thread of truth. His relationship with his fans appears layered and genuine – if not for the risk of not eating – it seems as though he would be doing free shows simply from the joy it brings both artist and audience.
"They're so weird, but so am I so we're friends. Which is really fun. I guess it can go wrong in that sense and people push boundaries. But I've been very lucky that hasn't happened a lot. It's definitely more positive than it is negative."
As his set draws to a close with Nobody Has To Know, Headon is set to play Sydney supporting Remi Wolf the following evening and then get stuck into working on his next project. Oscillating between having big touring years and big writing years doesn't seem to bother him.
"Writing songs is therapy but so is playing shows, it's fun as fuck and I'm very lucky. I'm excited to get to work. It starts the day after tomorrow. What should I write about?"
When I suggest he should write about what he's learnt this year he falters, "oh wow, that's a deep question," until I remind him the year has only been four days so far.
He laughs and then says with some level of seriousness: "Oh, in that case. Don't drink. Hangovers aren't fun."
Thomas' latest single Georgia is out now wherever you stream music. You can keep up with him on his website and instagram.