Writing by Freya Bennett // photographs by Lloyd Wakefield // fan photos by Laura May Grogan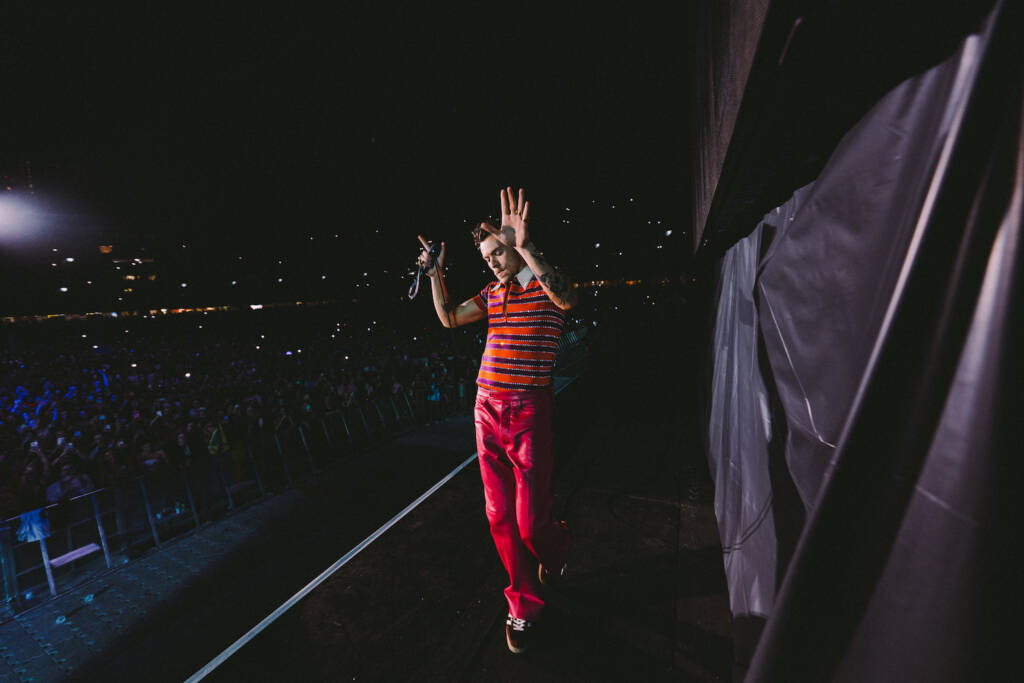 In the spicy heat of the delayed Melbourne summer, I hop on a bus in my hometown, en-route to see the biggest pop star of the moment, Harry Styles.
Over the two-hour journey with multiple tiny town stops, the bus slowly fills with sparkles, rhinestones, and lone feathers, floating and abandoned by their boa parent. Exhilarated teens giggle with friends, their excitment palpable as they anticipate the British singer they've been waiting to see for five years.
I arrive early, at 3pm, not to line up and have a chance of getting up close and personal with Harry (I opted for seating, knowing my lower back would thank me later), but to join Ramona's photographer, Laura May Grogan to see if we could capture some of the amazing creations we knew Harry fans would be showcasing. We weren't disappointed.
With a makeshift backdrop and some infectious enthusiasm, we started waving over flush faced fans to join our impromptu photoshoot.
Soon, curiosity was on our side with Harry disciples jumping in front of the camera, friends supporting friends by holding the sheet behind each other as Laura snapped their gleeful, bedazzled faces.
Still having to get ready myself, I leave Laura and our music writer, Kara, to keep snapping and chatting with fans as I jump on a tram to my sister-in-law Erandhi's (Ramona's music editor) place.
I put on my own hand-made creation (thanks to my mother-in-law) and applaud Erandhi for not donning her usual all black attire. Running a little behind on time we do our best impression of Olympic walkers and then squish into a tightly packed tram, smiling excitedly at fellow concert-goers.
We arrive, appreciating the diversity of audience members we have found ourselves surrounded by. In front of us, young women, dressed to the nines chattering excitedly and already standing in anticipation. Behind us, older fans, seated and patiently waiting. I overhear a middle aged man talking to his friend '..and there's this song, Matilda – that's my favourite.'
When Peace, Peace by Bill Evans starts to play, despite its calming ambiance, the 50,000+ fans go wild, and my heart – prone to overreacting to excitement, races, ready to see Harry take the stage.
When his band walk on stage, my heart fills with joy and affection for Ny Oh and Pauli whom, just two days ago, Ramona had the pleasure of interviewing and photographing (features coming soon!). Erandhi and I beam at each other in admiration of some of our favourite interviewees to date as we watch the animation on the screens foretell Harry's arrival.
While the screens builds tension, our collective exhilaration tangible, the opening keyboard riff of Music for a Sushi Restaurant electrifies the crowd as Harry skips on stage to a roar I am sure is heard far and wide through the Melbourne CBD.
Despite the fact we were far enough away that Harry appears to be the size of my pinky finger, his famous charisma is immediately apparent. He frolics around the stage; his signature moves a pleasure to behold as he waves and interacts with the lucky front row audience.
After his gracious preliminary thanks for our attendance, he makes a disclaimer:
"I will not be doing a shoey this evening," Harry starts, to a room full of 'boos',
"complain all you want," he continues, "but if you were running around here for an hour and a half, you wouldn't be doing a shoey either. I've done my first and only shoey. It was truly, truly revolting."
As the evening continues, a kaleidoscopic choir surrounds us, phone lights ablaze – I sink into that beautiful feeling of shared experience.
One thing Harry is known for is his audience interaction, particularly his ability to create a safe space for fans to come out. The room of thousands falls quiet, privileged to witness fan Fauve coming out to her mother, Lisa.
Harry reads her sign to the stadium "Help me come out. My mum's next to me, my dad is level 2, section 41". I feel my emotions bubble up as I see Fauve on the screens, her hands shaking as her mum beams next to her.
"This is the first time we're taking this down under so prepare yourself!"
Harry then requests some 'coming out' music from his band and follows with "Fauve, you happy with the speed? You happy with the music? Suits the occasion?"
He gets the crowd amped up as he dances round the stage and declares "She's out!" to celebratory applause.
One of my favourite moments is when Ny Oh, Elin and Harry move to the front of the catwalk to pare back the music for Matilda. "This song means a lot to me, and I hope one day it might mean a lot to you too." It already does, to so many of us with complicated family dynamics.
The acoustic set is a nice change of pace before diving back into what he affectionally refers to as the 'Disco Medley.' He isn't joking when he says that the remainder of the show will continue to escalate. From seeing people emphatically boot scooting on the floor to Treat People with Kindness, creating conga lines through the pit, to hearing people of all ages shrieking to One Direction throwback, What Makes You Beautiful – there is, as always with Harry, something for everyone.
Just when you think there is no more magic left to be had, the encore roars through the stadium. A sea of twinkling lights for Sign of the Times and the loudest 'leave America,' chant during As It Was I've ever heard – but maybe I'm biased.
Harry's return to Melbourne is filled to the brim with sparkles, feathers, a Bunnings Warehouse hat, and complete acceptance for being whoever you want to be. For a night – or two – the colossal Marvel Stadium, feels transformed into an intimate home where all are welcome to settle in for the night: Harry's House.