Interview of Marcus Crook by Sara Regan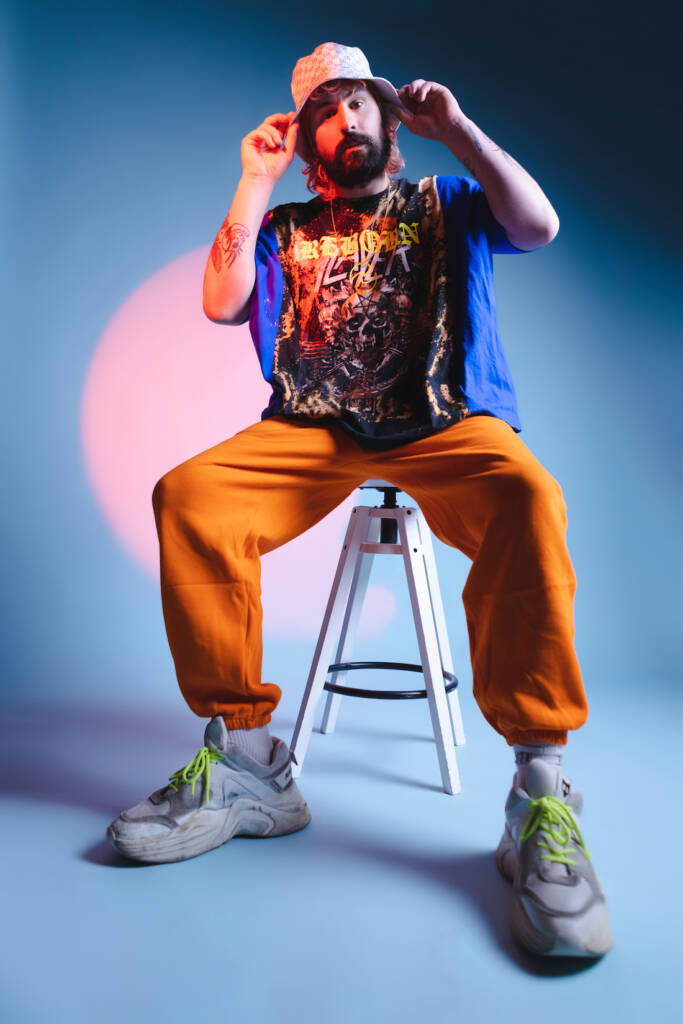 Reimagining a radically sustainable future for fashion requires innovation and collaboration. Global lifestyle sportswear brand, Champion, and Australian social enterprise, HoMie, have joined forces with BETA By STH BNK's Future From Waste Lab to curate a purpose-led collection through HoMie's circular sub-brand, REBORN. The capsule collection will hero 50 one-of-a-kind pieces, including genderless hoodies and tees, developed by repurposing excess and faulty garments from Champion.
The pieces also feature NFC tags that allow consumers to scan and view a mini documentary about the social and environmental impacts of the campaign. Forward thinking and mindfully crafted, any unsold/flawed items are hand-cut, sewn, and altered at BETA's acclaimed Future From Waste Lab.
It's a great example of how brands can come together to reduce textile waste and Ramona sat down with the Co-Founder & Creative Director of HoMie, Marcus Crook to chat about REBORN, circularity and partnering with another iconic brand.
The REBORN by HoMie x Champion x BETA By STH BNK's Future From Waste Lab capsule is quite honourable as you repurpose headstock and faulty garments from Champion. However, does this mean that the pieces are all one of a kind? If not, how do you ensure they're all the same?
The collection was indeed unique, as it repurposes deadstock and faulty garments from Champion and HoMie to create one-of-a-kind pieces. The REBORN and BETA crew came up with a variety of design styles by drawing on the garments, and added additional touches such as embroidery and screen printing to ensure that no two pieces were the same. This approach allowed the team to create a range of unique and interesting pieces, utilising products that may have otherwise gone to waste.
Looking at the statistics of fashion's impact on waste each year, how much do you hope that REBORN will lower this contribution of this year's statistics?
Since 2020 REBORN has upcycled over 2200 garments equating to 830kg of textiles that may have gone to landfill. This year alone we upcycled over 370kg of textiles.
What drove HoMie to make the NFC tags on the custom pieces?
NFC tags allow customers to quickly and easily access product information and other content simply by tapping their smartphone against the tag. This was the perfect time to introduce these buttons to our product because the garments had such a great story to tell and we wanted that story to be told to not just the first wearer but for anyone who may pick it up down the line. The tag links can also be updated to add new offers like discounts, promotions, invites to events and special releases. We are hoping that by introducing this tag will help prolong the lifespan of the garment with the customer and increase brand loyalty and engagement.
You guys have a very close relationship with Champion, can you tell me more about how this came about and the positive impacts the label has had on HoMie.
Champion have been an amazing support for the HoMie brand. In addition to business support and an annual collaboration, they provide constant excess product for REBORN, and support and job opportunities to young people in our pathway alliance program. It has been amazing to have such great support from such a global powerhouse brand like Champion and Hanes Brands.
HoMie has been such an admirable influence amongst other brands in the fashion industry, providing support through employment and comfort to those in need. May I ask how you find these people to support? Do they reach out to you or do you find them?
The HoMie impact team works so hard with 10+ services across Melbourne – to introduce the program and work with support teams to offer placements to young people who are ready for the program. The young people go through an interview process and are placed in suitable stores whether it's Champion, HoMie or another partner of ours.
HoMie is almost 7 years old now! Congratulations. Can you tell me more about what your thoughts were when starting the brand and how much your life has changed since with the success of the label?
Thank you! it has gone so fast and we've learnt so much along the way! It started out as a Facebook page just trying to decrease the stigmas and raise awareness of homelessness, but it has grown organically into what it is today. We jumped in the deep end a little bit with no experience in business, fashion or social impact but the team has grown so much, everyone is so passionate and committed so it's an incredible place to come to work! I'll never ever lose that excited feeling I get when I see someone wearing a HoMie tee on the street.
The HoMie REBORN x Champion x BETA By STH BNK collection is live for purchase on homie.com.au