Interview of Ber by Erandhi Mendis // Photos by Lauren Kim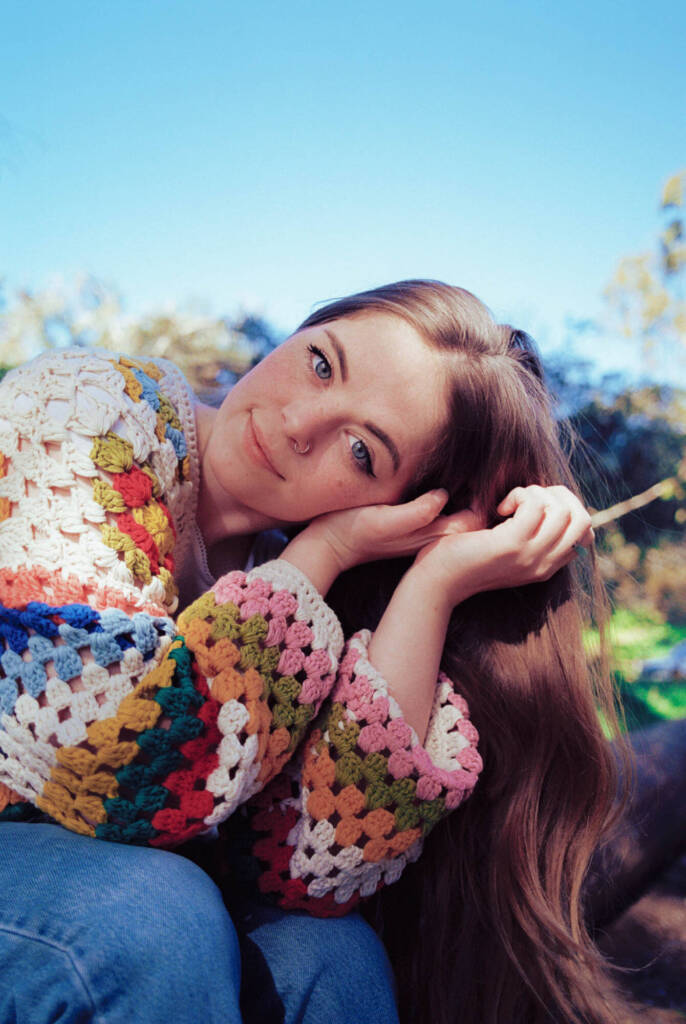 "I wrote this 6-song EP about not being over a boy that ghosted me (but really trying to be)," says Ber of her new release Halfway. A unique voice amongst the resurgence of candid alt-pop songwriting, Ber is making a name for herself by being uncompromisingly herself. The EP includes hit singles Boys Who Kiss You In Their Car and Your Internet Sucks alongside newer offerings such as Slutphase that cement her as one to watch. Ramona was excited to chat with Ber about lessons, lyricism and how some things are just good for the plot…
Hi Ber! So lovely to chat with you today – where are you today?
HI! Lovely indeed! Thank you for having me. 🙂 I'm writing you from my apartment in St. Paul, MN! It's cold and rainy, haha.
We are so excited to spotlight your music at Ramona. Can you tell me a bit about yourself and your musical journey?
Yes! I'm 24, I live here in MN and I'm about to release my 2nd EP, Halfway. Growing up I took guitar and piano lessons and always sang in the school choir, but I found my footing in musical theater and obsessed about that for years before ending up in the UK for my undergrad. In my second year of uni I discovered songwriting, and thank goodness for that because it single-handedly saved my brain when the covid-19 pandemic hit and I had to move back home to Minnesota. I've been releasing songs for almost 2 years now, and it's wild to consider how much has changed since then.
You've released some awesome music in the past year; what songs are you most excited to share on your upcoming EP, Halfway and do you have any personal favourites?
I truly love every track on this EP, but right now I am so excited for "Slutphase" and "Over You". I think they complete the circle of the EP, they feel like somehow they represent everything I'm trying to say with this project, and it's fun because they're on such different ends of the spectrum of this record.
What was the biggest lesson you learnt while making Halfway – either professionally or personally?
Professionally I learned that I write my best music (subjectively) when I really challenge myself and push my own boundaries. It's been fun to collaborate with some really talented friends on these songs and open my world up a little to write the EP, which feels like a sound I always wanted to achieve but never thought I would.  And personally I learned that not everything always has to be so damn deep. Surface level is beautiful too.
How long have you been writing music?
I've always sort of dabbled and written songs in my diary since I was very young, but it wasn't until I was in England that I realized it was what I wanted to do for the rest of my life. I started writing in sessions for other people in 2018, but didn't really start writing for myself until 2020/2021 in isolation.
I wrote this whole EP around the recognition of that void that exists halfway between heartbreak and happy, specifically how it feels to WANT to move on and feel ready for that, but to struggle completely within it. It feels like my own personal time capsule, these songs were written by a version of me that was stuck there, self-sabotaging a ton, in denial about so much, but also just so painfully aware that I was doing everything on purpose to keep myself in that void.
I felt really inspired by the stories that made me laugh at myself, which I think is reflected quite heavily in the big indie tunes on this EP, "Slutphase" and "Boys Who Kiss You In Their Car" specifically. I just caught myself in a pattern, and writing these were a fun opportunity for self reflection… but also acceptance, and are now rather empowering anthems for me and the needs we have to explore ourselves and our emotions. At high contrast, "Superspreader", "Halfway" and "Over You" really reflect on my innermost reasons for needing to feel like everything was on fire. The EP is very much filled with a dichotomy of emotions, because my brain was splitting itself in half while I wrote it, and it's fun to see how my vision for the record is reflected in each song individually.
Your latest single has some incredible, biting and clever lyrics – it is a great anthem for not always needing to forgive someone. What are your thoughts on forgiveness?
I've always been big on the high road. That song was actually really painful for me to write, because I was allowing myself to indulge in these thoughts and feelings that I'd very actively been avoiding.  "Your Internet Sucks" is the dark horse of the EP I think, sure it's loud and petty and angry and laughs at itself, and when we wrote it I realized for almost two years I had suppressed any sort of petty thought or feeling towards the person that inspired the record. I think forgiveness happens in stages, like grief. You have to process every part of it before you reach a peace with it, and somewhere in the mess I had a therapist tell me that I was actually allowed to feel angry, annoyed, mad, and that if I didn't, I'd likely never move past it. We're allowed to feel those things. Forgiveness comes when it does, but I think there's a road to it.
When you're not writing and playing music what are your favourite things to do?
Ahhh! Haha. Recently I started rock climbing and bouldering and I can't stop talking about it. It's been so good for my brain and it's such a great way for me to unwind and escape things. Outside of that… I like baking! But you should take that with a grain of salt I don't really like baking but when people ask me what my hobbies are that's all I can think of. I make a pretty mean lemon drizzle cake though. Anyways music is pretty much the only thing I do.
What is coming up for you that you're excited about this year?
I'm playing my first ever Headline Tour and I couldn't be more excited, truly. It's very surreal to imagine that we've made it here already. I'm really looking forward to meeting some fans and thanking them for making me feel so seen, and sharing these new songs with them too.
And finally, do you have any advice for people who keep finding themselves kissing boys in cars?
I wish I did! Ha! Honestly, let yourself. It's good for the plot. You're young and if you're not hurting anyone then I'd say, slay. It's a step we all have to make. I really don't see the harm. But someday you'll wake up and laugh about it and for that we're all better. <3
—
Halfway, Ber's new EP is out now wherever you listen to music.