Playlist by Abby Butler (they/she) and Tyrone Pynor (he/him)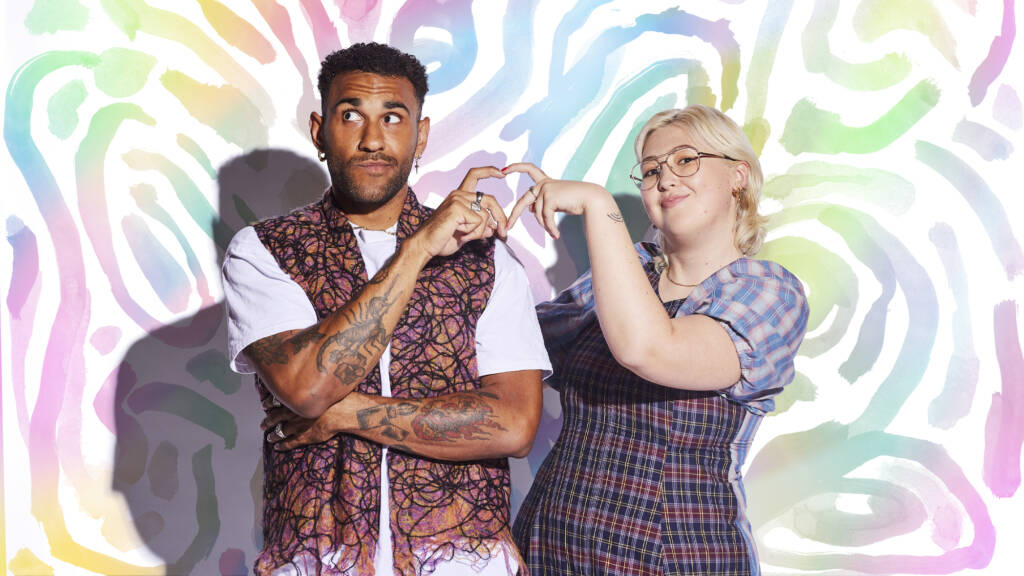 Sydney World Pride kicks off this weekend and is set to be a festival to remember. Coincidentally, Abby Butler and Tyrone Pynor are on a quest to make triple j, triple gay and to celebrate the season they have launched a new show called Out To Party. The show spotlights all the best new music from the Queer community all across Australia. If you're in Sydney this weekend, Tyrone and Abby are hosting Mardi Gras for triple j (keep your eye out for a cherry picker….) and if you can't make it to the festival, head to the triple j app to hear more of the best new music from queer artists across the country on Out To Party with Abby and Tyrone. Queer excellence exists all year round so the pair have kindly put together some of their fave picks for Ramona of artists to check out below!
BVT – LALAKI
It's not an overstatement to name BVT as one of the country's most talented artists. Not only do they beatbox, dance and produce, they also rap and sing powerfully and passionately in a number of languages, which is on full display in 'LALAKI'.
Djanaba – Big Titties
Hit play on this one when the Uber's approximately two and a half minutes away. Djanaba, a Wiradjuri and Bundjalung woman from Newcastle, brings Big Lizzo Energy on this feel-good/powerful/hot dance track.
honeybeam – Belong
Catch your breath and bring down the tempo with the project of Tarntanya/Adelaide based trans woman Maya Adamson. Woozy and dreamy yet delicate and introspective, 'belong' sounds like the colourful musical lovechild of Mac Demarco and Julia Jacklin.
NEKO PINK– KEYS
Once you hear 'KEYS', you'll never make a party playlist without it. You've been warned. Canberra duo NEKO PINK embody 000's icons like Sneaky Sound System, Cascada and early Calvin Harris in this immediate dance floor filler.
Platonic Sex– Grip
Meanjin outfit Platonic Sex make songs that are the musical embodiment of that moment after the after party, when you and your closest friends are gathered around a glass table in the backyard baring your souls and sharing your deepest and darkest secrets. 'Grip' is a particularly special song of theirs and sees the band recruit some of their nearest and dearest to join in on backing vocals.
Ken Paolo and The Space Cadets – Dance With a Broken Heart 
I rinsed this song so much, it's feel good, it's soul food, it's funky! Ken Paolo and the Space Cadets are out of Borloo/Perth and are making that great blend of soul/RnB/jazz infused melodies.
The song you need when you're feeling bad like Riri! Yugambeh/Kombumerri based hard hitter, Jesswar, never misses. This is song is just one of the many great moments off their latest mixtape "LIFES SHORT, LIVE BIG"
Vetta Borne – Kissing Strangers  
Naarm/Melbourne based artist, Vetta Borne, is an absolute icon! A song that is about outgrowing a relationship but making it so infectiously moreish with is disco/funk inspired baseline, UGH!!!
Filipino/German, Australian born artist Arnt Mae debuted with this absolute stomper of a track!! She's an artist who is exploring her culture, sexuality and beliefs through her performance, and this is just the start for her.
Pink Matter – Blue (prod. Squidgenini) 
This 3 piece out of Meanjin/Brisbane make this great blend of soulful dance music.This song is the soundtrack to that euphoric moment on the dance floor!
—
Head to the triple j app or your browser of choice to hear some more of the country's best LGBTQIA+ artists!